City of Palms: Wileys motor doesnt stop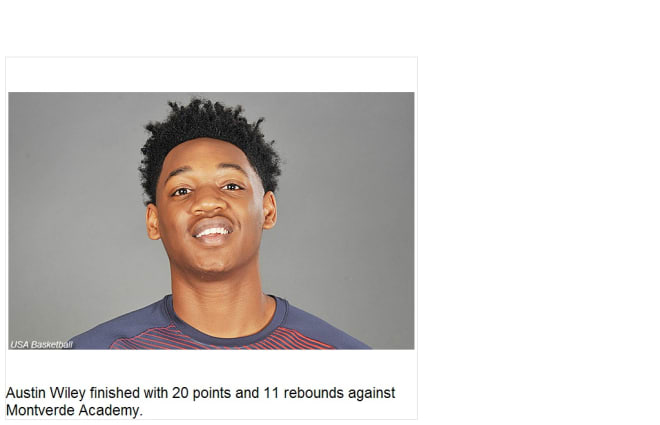 FORT MEYERS, Fla. -- The second day of the City of Palms
Classic featured several teams playing their first game in the event including a
match up of top ranked Montverde Academy (Fla.) and Spain Park (Ala.).
Mourning with his broad shoulders, big body, good hands and his ability to run
the floor. Wiley passes well out of the post and showed terrific footwork.
Montverde used their depth to constantly have a fresh defender on Wiley but he
still finished with 20 points, 11 rebounds, three blocks.
the first half wore on you could see him starting to figure it out. Johnson has
good range on his jumper, plays under control and was excellent on screen and
roll. His good body control allowed him to take the bump in the lane and still
finish. Johnson could have easily scored 30 points but his free throw shooting
let him down in the second half.
The strength in this season's Montverde Academy team is their front court
On this day the duo combined for 22 points, six rebounds, three blocks and two
steals.
Fernando doesn't just have a good motor, Fernando has a great motor. He will
catch a body at one end of the court then sprint back to help in transition
defense. Fernando gave great effort defending Wiley. Whether he was defending
Wiley inside or had to switch off on a perimeter big man, Fernando showed that
he understands how to defend.
DeSousa is tough, athletic and plays with terrific energy at both ends of the
court. He makes the correct pass out of the double team and his footwork is
good. In the country for just 11 months and already a five-star prospect, as
DeSousa develops his low post moves and counter moves he will be almost
unstoppable in the paint.
I was impressed with...
typically comes up. The second day of the City of Palms was no different.
Adebayo had a very efficient 23 points, nine rebounds, three assists and two
steals. He seemed to feed off of the contact when the ball goes up and was
equally effective rebounding at both ends of the floor.
play with 33 points and 13 rebounds but got very little help from his teammates.
Bradley knows how to get deep low-post position and hold it. When the double
team comes he knows how to react. Bradley can handle the ball and is a good
passer. He also must be defended honestly when he steps away from the basket.
the arc. Tatum was also successful at getting to the free throw line where he
made 11-of-15 attempts. With a complete scoring repertoire the
and was able to get his from anywhere on the court. He finished with 36 points
for Chaminade (Mo.) and made it look easy.
Other thoughts...

Sarasota
Riverview has a backcourt with high major potential in juniors

Caldwell
is one of the best jump shooters in the state of Florida and that skill was on
display as he shot he shot 41-percent beyond the arc. He was also opportunistic
on defense with three steals. Caldwell will need to improve his mid-range game.
As teams learn he is less effective there, they will run him off the line.

Whitley
is athletic and physical enough to score in the paint or in traffic. At
6-foot-4, 170-pounds he attacked the cup and got to the free throw line where he
made all seven attempts. Whitley also has the poise to step to the line late in
the game and knock down free throws as he did with 37 seconds to play to put his
team in position to win.