City of Palms Tuesday: Evans' Notebook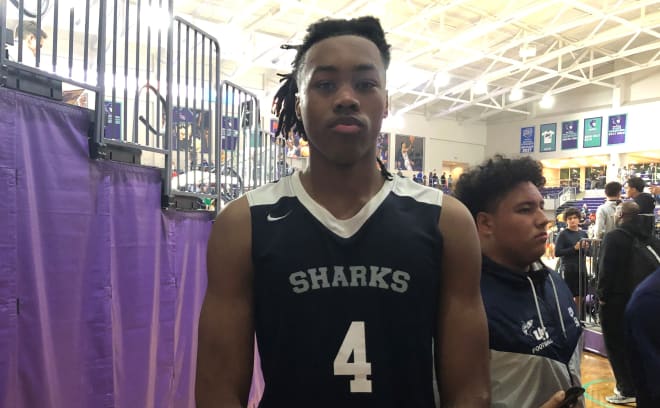 FORT MYERS, FL. – Day two of the City of Palms Classic brought plenty to like from some of 2019's best as there is reason for excitement at places such as Arizona and Duke. Meanwhile, a pair of sophomores made their push for an early recruitment but it was Scottie Barnes that made the biggest statement of them all.
THE ULTIMATE UTILITY KNIFE
There are glue guys and then there is the ultimate utility knife that is Scottie Barnes. The five-star junior was as precise with his game on Thursday evening as one would hope, notching a triple-double in his team's blowout victory to kick off the City of Palms Classic.
Not one to shy away from the biggest of stages, Barnes' outgoing personality radiates all throughout the floor directly from the tip. Besides his outgoing demeanor, not many boast the tangibles that Barnes does. He is a 6-foot-8 forward with a 7-foot-3 wingspan, can defend arguably any position on the floor and has the playmaking prowess of a point guard? Good looking coming up with the proper comparison for that!
Finishing with 13 points, 10 assists, 10 rebounds and three blocks, all in just 26 minutes of action, Barnes is still not one accustomed to speaking much on his recruitment. He has already taken official visits to Florida State and Oregon, as he told Rivals.com that Alabama, Duke, Kansas, Kentucky, Miami, Ohio State, and UNC have remained in touch. If there is one non-blue blood that might have the ammo to win his recruitment, it might be the Ducks as the Pac 12 program was Barnes' dream school growing up.
BLUE-COLLARED MENTALITY IT IS FOR TAYLOR
Not many possess the motor of Elijah Taylor. A top rim protector along the east coast, there isn't a play that you can count Taylor out of. He changes shots in and out of his area and has the requisite hands and toughness to come up with a number of rebounds within traffic. In what is looking to be a rather slim class for high-major big men, Taylor has the chance to really see his stock improve in the coming months but in the meantime, three schools have begun to stand out. Following his team's win, he told Rivals.com that Princeton, Seton Hall and VCU have each made him a priority. He also said that he wants to take all five of his official visits in the spring, though a decision remains far off.
WHAT IF CAREY SAID NO?
That is not a question that Coach K wanted to answer. Sure, they remain involved for Isaiah Stewart but I said it at the time and I cannot emphasize it further, Vernon Carey's commitment is one of the more crucial ones that the Blue Devils have picked up in recent years.
Am I saying that Carey is as good as Marvin Bagley, Jayson Tatum, RJ Barrett, or Zion Williamson? No, I am not ready to start that discussion but with the glaring hole that was the likely to be tissue thin frontcourt in Durham next season, Carey is just what the doctor ordered.
Quicker off of his feet compared to this summer but still a dominant and efficient interior cog, the nation's top-ranked senior made his first eight two-point field goal attempts and nearly scratched out a double-double by half-time. Playing more inside-out, if Carey sticks that mantra, his transition to Duke should be that much more seamless and exactly what Coach K will be looking for upon his enrollment.
HUNTLEY BEGINNING THINGS EARLY
One of the more promising prospects from the 2021 class, Brandon Huntley-Hatfield has begun his sophomore campaign as a strong bench option for the nationally acclaimed IMG Academy program. Learning the ropes behind a bevy of elite, blue blood recruits, the day will come for Huntley-Hatfield to become the face of his team. However, it hasn't taken long for some of the local power programs to pursue as Auburn and Ole Miss have already offered. Huntley-Hatfield told Rivals.com that he has taken unofficial visits to Kentucky and Tennessee thus far. He has put on close to 15 pounds since getting to IMG this fall and has made the right strides with his game that, before long, could become an SEC priority before his junior year even hits.
WAIT AND SEE FOR FARRAKHAN
A member of the Rivals150 and a strong four-star prospect out of the 2020 class, Noah Farrakhan hasn't enjoyed the usual attention that most in his mold have become accustomed to of late. That all should change. The Jersey native was fabulous on Tuesday as he showed the wherewithal in making the right play and at the right time. He has been knocked in the past for his decision-making so it was definitely a step in the right direction as he turned it over just twice, all while notching nine assists on the final stat sheet. Penn State is the most recent offer for him and it would be smart for any high-major program in need of a two-way contributor to jump in before things pick up to where they should.
WHAT ELSE I LIKED...
…the open floor play of Josh Green. Arizona is sifting through a minor step back season but that all will change next year whenever their top-ranked 2019 class enrolls, one that is bolstered mightily by Josh Green. The Aussie import was fantastic on Tuesday as he missed just three of his 12 shot attempts, all while dishing out seven assists. Better yet, Green made four of his six 3-pointers, this a facet of his game that was his primary deficiency in the past. He remains at his best whenever the speed of the game gets ramped up but Green is becoming better and better at producing regardless of the flow of the game, a major bonus for his future home in Tucson.
…the intrigue of Jayven Millien. He was not as good as he was the prior night but for those that like 6-foot-6, rangy, tough and athletic wing-forwards that play with a chip on their shoulder, Millien is just your guy. He is still some time away from maxing out his capabilities but if incremental progression does take place, expect for his recruitment to be much of a struggle when it comes to suitable college options. The Riverview High product has yet to pick up a scholarship offer but FGCU might be close. Either way, the intrigue with the hard playing and versatile small forward is evident for the under-the-radar import from Queens, New York.
…the two-way playmaking abilities of Dug McDaniel. Whenever we think of playmakers, the offensive side of the floor immediately comes to mind. Sure, McDaniel is already one of the better creators of quick offense that you're going to find but it is his focus, quickness and instincts that make him a game changer on the defensive end, too. Already a nightmare to guard in the backcourt, McDaniel announced himself onto the national scene two weeks ago and he doesn't seem to be done yet. Wake Forest became the first power conference to offer and many, many more are due to follow.