City of Palms: Reaves takes off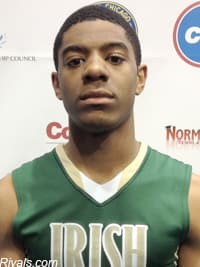 Click
Here
to view this video.
FORT MEYERS, Fla. --
With a roster as loaded with talent as Fairfax (Va.) Paul VI's, they seemingly have different players step up every game. In an impressive 62-46 win over Wheeler (Ga.), it was junior wing
Josh Reaves
stepping up and leading the way.
"We got after it on the defensive end and made them turn the ball over," said Reaves. "After that, I just got out and ran the break and scored in transition."
Reaves finished the game with an efficient 22 points making nine of his 11 shots from the field and went two for three from behind the arc. Coming into City of Palms, the 6-foot-4 wing had only been averaging 2.3 points per game, but that hasn't kept the college coaches from noticing his talent.
Game of the tourney
In a game featuring four future power conference players, including five-star junior foward
Ben Simmons
, Montverde Academy (Fl.) held off Lincoln (N.Y.) in overtime before a packed gym at Bishop Verot High School in the 2013 City of Palms Classic.
After stealing the show on Thursday with his 31 points and 13 rebounds, Simmons came back down to earth against Lincoln. The
LSU
commit started the game slow with only five first-half points, but made some key plays down the stretch with his shot-blocking and rebounding before finishing with around 20 points. Simmons received help from his teammates, particularly fellow future LSU Tiger
Jalyn Patterson
and
California
signee
Ahmaad Rorie
. Patterson hit floater in traffic to tie the game and force overtime with less than five seconds left in regulation, and Rorie took over in overtime knocking down clutch free throws mixed in with some nice drives to the rim.
Seton Hall
signee
Isaiah Whitehead
and junior forward
Desi Rodriguez
both had outstanding games for Lincoln. Both finished with 23 points and worked for every one of them. Whitehead hit several contested jumpers and converted on tough drives to the rim. Rodriguez, a physical 6-foot-5 forward, was the recipient of several nice passes from Whitehead and other Lincoln guards and did the dirty work around the rim.
Brewster gets big game from Graham
Oldsmar (Fla.) Christian hung around with Wolfeboro (N.H.) Brewster Academy for a half, but Brewster's talent overwhelmed Oldsmar in the second half in large part due to the play of point guard
Devonte Graham
.
In a 73-43 victory, Graham posted an impressive stat line of 15 points, 11 assists and only 1 turnover.
Georgetown
signee
Isaac Copeland
and
Oklahoma State
signee
Jared Terrell
were on the receiving end of many of those 11 assists, getting out in transition. The 6-foot-2 guard has great size, strength and quickness for a point guard and is in complete control of his team as the floor general.
Graham signed with Appalachian State as a member of the Mountaineers' 2013 class, but decided to take a year of prep school instead of enrolling in college this season. Graham has yet to be released from his scholarship by Appalachian State, meaning he'll either have to go to a junior college next year or enroll at a different school, sit out a year, and go forward with only three years of eligibility if he doesn't stick with Appalachian State. Regardless, he's a no-brainer high-major point guard and will have a successful college career wherever he ends up.

Fans sticking around at Bishop Verot until after 10 p.m. hoping to see
DukeClick NotesHere
to view this Link. signee
Jahlil OkaforClick NotesHere
to view this Link. were disappointed when the referees hit the five-star prospect with two questionable early fouls. Okafor battled foul trouble most of the night, but showed fans flashes of why he was such a hot commodity before picking the Blue Devils. He had a couple impressive dunks and was a force in the paint in Chicago Whitney Young's comeback win over Akron (Ohio) St. Vincent St. Mary.






[rl]