City of Palms: Day three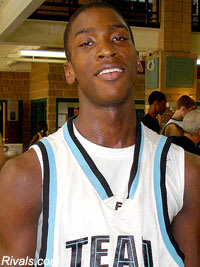 Gordon is a well built 6-foot-2 wing prospect who got is points inside the arc. Projects on the low to mdi major level.
St. Patrick made it a priority to keep Wall out of the lane, and for the most part they were successful. Wall did get to the rim for a couple highlight plays, but primarily he had to knock down jumpers to get his points. Limiting Wall's penetration took away assist opportunities and influenced him into turning the ball over when he forced the issue.
Leslie played with energy and was aggressive attacking the rim on offense as his 17 free throw attempts testify.
Mater Dei's best defender struggled with Brookins, but he did lead Mater Dei in scoring. Lamb impressed with his overall play during the first two games.
Wear is scoring to both shoulders and hitting face up jumpers. He and his brother Travis are develop physically and growing into their games.
Brown is improving and should be able to help Stanford. He has a flawlessly sound fundamental game, makes great decisions with the ball and is a skilled four man.
The 2010 guard was the man of the hour for Roman Catholic. He shot the ball with confidence and is a mid-major treasure.
Wayns has struggled mightily in these first two games with his shooting, but the real problem was that he kept shooting from the outside. Bottom line is that defenders can't keep Wayns in front of them. When Wayns put it on the deck with purpose, he produced assists against Mater Dei. He just needs to relax, play to his strengths, and take open jumpers in rhythm instead of forcing jumpers. When Wayns gets to Villanova, he will have plenty of opportunities for assists.
We are talking about the real deal with Rivers. He has the bounce to dunk in traffic, three-point range on his hop back jumper, a lethal hesitation move going either direction and a high level floater off the bounce. Most importantly, Rivers puts all this together in a way that wins games.
The ultimate glue guy, Lovaglio is a 6-foot-4 2010 wing who simply makes plays all over the court. Not a high major athlete, Lovaglio projects as at least a low major prospect who will help a college team win games like he helps his high school team win games.
Although he played point guard on the travel circuit, Mayes project as a shooting guard at the next level. A guy who knows how to move without the ball and use screens, Mayes normally shoots the ball at a high level. Today he struggled shooting in a large part because Rivers' defense.
The Wake Forest commitment was terrific on Saturday night. Stewart played his typical high energy game but with a sense of control that isn't always there. His shots came within the rhythm of the game while he hunted out opportunities to score. Both in transition and in the half court, Stewart was on point.
Wheeler's point man wasn't too bad either. Taylor keep the pressure on the defense with his penetration while keeping his turnovers down.
Tate did what he does best- get out in transition and score.
Besides working the backboards, the NC State commitment had some nice plays off the bounce from the high post.
Stephenson started the game off strongly with nine points in the first six minutes of the game, but he never got back on track after sitting out the entire second quarter in foul trouble. Stephenson's lack of a steal in the game represents Lincoln's defensive woes as an entire team.