Chris Livingtson is one of 2022's elite talents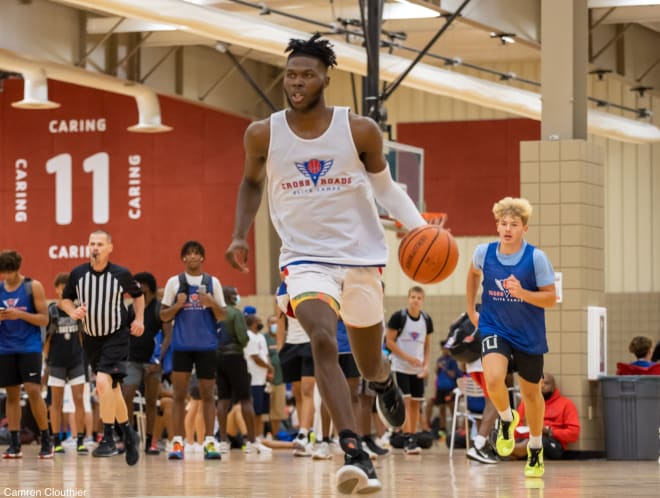 ANDOVER, Kans. -- One of the elite players in the class of 2022, Chris Livingston hadn't been able to play much of late.
The 6-foot-6 shooting guard who has transferred back to Akron (Ohio) Buchtel after a season away, took the floor for the first time in some time last weekend at the Crossroads Elite Invitational. There was some rust, but overall he was happy with his effort.

"This was my first time playing this summer, I haven't played since high school basketball," Livingston told Rivals.com. "Overall I think I did pretty well. My last game wasn't my best but for the most part I felt like I turned it up."
Livingston has always been an impressive scorer with some pop and his legs capable of getting his own off the dribble. However, he hit the court at Crossroads having grown some, gotten even more athletic and having added a lot of strength.

"The strength adds a lot," said Livingston. "A lot of times when I'm able to do that people play back. That can open up the floor for me to show my playmaking abilities and it can help my deep shot and my mid range shot when they are expecting me to drive. I think that's a good thing that I've added to my game."

On the recruiting front, Livingston mentioned three programs that have been prioritizing him while a local program has also done some work.

"I would say South Carolina and Tennessee State for sure, also Memphis," said Livingston when asked who he's heard from the most. "South Carolina has been sending me lots of quotes about getting better every day and telling me things I should do on and off the court. The TSU coach has been calling me and my brother up every time they get a chance to. Memphis has been sending film, NBA film to help me better my game.
"Ohio State has also (recruited) some but they've been laying back a little bit because we've already built a relationship. Those other three are probably doing the most."
Given his status as a prospect and long term upside, some might be surprised that Livingston isn't being more heavily recruited. He's not the least bit worried.

"I think more will come. I'm not really too concerned about it. I haven't even played my junior year of high school so I'm good on that."
Livingston said that he won't get serious about picking a college program until the end of his junior season or beginning of senior year. Also, there has been speculation that Livingston could be one to pursue professional options.

"Yeah for sure," said Livingston when asked if he could consider the G League or other pro options. "I'm always thinking about my future and what I can do. Every time I'm in the gym, I'm working out to get better so that I can widen my options for what I want to do on the next level."