Chick-Fil-A action: Wednesday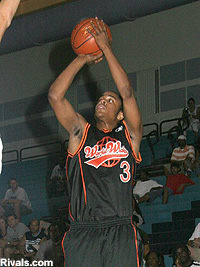 COLUMBIA, S.C.
- Everything went as planned on Wednesday at the Chick-Fil-A Classic. The big time players played big. The underclassmen showed promise and the schedule for Thursday was set up like the script was written. Rivals.com was on hand for the first day of action and saw
Chris Allen
terrorize the rims.
Ice, please
Meadowcreek High School's team took a half dozen bags of ice back to their hotel room on Wednesday night. They'll need the ice after all of the dunking they did.
In the first half, future Michigan State guard
Chris Allen
absolutely posterized a Ribault player on a driving dunk on the break. If he wasn't dunking (we tallied him for six), Allen was pouring in three-pointers. He sank four of nine three-pointers en route to 22 points. Not bad work for 21 minutes of action.
Allen just toyed with the defense and scored whenever he wanted in the 79-53 blowout. He turned the reigns over to junior
Teondre Williams
, who was just as ridiculous above the rim.
The four-star junior also scored 22 points (10-17 FG) in 22 minutes and grabbed eight rebounds. Williams continues to improve his overall game and rebounded from a slow start to the season. It doesn't come as a big surprise why he was one of the most talked about players amongst the two dozen coaches that were in the building on Wednesday.
Williams said he has a pair of leaders – Clemson and Cincinnati – while Tennessee, Georgia and Alabama are also in the picture.
Gordon wows in first game
There is a lot to like about five-star junior
Drew Gordon
but one thing that gets overlooked on his game is his ability to play above his head. The 6-foot-9 forward constantly plays at eight feet or higher on both ends of the floor. He has a great ability to hold the ball high in the post, grab offensive rebounds, block shots and sky for put back dunks. Rarely, if ever, does the ball dip below his shoulders.
All ten of his points came off of dunks, each one bringing the crowd out of their seats and begged the question, "Did you just see that?" Gordon added 14 rebounds, six offensive, and three blocks in the victory. A turned ankle slowed him down in the second half. If the Columbia area crowd was buzzing about 10 points, they could be in for a real treat over the next couple of days.
Gordon said he, his parents and coach have yet to set up a timeline on when he wants to trim his expansive list of elite high-majors down to three to five schools on his wish list. So far, Duke, Kentucky, North Carolina, Cal, Washington, Arizona, UCLA, Texas and USC are making a push.
Underclassmen make it happen
When it comes to looking for pure prospects in the class of 2008, New Hanover (N.C.) big man
Ty Walker
has to be near the top of the list. The 7-foot center is a physical specimen to say the least inside the paint. In a class that runs thin of height and down right position deprived at the center spot, Walker has to be near the top of the list for the best pivot players in the class.
He doesn't blow anyone away with stat-stuffing numbers or flat out wow moments but watching him, you see a guy that has all-conference potential because he has what no other player at his position has in this class – true center size.
Walker only scored 10 points and grabbed 10 rebounds as well as blocking three shots in 19 minutes of action. His real true test comes tomorrow when he faces one of the best players in the country – Drew Gordon.
Future Oklahoma Sooner Blake Griffin has a look alike here at the Chick-Fil-A. John Carroll School's
Isaiah Philmore
could pass as the five-star forward in both look and style of play. Philmore is a grind it out, punch the time card forward that uses good athleticism, good instincts and a good work ethic to get it done down low.
The 6-foot-6 sophomore can attack from the elbows in and is certainly athletic enough to be a force as a rebounder and shot-blocker. Philmore was the most productive player in John Carroll's 44-30 win over Hammond on Wednesday afternoon.
Philmore moved to Maryland from the Manhattan, Kansas area this summer and brings a Midwestern work ethic to his new East Coast team.
The interest is there for the impressive looking sophomore. He said he has heard from Georgetown, Maryland, Kansas, Kansas State and Wichita State.
Pinewood Prep forward
Milton Jennings
has come a long way since his first game at the Chick-Fil-A Classic as an eighth grader. Two years ago, youthful frustration played a part in his game and his inability to do much against his older peers and understandably so.
Two years later, that story has changed. Jennings is putting in the work to become an attractive looking prospect. The 6-foot-9 forward is filling out his long frame and showing the ability to knock down the three-point shot, including a big trifecta with less than 20 seconds to play to put his team within two. Then he grabbed a rebound off of a missed free throw and pushed the ball up court for a chance to hit the game-winning shot.
Jennings has the makings of a high-major prospect and the upward swing on the talent scale is on his side. Jennings finished with 26 points, 11 rebounds and three rebounds. His perimeter game and face up skills have taken the next step.
Jennings had help from fellow sophomore
Kenny Manigault
, a 6-foot-3 wing. Manigault was good all over the floor, scoring 20 points (6-9 FG, 2-2 from three, 6-8 FT), grabbed seven rebounds, handed out seven assists and grabbed three steals.
Fearless
With a baby face and a frame just under a shade of six feet,
Damier Pitts
doesn't put the fear into opponents when lining up for the tip. But make not mistake, the 5-foot-11 junior guard for Charlotte (N.C.) Christian is fearless. Meet me in the back alley in the middle of the night fearless.
Pitts scored 21 of his 27 points in the first half against Pinewood Prep and was one of the catalysts for Charlotte Christian in a tough and hard earned victory. Pitts said his recruitment is full of interest from ACC schools as well as West Virginia, Florida, Cincinnati and a number of others.
Odds & Ends
Keep an eye on Charlotte Christian big man
Marcus Connor
. The 6-foot-9, 179-pound big man is an unsigned senior with the skinniest frame in the tournament field. He's long and a presence in the paint despite his frail body. Connor collected 10 rebounds, blocked five shots and scored eight points.
Gonzaga, Furman, soon-to-be Division I program Presbyterian College and a couple of other Division II schools are looking at him, he said, and the big man carries an impressive 3.7 grade point average.
Omar Carter
is a heck of a low-major prospect in the class of 2007. The well-built 6-foot-6 forward is the emotional leader of the team that won the Chick-Fil-A Classic last season. Carter scored 22 points and grabbed 10 rebounds.
Carter said he is holding offers from Charleston Southern, High Point and Coastal Carolina while College of Charleston, Jacksonville and others are also in the picture. Carter said he will wait until after this tournament and the Bojangles Shootout to make any kind of decisions.
In a game that featured 52 total turnovers, it was hard to really say anyone played particularly great in the Dunwoody-Irmo battle royale. But future Georgia guard
Zac Swansey
found a way to make a positive out of an ugly game. The senior scored a good looking left handed lay-up in traffic to help seal the victory en route to his 24-point, seven rebound game.
The Navy snuck in a found a sleeper in big man
Mark Veazy
of Meadowcreek (Ga.) High School. Yes, the Navy. The consensus was that the 6-foot-10 big man could easily play in a mid-major power conference like the Colonial because he does what big men are supposed to do – rebound, make the close range buckets and block shots. Veazy finished with an effective 12 points, 10 rebounds and five blocks.
All eyes on you
A good number of coaches were on hand for the first full day of action in Columbia. Coaches from Auburn, Cincinnati, College of Charleston, Fairfield, Jacksonville, Kansas, Kentucky, Marquette, North Carolina, South Carolina, South Carolina State, Tennessee, UNC Wilmington, USC Upstate, Wake Forest and Winthrop were all represented.
Tubby Smith laid a set of eyes on Drew Gordon while Oliver Purnell made the short drive over to see a host of players including Teondre Williams, Milton Jennings and others.
Wednesday's Scoreboard
John Carroll (Md.) 44, Hammond (S.C.) 30
Archbishop Mitty (Calif.) 60, Sumter (S.C.) 45
Charlotte Christian (N.C.) 75, Pinewood Prep (S.C.) 72
Dunwoody (Ga.) 77, Irmo 71 (S.C.)
Meadowcreek (Ga.) 79, Ribault (Fla.) 53
New Hanover (N.C.) 59, Lower Richland (S.C.) 38
On tap
Thursday's action is loaded with intriguing match-ups. After a dazzling first round game, future Louisville 7-foot center
Jeff Withey
will square off against John Carroll's 7-footer
Jakub Kusmieruk
, also a junior.
Archbishop Mitty big man Drew Gordon will pair up against New Hanover's 6-foot-11 forward Ty Walker.
Georgia powers Dunwoody and Meadowcreek play in a game that most Atlantans would pack a Peach State gym to see.
THURS., DEC. 21
10:00 a.m. – Hammond (S.C.) vs. Ridge View (S.C.)
11:30 a.m. – Ribault (Fla.) vs. Irmo (S.C.)
1:00 p.m. – Sumter (S.C.) vs. Lower Richland (S.C.)
2:30 p.m. – Pinewood Prep (S.C.) vs. Keenan (S.C.)
4:00 p.m. – John Carroll (Md.) vs. Horizon (Calif.)
5:30 p.m. – Charlotte Christian (N.C.) vs. Richland Northeast (S.C.)
7:00 p.m. – Meadowcreek (Ga.) vs. Dunwoody (Ga.)
8:30 p.m. – Archbishop Mitty (Calif.) vs. New Hanover (N.C.)