California big man likes five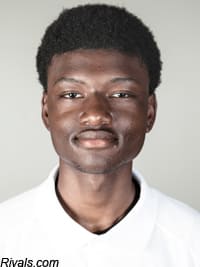 Currently ranked No. 54 in the class of 2015, the 6-foot-9, 205 pound Metu has had a strong season at Lawndale (Calif.) High. It is one that coach Johnnie Parker saw coming early on.
"I knew that the junior year was going to be his year," said Parker, who runs Hoop Phi and coaches Metu at Lawndale. "As his mentor and coach, I've been waiting for this year to really show what type of player he can be. His maturity and motor has been the most impressive. The way he is handling himself and different moves he's making, he has become the type of high level player he wanted to be."
Part of Metu's confidence has come from getting outside of his comfort zone. While his home team is Parker's Hoop Phi group, Metu also played last summer with the Oakland Soldiers. As he adjusted to life in Nike's Elite Youth Basketball League and playing with other high end players it wasn't always pretty. But, Metu learned and he'll play with the Soldiers in the EYBL again this summer.
"He wasn't rebounding, he wasn't playing hard and he had to sit down. Sitting down helped. He had to learn that he can't just go to any program and that they are going to play him because he's tall. He has to work."
Long and lean, Metu has a pretty well rounded offensive game. He can run the floor, makes plays above the rim and can step out on the floor and hit some shots. The focus, though, has been on learning the game from inside out.
"His biggest strength is probably his inside play," said Parker. "He wanted to be on the wing but we were like get your big (rear) inside first. He started from there and now he has become multidimensional and he's very hard to guard."
Metu has started to do the necessary work to add more strength to his wiry frame. However, his body type will allow him to add strength easily once he gets to the next level.
"Once he gets to college and gets that meal plan he will bulk up," said Parker. "I know what college is going to do for him and I think he's ready. He still has one more year of high school, but he's ready for that college game."
Of those schools, Metu has been to Cal and USC unofficially and the plan is to set up officials to ASU, Harvard and Creighton once he knocks out his standardized test in early March.
After a few more visits, Parker says that Metu will likely be ready to make a decision so he can spend the summer focusing on his development and continuing his rise as a player.
"I think he wants to go ahead and make that decision early," said Parker. "Maturity wise I think once he gets that out of the way I think he can focus on playing. I think it will help him. Not every player needs to do it early, but for him I think it will be good to do it early."

[rl]