Calhoun, Robinson highlight AAC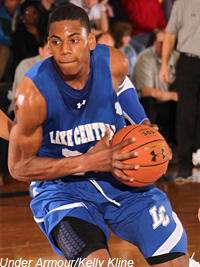 Outside of the first few minutes of the game, there wasn't ever much doubt about the outcome as the East squad seized early command and rolled to an 84-72 victory over the West.
Poised for a jump to five-star status in the final 2012 rankings, Robinson didn't really get to show off his versatile and complete perimeter arsenal. However, he did get to show off his superior 6-foot-7 size, big time frame and ability to finish high above the rim in a 16 point outing. However, he was dogged some by missed free throws.
While the Notre Dame bound Biedscheid didn't have his jumper falling from deep at it's usual rate, he was still impressive. The 6-foot-7 wing is built to score and has an advanced set of skills, quickness with the ball and deep range on the offensive end of the floor.
[rl]