Calathes delights City of Palms crowd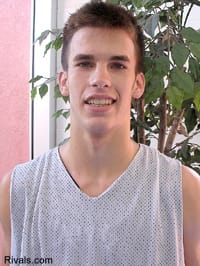 To the delight of the Florida crowd, Nick Calathes drained five straight corner threes to join Taylor King in the finals of the three-point shooting contest Wednesday night at the City of Palms Classic. Then he matched King's score again on 24 shots in the final shootout, grabbed his last ball, waited till the clock ran down, and got a fortuitous bounce to win the contest. And all this was after he scored a day's high 34 points.
Lake Howell 88, Schenley 75
The Lake Howell trio accounted for 19 of their team's 22 assists. While Schenley only had 5 total assists. The trio also accounted for 79 of their teams 88 points.
Calathes led the way with 34 points on 13 of 25 shooting. Many of those points came off his adept movement with out the ball and slashing burst to the basket off the dribble.
A large amount of Calathes' buckets came off the sharp passing of Rodriguez who ended up with 12 assists with 4 turnovers. He also hit for 12 points on 5 of 8 shooting with 3 of 5 from behind the arc and hitting all 6 of his free throw attempts. Both Rodriguez and Calathes had 3 steals.
Parsons, who only looks better athletically and as a shooter/passer every time we see him, hit for 27 points on an incredibly efficient 11 of 15 shooting with 3 of 5 from deep and 2 of 2 from the line.
While Lake Howell whipped the ball around on its offensive end, Schenley brutalized Lake Howell on the boards, racking up 21 offensive rebounds to Lake Howell's 19 rebounds total. Schenely pulled down 35 rebounds in all.
Despite playing with foul trouble the entire game, Blair controlled the paint with 12 offensive rebounds (14 total) which produced most of his 29 points. Blair, who played without his knee braces and looked much more athletic than he did during the summer, hit 14 of 19 shots but only made 1 of his 6 free throws.
An old school back to the basket player, Blair will certainly put up double-doubles at Pittsburgh. He does, however, have his limitations as a ball handler, as he ended up with 5 turnovers to zero assists in this particular contest.
D.J. Kennedy
was also an active force in this game, scoring 14 points on drives to the basket and grabbing 12 rebounds. He also had 2 steals and 3 assists but with 5 turnovers as well.
Helen Cox 80, Lincoln 59
Although he had limited touches,
Greg Monroe
demonstrated why he might very well be the best prospect in the country regardless of class. His versatility was on display as he finished with 16 points on 6 of 12 shooting, 14 rebounds, 7 blocks, 4 assists, 2 steals and only 1 turnover.
Two plays stand out for Monroe. One when he blocked three consecutive shots on one defensive possession, grabbed the ball and then raced down the court and dished off a pass for an assist. The other is when he took the ball right a couple dribbles, crossed over off a hesitation move taking the ball by his man going left and then floated back to the right to avoid a help defender and then sank a 7-foot right handed jumper. Not bad for a player who is thought to be heavily dependent on his dominant left hand.
It's pretty amazing what Monroe accomplished on a night when his teammates didn't really look for him and then failed to convert a number of his set up passes. If Helen Cox wants to compete with Mater Dei in the semifinals, they will need to lean on their superstar a lot more.
Surprisingly without the ball in his hands that much with the guard oriented Lincoln line up,
Lance Stephenson
still managed to grind out 28 points on offensive put backs and pull up jumpers. He also had 8 rebounds and 2 steals. The downside of Stephenson's night is that he did not produce a single assist.
Liberty Tech 74, American Christian 61
Plagued by early foul trouble and a hurt left pinky finger,
Tyreke Evans
was not the man of the hour in this quarterfinal match up. Instead, it was the play of Liberty Tech's
Josh Sain
that stole the show.
Sain exploded for 35 points on 12 of 19 shooting from the field, connecting on 1 of 3 three pointers and hitting 10 out of 14 free throws. Aggressive and athletic, Sain also had a team high 8 rebounds.
Down 16 points at half, American Christian cut the lead to 8 going into the fourth quarter, but that was when Sain put his final stamp on the game on repeated drives to the basket where he either finished or converted at the free throw line.
Still working to qualify academically, Sain held of from signing during the early period in hopes of attracting a high-major offer.
"The only school on me is Southeast Missouri State, but I didn't sign because I want to play high-major," said Sain. "I had a bad summer because I was on a team with too many guys trying to do too many things. It got to a point where I didn't even want to play."
Seton Hall bound
Michael Glover
led American Christian in scoring and rebounding with 17 points and 9 rebounds.
Evans chipped in 12 points, 6 rebounds, 3 blocks, 3 steals, 1 assists and 4 turnovers in 21 minutes of play. Perhaps due to his injured finger, Evans never asserted himself during the fourth quarter.
After the game, Evans commented on his recruitment and strong feelings for North Carolina.
"A lot of schools are coming at me left and right," said Evans. "I haven't made a final pick yet, but North Carolina, Villanova, UConn and Louisville are coming at me the hardest.
"North Carolina is my dream school. I have family down there and my mom and dad are from there. I grew up always watching them play.
"I have to make the right decision, though, and if North Carolina is not the right decision, then I'm not going to go there. But I've been watching how Roy Williams coaches the team, and I really like how he coaches."
Mater Dei 83, St. Mary's 59
Behind the competitive efforts of
Jerryd Bayless
St. Mary's was only down 3 points at the half to the bigger, deeper and more talented Mater Dei squad. But an aggressive trapping defense helped Mater Dei outscore St. Mary's 25-9 in the third period to put the game away.
Despite the loss, Bayless put on a show hitting his patented pull up jumper from deep (4 of 8 from three), dunking on
Taylor King
and hitting a remarkable spinning lay up without vision of the rim. Bayless finished with 31 points on 10 of 24 shooting and also had 3 rebounds, 4 steals, 5 assists and 5 turnovers.
King led Mater Dei with 27 points, but was not as effective from behind the arc as he had been in his previous games in the event. Against St. Mary's he only connected on 4 of 14 three point attempts (all his makes came in transition with his momentum going towards the rim) and hit 11 of 27 shots overall. From the line he hit 1 of 4. A number of King's points cam of his strong efforts on the offensive boards. He gathered in 6 offensive boards and 11 rebounds total for a game high.
King might not improve Duke's athleticism or defense next year, but he will give the Blue Devils a serious three-point shooting threat in transition and will also help them as a position rebounder.
Also playing a strong game for Mater Dei was Oregon bound point guard
Kamyron Brown
. Brown slashed to the rim for 20 points and came up with 8 assists as he constantly pushed the tempo and found shooters in transition. Also a physical defender, Brown still needs to improve his decision making and overall court savvy, but the physical tools and competitiveness are in place.
Sophomore twins
Travis Wear
and
David Wear
also contributed to the Mater Dei effort. Travis finished with 10 points on 5 of 8 shooting and also had 3 rebounds, 2 blocks and 1 steal. David hit for 7 points on 3 of 5 shooting, including a three-pointer, and had 6 rebounds to go along with an assist.
The Wear's father and Mater Dei assistant coach David Wear listed UCLA, Arizona, Washington, Gonzaga, North Carolina and Duke as the schools showing strong interest in his sons. Coach Wear also laid out some criteria that will guide his sons' decision making.
"They will absolutely play together," he said. "And they will go to a program where they can excel and advance their games. They also want to play their own positions and be out on the court together. We don't want it to be a two for one thing where they are subbing in and out for each other. They both have the versatility to play either the three, four or five."
Consolation Game Notes
Kenny Boynton
scored big again with 32 points in Ely's 100-81 win over fellow Florida high school Charlotte High. Boynton got up 27 shots, making 11, but 6 of his makes were from behind the arc on 13 three-point attempts.
His shooting numbers in this game say a lot about his game. Boynton is a pull up specialist off the dribble who excels at making contested shots. His combination of strength and quickness allow him to create space at will.
He is not, however, a great vertical athlete. So getting by his man and scoring around the rim is not his forte.
After his game, Boynton noted that his focus is much more on developing as a point guard than it is on his recruitment.
"I'm working hard on my ball handling in the Team Breakdown workouts, but more than anything I want to improve my decision making as a point guard," he said. "With my recruitment, I haven't narrowed it down at all, but I the Florida schools and Georgia Tech and UConn standout."
Boynton did do a nice job handling and passing the ball as he finished with 5 assists and zero turnovers, but there is no doubting that scoring the ball is what comes most naturally to him.
Dago Pena
played well for Charlotte in a losing effort. He knocked down 8 of 20 shots, including 3 of 6 from the three-point line, for 22 points. He also had 8 rebounds and 4 assists to only 2 turnovers. Most impressively, the long armed and springy junior did a fine job defending Boynton.
Faces in the Crowd
Assistant coaches from Georgia Tech, Kentucky and North Carolina caught Wednesday's action.