Cactus Classic opening night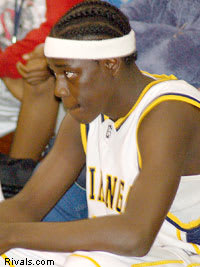 Tucson, Ariz.-On the opening night of the inaugural Cactus Classic, 2007 prospect Steven Gray was outstanding, but there were also a number of class of 2008 standouts. None were better than North Hollywood combo guard Jrue Holiday.
Double Pump Elite 88, West Coast All Stars 77
This game had several top 2008 prospects, including future five-star prospect
Jrue Holiday
. The sturdy and athletic 6-foot-4 combo guard scored 17 points along with 3 assists, 2 rebounds and 2 steals. He has impressive strength with the ball and defending the ball, and he has the frame to get even stronger. With a pure shooting stroke, he hits shots off the dribble and off the catch and is a polished ball handler with the right or the left. His three assists came off diagonal dishes while penetrating the lane.
Holiday said he is open as far as colleges go, but he does like UCLA, Arizona and Washington.
His brother, 2007 prospect
Justin Holiday
is a long 6-foot-6 slasher. His skill set is still a little raw, but there is definitely high-major potential in this prospect.
The elder Holiday named Washington, UCLA, Oregon, Connecticut, Syracuse and Louisville as the schools pursuing him the hardest.
Also playing well for the Double Pump Elite was 2008 point guard
Jerime Anderson
. He put up 16 points with 5 assists, 2 rebounds, 1 block and 1 steal. Very smooth with the ball, Anderson attacks the basket with poise and had some nifty left handed finishes.
Anderson said UCLA is recruiting him very hard as is USC. Arizona and Stanford are also showing interest.
Leading the way for the West Coast All Stars was athletic 2008 combo guard
Keion Bell
with a game high 24 points to go along with 5 rebounds, 4 assists and 4 steals. Far from a polished player, Bell has definite high-major athleticism and a will to compete. He can get to the basket and will a jumper into the basket, but his handle does need tightening and his shooting stroke needs some work.
Total Package Red 68, Sporting Chance 52
The local Sporting Chance squad never had much of a chance against the quality play of top 50 2007 player
Steven Gray
and future five-star 2008 prospect
Clarence Trent
. Gray had a game high 23 points along with 5 assists, 3 rebounds and 1 steal. Trent went for 14 points, 6 rebounds, 4 steals, 1 assist and 1 block.
With already a high major body, Gray has a quick, smooth shooting stroke and can thread the needle with the pass. He also is a strong defensive presence.
Trent is an active, big bodied small forward at 6-foot-6, 218-pounds. He has a dangerous turnaround jumper pivoting either way from the mid-post and can put the ball on the floor and attack the rim. His recruitment is just starting to take off, but he listed Arizona, Louisville and Washington as the schools recruiting him the hardest.
SoCal Razorbacks 100, California Supreme Prospects 65
The story of this game was the play of 2010 prospect
Jeremy Tyler
. The 6-foot-8 eighth grader scored 11 points and grabbed 8 rebounds in a losing cause. Tyler has good hands and moves well and also showed the ability to score with his back to the basket with a nice spin move back to his right shoulder.
Kamyron Brown
and
Drew Viney
both had solid games for the Razorbacks. Brown finished with 12 points, 3 rebounds, 1 assist and 1 steal, while Viney scored 10 points and grabbed 5 rebounds and had 2 steals.
Brown is an athletic guard whose shot is improving. A tenacious player on defense and in the open court, he still has room for improvement in his feel for the point guard position.
Viney, who has great hands and wrists, snags rebounds and can stroke the ball from deep. He also has a great feel for passing the ball up the court, and his ball handling is improving. Right now he is strictly a finesse player, and it is essential that he develop a more physically aggressive side of his game.
Horne plays like a five-star
In a lopsided EBO victory over the Texas D1 Ambassadors, Horne did a little bit of everything. He was constantly around the ball as a defender and rebounder, passed the ball well, scored around the basket and made shots from behind the arc. In the process of developing a high-major small forward body, Horne looked awful comfortable playing on his future court.
No Love