Cactus Classic: Friday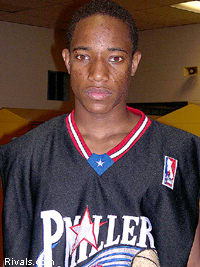 TUCSON, Ariz. -- If Friday night's action at the Cactus Classic was any kind of preview for what kind of weekend this will be, then buckle up. Things are about to get very interesting. Two of the best guards in the West met head to head for a memorable match-up that will have people talking.
The Spotlight
The term special might not do Belmont Shore's 98-91 win over Pump N Run Elite justice. This one was one to remember for a long time.
Derozan, a USC commitment, was outstanding and looked every bit the five-star prospect in the victory. The 6-foot-5 guard scored a game high 29 points on 11 of 18 shooting from the floor. The term 'pro' was tossed around quite often after his outstanding showing. That kind of compliment was clearly justified.
Derozan is a big time scorer and is establishing himself as such nationally this spring. This might be his signature game of the year and certainly gave the pro Pac-10 crowd something to think about for the future, especially with his second half outburst. What a night for the five-star guard.
Jennings, Derozan's new teammate for the tournament, wasn't too shabby either. The explosive point guard 28 points (12-28 FG) and grabbed 10 rebounds. His shot wasn't dropping but he got into the lane any time he wanted to and caused havoc with his quick twitch movements.
Belmont Shore had a hot hand from sophomore guard
Roberto Nelson
, who did most of his damage in the first half. The 6-foot-3 guard scored 22 points in the victory and quietly did the damage to help Belmont Shore sneak a couple of points away early that proved to be big in the end.
Holiday was no slouch himself. In fact, he was equally as outstanding as Derozan. The nation's second best player scored 27 points on 10 of 16 shooting. That kind of proficiency is the staple of Holiday's game. There is very little wasted movement with him and when he makes a move the basket the end result is usually a bucket or an assists. For young guards that want to learn how to simply 'get it', watch Holiday for 32 minutes. He is a clinician.
Drew had a hard time shooting the ball (5-16 FG, 2-10 from three) but managed to round up 14 points and drop eight assists without turning the ball over. He set up Holiday and the Wear twins for scores.
David Wear quietly enjoyed a big night, scoring 17 points in the defeat and showed off a silky touch from the wing.
Nelson was a bull down low, scoring 11 points and grabbing 12 rebounds. No one will out work him and he plays like a middle linebacker on a mission on the court. After taking a hard shot to the face on a foul, Nelson dusted himself off, collected his thoughts and went right back to the basket. Another hard foul and another and one score. You don't knock a kid like Nelson off of his game.
The kids are alright
The depth in the 2009 class in the tournament field is outstanding and a number of sophomores put a stamp on opening night's activities.
Erik Williams
, a 6-foot-6 wing forward for the T-Mac All-Stars, was an eye-catcher with his team high 19 points and nine rebounds in a 64-61 win over Utah Pump N Run. Williams connected for four three-pointers and has a great frame for a wing but also strong enough to set up shop down low. He's one to keep a closer eye on throughout the weekend.
Williams said Baylor and Alabama stand out the most for the moment while Texas A&M, Texas, Kansas and Georgetown are also charting him.
As a pure set up guy, there might not be a better 2009 guard here than Houston Elite point guard
Stevie Rogers
. The Strake Jesuit floor general has a great feel for finding his scorers within the flow of the game and making concise passes for points. He handed out nine crafty assists and was the calming force throughout the game. Rogers controlled the pace of the contest by himself. He said he has three early offers from New Mexico, Houston and Indiana State while Texas, Texas A&M, Wake Forest, Michigan, Oklahoma State and Arkansas continue to follow his progress.
There is a great debate in the Houston area about the top point guard in the city for the 2009 class. Roger's name certainly comes up, as it should. But so does the name
Jamal Fenton
.
Fenton made a strong case for himself with 14 points and four assists in a win with the T-Mac All-Stars. The 5-foot-9 floor general from Houston Chavez is a jet with the ball in his hands. Speed will not be an area of concern at the next level. Neither is scoring. Fenton said Florida State, Texas, Syracuse and others are looking at him early on.
California forward
Hollis Thompson
has always been an eye-catcher since seeing him last summer in San Diego at the adidas Phenom150 camp. On Friday night he scored a team high 20 points. The 6-foot-6 combo forward has a good shot from deep but is also active around the basket. He's long and gangly and runs a lot like Kansas forward Julian Wright. The Los Angeles (Calif.) Loyola High School product is a big time student and has a good looking inside-out game.
After making a blip on the radar after the Jayhawk Invitational, Texas D-1 Ambassador big man
Cory Jefferson
shined once again. The skinny 6-foot-9 post uses both hands well and has a good turn around baby hook shot that he went to often. Jefferson scored 15 points, grabbed nine rebounds and collected four blocked shots. He's a work in progress but his upside just screams "watch me." Jefferson said Texas, Texas A&M, Virginia Tech and Baylor are all recruiting him.
Pierre Jackson may have been one of the smallest guys on the floor on Friday night but the 5-foot-6 point guard from Desert Pines High School in Las Vegas and the Vegas Rebels put on quite a show. The 2009 floor general scored 15 points and wowed the crowd with his springs, speed and toughness. His bullish play not only took the West Coast All-Stars out of the game, he took their spirit away. Jackson is a fine passer and played so much bigger than his size.
Garlon Green
, the younger brother of former Rivals.com No. 1 player Gerald Green, is another Houstonian to watch in 2009. The Hightower High School prospect has a stroke that goes beyond the three-point line and some bounce like big brother. He's neither the freakish athlete nor the dead-eye shooter like Gerald but there is talent inside his 6-foot-6 frame. We'll be watching him closely this weekend. Green said Kansas, Oklahoma and Houston are his early suitors.
I'm looking at…
Bouncing around from court to court, Rivals.com picked up a number of school lists for some of the top prospects in the tournament field.
Nothing has really changed with recently named five-star forward
Anthony Jones
of the T-Mac All-Stars. The 6-foot-10 shooting forward still has the same four schools high on his list and says immediate playing time will be the separating factor in his decision between Texas, Arizona, Oklahoma and Baylor. Jones scored 11 points and grabbed 10 rebounds in a win.
Teammate
Phillip McDonald
, a hot target for Big 12 programs, said Oklahoma State, Kansas, Oklahoma are the heaviest hitters right now. The 6-foot-5 has one of the prettiest strokes in the Lone Star State.
Playing with the T-Mac All-Stars, 2009 wing
Joey Brooks
is learning from his talented upperclassmen teammates. Brooks, a smooth 6-foot-5 prospect, said Vanderbilt, Wake Forest, Stanford, Texas A&M, USC and Kansas are looking at him. He said he is still waiting for his first offer. Brooks led T-Mac with 16 points in a win over Utah Pump N Run.
Rick Nelson has a young crew with his Houston Elite club and there is handful of 2009 kids that schools are staying on top of.
Teams looking for a face up four man that can shoot and possesses good grades might want to take a look at Matt Staff from Houston (TX) Memorial. The 6-foot-8 shooter knocked down a pair of three-pointers en route to a modest 11 point game. Staff said he has heard from TCU, Rice and Kansas early in the process. He's a good mid-major kid to watch this summer.
Scott Farrington
, a 6-foot-6 junk yard dog from Houston's Christian Life Center, is bouncy, rugged and went hard after rebounds. After scoring 13 points in a win over the Arizona Stars, he said he is being recruited by St. Louis, Houston, Wichita State, Auburn, South Florida and Notre Dame.
Tim Frazier, a 2008 combo guard from Strake Jesuit, said he recently picked up an offer from New Mexico State while Texas A&M-Corpus Christi, Southeast Louisiana, Rice and Houston continue to monitor him this summer. Frazier scored 11 points in an opening night victory.
Utah Pump N Run center
Ben Aird
, a 6-foot-10 prospect from Bountiful High School, said Utah, BYU, Utah State, Stanford and the Ivy League schools are tops on his list. Aird, a 2008 prospect, said he is still very open in the process.
News & Notes
Defense is not looking like a priority in the 32 minute games. At least five of the top games pushed the 100 point mark.
The mood inside the tournament is loose, the kids are having fun and after one day of action, the event is already living up to it's billing as one of the premiere tournaments in the country.