Cactus Classic: Day one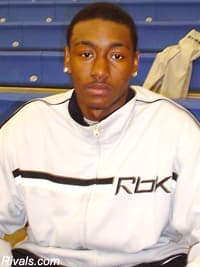 TUCSON, Ariz. - With a star-studded field of 32 on the country's top travel teams, the Arizona Cactus Classic got off to a strong start Friday night. Although his squad came up short, the No. 1 ranked point guard John Wall was close to unstoppable.
John Wall
(D-One Sports)- Not only has Wall clearly established himself as the top point guard in the country, the speedster is also staking a claim as the top overall player in the country. With a tight handle, blazing speed, top level court vision and uncanny body control around the rim, Wall just might be the toughest player to contain in the country. Getting into the lane nearly at will, Wall ended a 77-72 loss to the Northwest Panthers with nine assists on a night when his teammates struggled to finish. He also lead his team with 21 points, grabbed five rebounds, had four steals and only turned the ball over two time.
The comparisons to
Derrick Rose
are certainly merited. Wall's shot, which does need a lot of work, is at roughly the same level of Rose's shot at the same stage. Wall's handle, however, is much tighter and is faster with the ball than Rose. Wall does not have the same vertical leap as Rose, but Wall does have better body control at the rim as a finisher than Rose. In fact, his crafty game and long arms give him a
Tyreke Evans
quality to his game, but with much more athletic explosion.
Wall also showed some top notch defensive play Friday night, but the problem is that his effort is spotty. For every play where he bears down and holds down his man, he has a play where he watches the ball go by him. Along with his spotty defense, there is also the question of why his team loses more games than one would expect with his dominating ability. I don't really have the answer to that question, but I do know that more than anything Rose is known as a winner who spent a lot of time on the travel circuit winning games against teams that were overall more talented than his own. Ensuring that his team comes away with a "W" should be Wall's clear focus. There is no doubting his physical ability, but there is the question as to whether or not he can consistently manufacture wins.
Abdul Gaddy
(Northwest Panthers)- Presently the No. 2 ranked point guard, Gaddy had a strong game on the other side of the ball from Wall. Gaddy only guarded Wall in spots and initially had some success by gapping him. Eventually, Wall started sprinting with the ball through that open space and consistently got by Gaddy. No shame in that, however. Gaddy is an extremely smart player and moves his feet well laterally. Only a player like Wall is going to consistently get by him. On the night Gaddy finished with 22 points, five assists, two rebounds, one steal and four turnovers. Although his outside shot was erratic, Gaddy controlled the tempo for his team and did a nice job working his way into the lane for buckets. He also delivered the ball with timing to his teammates.
Avery Bradley
(Northwest Panthers)- Bradley spent a lot of time on the bench after picking up some early fouls guarding Wall, but he came alive in the second half to spur the Panthers to their comeback win. Scoring on pull up jumpers and explosive assaults on the rim, Bradley finished with 16 points. He also displayed his defensive prowess, making Wall struggle to find driving lanes down the stretch of the game. The one disappointing area of Bradley's performance is that he didn't come up with a rebound in the game. Nonetheless, this spring Bradley has established himself as one of the top shooting guards in the country and a candidate for five-star status.
Elijah Johnson
(Pump N Run Elite)- On the theme of point guards, Johnson might not have the speed of Wall has but he has as much strength and shooting ability as any point guard in the country. On the far court, he scored eight points on some acrobatic finishes to go along with three assists to one turnover. Johnson looks to be establishing himself as more of a basketball player and not just an athlete. With his upside, he has to be considered an upper level point guard in the 2009 class.
Mike Moser
(I-5 Elite)- Although his squad lost a tough one to Pump N Run, we couldn't help notice Moser making play after play on the far end. He finished with an impressive 26 points, 14 rebounds, and five assists. He'll get a much closer look from us on Saturday.
Ricardo Ratliffe
(Boo Williams)-
Steven Pledger
dominated the game early for Boo Williams, but then Ratliffe finished it off with his physical play in the second half to give his squad a thrilling 58-57 win over California Supreme. A beast around the bucket, Ratliffe had a game high 18 points to go along with seven points.
Kendall Marshall
(Boo Williams)- Marshall brought his "A" game to the gym Friday night. Only credited with three assists, Marshall appeared to have more like ten assists in a game where his play was crisp. He also hit a number of timely shots for 14 points.
Marshawn Powell
(Boo Williams)- His game isn't pretty, and yes, he's undersized, but expect Powell's productive game to translate seamlessly to the high major level. With strength, great hands and impeccable timing, Powell secured rebound after rebound in this game. He was credited for 12 boards but it seemed more like 20.
Solomon Hill
(California Supreme)- On a team with a lot of talent, Hill stood out for California Supreme, leading his team with 13 points and eight rebounds. Not only does Hill look the part as a long athlete, but more importantly, he is constantly around the ball making plays. Simply put, he has a feel for the game to go along with his physical attributes.
Tommy Mason-Griffin
&
Augustine Rubit
- Both had big games for Houston Hoops in a win over the Arizona Magic. They both pumped in a game high 17 points and Rubit added nine rebounds, two blocks and two assists.
Derrick Williams (Team Odom)- A smooth combo forward with an inside/outside game, Williams went to work against 2D1 Basketball on the far court for 25 points coming from a variety of spots on the court.
Jordan Hamilton
(Team Odom)- Playing an unselfish and poised game, Hamilton set the tone for his team with his strong rebounding and timely passing. More than just a scorer, Hamilton has a great feel for the game and the physique and skill level to make a variety of plays. And although his focus wasn't scoring, he still put up 22 points.
Cory Jefferson
(Texas D-1 Ambassadors)- The Baylor Bears are getting a prospect with a bright future in Jefferson. In a win against the REACH Legends he near had a triple-double with 16 points, ten rebounds and eight blocks. Although he still needs to put on significant weight, Jefferson plays with alertness and a high motor which keeps him involved in the action. He is not one of those lanky big men with potential who hangs out on the fringes. Jefferson has good hands which secure rebounds, is quick to challenge a shot and scored both on post moves and with face up jumpers.
Gerland Judkins (Texas D-1 Ambassadors)- This physical combo guard game REACH fits with his powerful drives to the basket. He came up with a number key buckets in a three point win to finish with 25 points.
Keith Appling
(REACH Legends)- This 2010 guard had trouble penetrating the defense, but in the second half he let it fly from behind the arc, hitting five three-pointers in that half to finish with a team high 25 points.