Busy weekend of hoops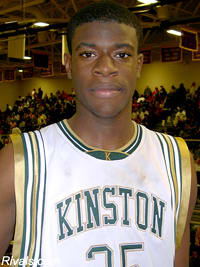 December is one of the busiest months of the year for basketball recruiting fans. This weekend starts a busy and star-filled month of tournaments and events from coast to coast. Rivals.com will be at the two best events this weekend.
Jerry Meyer will be in Benton, Kentucky for the Marshall County Hoopfest while Justin Young travels to Upper Marlboro, Maryland for the DTLR National High School Hoops Festival. Also on the road will be some college recruiters as well as a number of top players from all grade classifications.
Meyer said the month is a big proving ground for prospects on a national stage.
"Events in December provide an opportunity to check out the progress prospects have made since the summer and to see them in a different setting with their high school team," Meyer said.
"It is also a time for unsigned seniors to grab the attention of coaches looking for late signees. Underclassmen can also elevate their stock with coaches going into the spring with a strong performance. This is exactly what Cory Joseph of Findlay Prep did a couple weeks ago at the National Prep Showcase."
MARSHALL COUNTY HOOPFEST IS LOADED
The Marshall County Hoopfest is one of the best basketball atmospheres in America. Tucked away in rural Benton, Kentucky, thousands of fans pack the gorgeous Marshall County gym. The crowd is well versed in hoops knowledge and the community makes it a big to do right down to the fresh baked goods for sell and good 'ole Southern hospitality from event organizers.
The marquee game at this year's Hoopfest pins Oak Hill Academy (Va.) against Duncanville (Texas) in a game that will have at least eight Division I players on the floor at the same time.
Other players of note at this year's Hoopfest include:
Tristan Thompson
(Texas/St. Benedict's),
Tamir Jackson
(Rice/St. Benedict's),
Lamar Patterson
(Pitt/St. Benedict's),
Myck Kabongo
(St. Benedict's),
Leslie McDonald
(North Carolina/Briarcrest),
Johnny Williams
(George Mason/Briarcrest),
Tyler Griffey
(Illinois/Lafayette),
Joe Jackson
(White Station),
Ferrakohn Hall
(White Station),
Jared Sullinger
(Ohio State/Northland),
J.D. Weatherspoon
(Xavier/Northland),
Jon Hood
(Kentucky/Madisonville North Hopkins)
Richard Howell
(N.C. State/Wheeler[/db],
Ari Stewart
(Wake Forest/Wheeler),
Ge'lawn Guyn
(Scott County), Dakota Euton (Kentucky/Scott County),
Brandon Spearman
(Simeon),
Marcus Jordan
(Whitney Young),
Chris Colvin
(Iowa State/Whitney Young), Ahman Starks (Oregon State/Whitney Young),
Ruslan Pateev
(Arizona State/Montverde),
Justin Jackson
(Montverde), Robert Chubb (Auburn/Montverde),
Avery Bradley
(Texas/Findlay),
D.J. Richardson
(Illinois/Findlay),
Victor Rudd
,
Carlos Lopez
(UNLV/Findlay),
Cory Joseph
(Findlay),,
Isaiah Grayson
(Findlay) and others.
Marshall County Hoopfest schedule
Friday, December 5
5:30 p.m. Marshall County (KY) vs Obion County Central (TN)
7:00 p.m. Oak Hill Academy (VA) vs Duncanville (TX)
8:30 p.m. St. Benedicts (NJ) vs Jackson Provine (MS)
10:00 p.m. Briarcrest (TN) vs Homewood Flossmoor (IL)
Saturday, December 6
10:30 a.m. Paducah Tilghman (KY) vs Lexington Catholic (KY)
12:00 p.m. South Laurel (KY) vs Lafayette (MO)
1:30 p.m. Memphis White Station (TN) vs Columbus Northland (OH)
3:30 p.m. Marshall County (KY) vs Madisonville North Hopkins ((KY)
5:00 p.m. Wheeler (GA) vs Jackson Callaway (MS)
6:30 p.m. Scott County (KY) vs Duncanville (TX)
8:00 p.m. Oak Hill Academy (VA) vs Chicago Simeon (IL)
9:30 p.m. Chicago Whitney Young (IL) vs St. Benedicts (NJ)
11:00 p.m. Montverde Academy (FL) vs Findlay (NV)
SPOTLIGHT ON D.C. AREA, TOO
The sports world in the Washington D.C. area will have plenty to watch this weekend. The Redskins and Ravens tangle on the hardwood and the action at Wise High School will be competitive and filled with Rivals150 prospects at the DTLR National High School Hoops Festival.
Some of the nation's most famous head basketball coaches have made the trek to Baltimore in the preseason to catch a glimpse at Walbrook junior
Roscoe Smith
. A number of those same coaches will likely make it out this weekend to see the five-star junior take on North Catholic from Philadelphia.
North Catholic boasts an intriguing young forward
Rakeem Christmas
, a 6-foot-9 sophomore. Christmas drips potential and a good-showing against Smith could be the spark that he needs to tap into his natural talent.
Future North Carolina teammates
Kendall Marshall
and
Reggie Bullock
will have a chance to play against each other on Saturday night. Marshall suits up for his third consecutive season as the starting point guard for Bishop O'Connell while Bullock headlines a very good Kinston club from North Carolina that won the 3A state title last year.
On Sunday, National Christian will take on St. John's Catholic. The two programs have pumped out big time players over the last couple of years. This year's crop is just as good.
National Christian is led by future Pitt Panther star
Dante Taylor
. Head coach Trevor Brown is excited about the prospects of
Ayodeji Egbeyemi
, a 6-foot-4 junior that just moved to the United States from Nigeria. St. John's boasts Canadian sophomore
Grandy Glaze
.
Future Villanova guard
Maalik Wayns
and his Roman Catholic (Pa.) team will take on Virginia's Paul VI featuring Virginia Tech signee Erick Greene on Sunday. The game will serve as the undercard for a pair of intriguing match-ups later on Sunday.
Two of the best prep school teams in the country, Hargrave Military (Va.) and Patterson (N.C.), will play in a highly anticipated match-up.
The final game of the weekend pairs one of the best teams in the D.C. area and nationally in DeMatha against Murrah (Miss.), featuring the No. 1 sophomore in the country in
LaQuinton Ross
.
DeMatha's line up of guards is one of the best in the nation. Texas A&M signee
Naji Hibbert
, Tennessee commitment
Josh Selby
and 2010 Rivals150 prospects
Victor Oladipo
and
Jerian Grant
man the wings. Class of 2011 guard Quin Cook is also a prospect to watch for the future.
DTLR National High School Hoops Festival schedule
Saturday, December 6
1:30 p.m. Wise (MD) vs. Archbishop Carroll (DC)
3:30 p.m. Walbrook (MD) vs. N. Catholic (PA)
5:30 p.m. Bishop McNamara (MD) vs. St. Frances (MD)
7:30 p.m. O'Connell (VA) vs. Kinston (NC)
Sunday, December 7
1 p.m. National Christian (MD) vs. St. Johns Catholic Prep (MD)
3 p.m. Roman Catholic (PA) vs. Paul VI (VA)
5 p.m. Hargrave (VA) vs. Patterson (NC)
7:00 p.m. DeMatha (MD) vs. Murrah (MS)