Bush Explodes Onto National Scene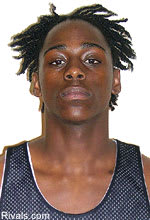 The secret is out now.
Jermonte Bush
is a big time player. The 6-foot guard from Tallahassee was a must-see player last weekend at the Capitol Invitational and he proved to everyone in attendance that he is one of the top guards in country. In fact, some see a little bit of Darius Washington in his game.
His motor never stops. Bush has only one speed and that is full steam ahead. He bulls his way to the bucket and has a great step back dribble which creates a huge gap between himself and defenders for an open, deep look. The kid can score. Sounds a lot like former Tallahassee Wildcat Darius Washington, Jr. doesn't it?
Darius Washington, Sr. is an assistant with the Wildcats this summer and has a good knowledge of the duo's skills. He sees the similarities.
"Jermonte is similar to Darius in a lot of ways," Washington, Sr. said. "As I watch him each game he's got a lot of everybody's game. He's definitely going to leave his mark as one of the top guards in the state…This is my first time to really see him and I'm just amazed by what he does. I'm totally impressed. I'm a Jermonte Bush fan right now."
A handful of high-majors are fans, too. A few made some calls prior to the tournament and now after his play, his phone should start to ring even more.
"North Carolina, NC State and Cincinnati have all called me on the phone," Bush said. "I have letters from other colleges but those are the only ones that have been calling me so far."
Arizona, Clemson, Florida State, Georgia Tech, NC State and Stanford have all corresponded via letters. After leading his Tallahassee Wildcats to the championship of their respective bracket, Bush knows his recruitment is just at the infant stages. He expects more schools to come in the near future.
"I think I'll have some looks and calls this week but I think by the end of the summer everyone will be calling me," Bush said. "I got a long summer. So right now I'm just trying to get all the eyes of the world to see what kind of player I am. I just doing the best I can at getting people to see me."
Don't think his performance in Washington, D.C. was just a flash in the pan. He's taking his show on the road this summer.
"You'll see this all summer long from me because I'm going to bring it every night, every day, every weekend," Bush said. "I'm coming as hard as I can, 150%."
Bush was one of the top players we saw last weekend in Washington D.C. He'll have a chance to prove himself once again this weekend at the loaded Kingwood Classic in Texas. The Wildcats have a tough pool with the Illinois Wolves and Team Texas sitting on the schedule.