Bryant down to four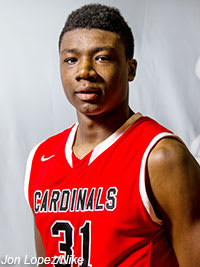 Bryant, a 6-foot-11, 250-pound center with a wingspan measured at 7-foot-5 is ranked No. 36 in the class of 2015, has seen a few schools focus on him.
Bryant is a high motor guy that's always talking on the offensive and defensive end and scores when needed. He is an elite rebounder with a nose for the ball that will make contact and keep his man off the glass. Bryant has a quick second jump and throws on-target outlet passes.
The four-star big man discussed what appeals to him about each of his finalists.
Indiana: "What they did with Cody Zeller and Noah Vonleh and just looking at what they did with those two. I know Yogi Ferrell really well and James Blackmon, growing up with him and playing with him at camps too. We had a good relationship before he went to Indiana."
Bryant took an official visit to Bloomington on Oct. 17.
Bryant took an official visit to Syracuse on Sept. 19.
Missouri: "With coach Rob (Fulford) going there, I'll always have a relationship with him. Also, Montaque Gill-Caesar played with me last year. I have a good relationship with him."
Bryant took an official visit to Missouri on Oct. 11.
Kentucky: "Having Coach (John) Calipari there and knowing Trey Lyles. I've played against him and everything. Me and coach Cal have established a real good relationship real quick."
Kentucky offered Bryant in late November, but Coach Calipari has been out "a couple of times" to see him. Bryant admitted that, as part of the process for making his decision, he will be watching Kentucky's big men to see which ones enter the NBA draft and which one's return for another season in Lexington.
The McDonald's All-American doesn't have an official visit to Kentucky planned at this time and indicated that he could take more unofficial visits to Missouri, Syracuse and Indiana.
When talking with Bryant, one thing clearly comes across -- he is a team-first guy that's focused on helping Huntington Prep, currently 22-2, win a national title.
"I feel the season has gone pretty good," Bryant said. "Slowly but surely getting into the best position that we can be in to try to win a national championship. I do what I can to be there for the team."
As far as picking a school, Bryant isn't in a hurry nor does he feel rushed to make a decision.
"When the season ends and everything dies down and I can just clear my head and think," he said.