Four-star Brown talks final four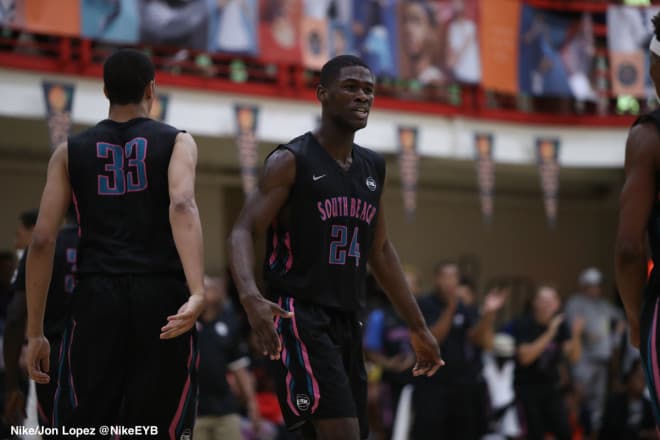 Four-star Chaundee Brown has continued to see his recruitment take off throughout travel season, but it really stepped up a notch after he had a strong showing at the Peach Jam last month. He already had a long list of offers, but Kansas and Maryland came through with scholarship offers after a couple big time performances in Augusta.
The No. 64 prospect in the 2017 Rivals150 recently trimmed his list down to four schools with Florida, Kansas, Maryland and Wake Forest still under consideration.
IN HIS OWN WORDS: Brown broke down what stands out most about the schools still on his list.
Florida: "I just like their playing style with their guard play. Coach (Mike) White can help me a lot. He said he needs another great shooter like me. He watched me play a lot this summer, and he feels like I'll fit in well with their system the way they push the ball."
Kansas: "Kansas has always been good. They have great tradition. They play on TV a lot and they always make it to the Sweet 16. They always have guards make it to the NBA."
Maryland: "They always win in their conference. They are in the Big Ten now. They are always one of the better teams and get the other team's best. They said they really need another wing that can push the ball and be versatile."
Wake Forest: "Just Coach (Danny) Manning, he knows a lot. He played in the NBA and won a ring with Kansas. He has connections and they need a wing that can step in and be the missing piece."
WHAT'S NEXT?: Brown plans to take official visits to each of the four schools remaining on his list in September and October. He mentioned the possibility of visiting Kansas for Late Night in the Phog again this year. He's shooting for a decision in later October or possibly into early November in hopes of signing during the early signing period.
RIVALS' REACTION: Behind the scenes, many have been pointing to Kansas as the likely leader for Brown's services. However, Brown says all four schools remaining on his list go into the official visit stage of his recruitment on an even playing field and after speaking with we would bet he plays a mean game of poker. Brown indicated to Rivals.com that his official visits will play a large role in making his decision.