Brooks will have his pick of schools as UK, KU, Indiana, UNC get involved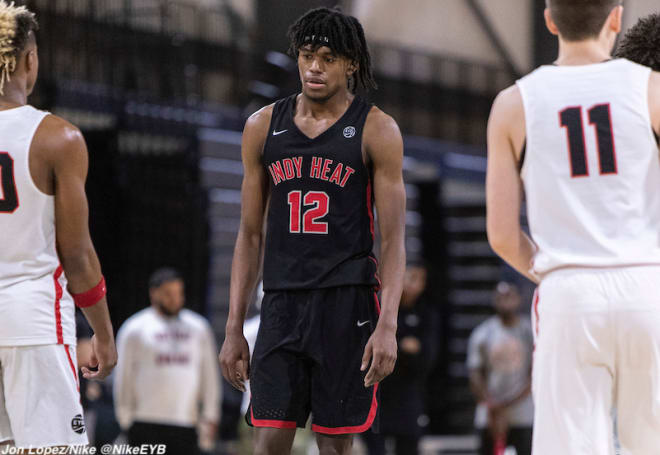 Keion Brooks is already ranked as the No. 35 prospect in the 2019 Rivals150, but with his play during the current travel season with Indy Heat, that may not be high enough. The 6-foot-8 forward has Indy Heat at 8-4 in the Nike EYBL and positioned well to earn a spot at the EYBL Finals at the Peach Jam in July with his play, averaging 23.2 points and 7.7 rebounds per game.
His recruitment has blown up over the past month. He's had the entire Midwest on him hard for a couple years now, but more recently some of the bluebloods like Kansas, Kentucky and North Carolina have joined the mix. He's taken visits to Indiana, Kentucky, Michigan State, Ohio State and Purdue already and hopes to see more schools this summer.
IN HIS OWN WORDS
Brooks broke down his interest in the schools recruiting him.
Indiana: "I really Coach (Archie) Miller. Just watching from the outside and seeing the way he got the team to buy into what he was seeing even though they weren't guys he recruited, that was really impressive."
Kansas: "They always go deep into the post-season. They've won 12 or 13 straight Big 12 titles, like every year of my life almost. They are always doing something big in the post-season and playing into March."
Kentucky: "I like Kentucky a lot because Coach (Tony) Barbee and Coach (John) Calipari let me know I'm a priority. They always tell me Kentucky isn't for everybody but they think it is for me. They feel like I have an edge about myself that would help me in their program."
Michigan State: "I like the way Coach [Tom] Izzo gets his guys to buy in and believe in the bigger picture. He takes a group of guys and turns them into a family."
North Carolina: "They are North Carolina. It's a historic program. I like the way Coach (Hubert) Davis and Coach (Roy) Williams are going out of their way to build a relationship and getting to know my family instead of just trying to sell me on the program without knowing my family."
Purdue: "I really like Purdue because of how hard they play night in and night out. They are going to play hard, defend, and play real fast."
MEETING MARTIN
Brooks met former NBA All-Star Kenyon Martin this summer after playing against Martin's son.
"After the game, I was pretty mad, so I got dressed quick and I wanted to beat my team out the door and blow some steam off," Brooks said. "I walked past where they were standing, Scottie Pippen and Kenyon Martin, and they both shook my hand and said I played well. Martin walked me out the door after that. He was telling me to watch film of myself, don't get complacent, and be my own biggest critic. He said he loved the way I play hard on both ends of the court. He said I have a bright future if I keep working hard."
RIVALS REACTION
Brooks genuinely sounds like a kid who is completely open to the entire recruiting process and is still trying to figure out his thoughts on each of the schools. He did mention that he would like to start trimming down his list soon and hopes to take some visits throughout the summer, but doesn't really have a timeline on when he'll make a decision.

Every school he talked about above seems like a legitimate option for him whenever he starts to cut his list. There will certainly be local pressure to pick one of the three Big Ten schools involved with him, but it's never wise to count out programs with the prestige of Kansas, Kentucky and North Carolina.