Briscoe makes grade at Dallas EYBL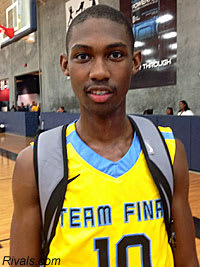 FRISCO, Texas -- Day two of the Dallas stop of the Nike EYBL belonged to a five-star point guard. Isaiah Briscoe of the New Jersey Playaz finished off a great weekend leading his team to a 4-0 record and solidifying his status as one of the nation's elite guards. While Briscoe backed up the hype, Greek import Georgios Papagiannis stood out without having to put up big numbers and Rivals150 guard Levan Alston helped Philly-based Team Final to a big day.
Briscoe tearing up the EYBL
Currently,
Jalen Brunson
is the top-ranked point guard in the class of 2015, and the 6-footer from the Chicago area is certainly worthy of that distinction. But don't just hand him the crown, because fellow five-star
Isaiah Briscoe
is playing at a high level himself.
Ranked No. 19 in the class of 2015, Briscoe put on a show with the New Jersey Playaz while leading them to an undefeated weekend at Fieldhouse USA just outside of Dallas. During the Sunday game Rivals.com focused on, the 6-foot-3 floor general from Roselle (N.J.) Catholic dropped a triple-double of 23 points, 10 rebounds and 10 assists on the Northwest Xpress. For good measure, Briscoe added five steals and only turned the ball over once.
While Briscoe has always been big and strong for his position, he has at times been a bit of a gunner and not in the best of shape. Make no mistake, he is still a scoring point guard; but he has really improved his shot selection and done an incredible job of getting his body in shape. Because of his strength, Briscoe can physically dominate most defenders, and he is tough and aggressive to go along with strong.
About the only thing Briscoe didn't do well was shoot the ball from deep, but he has unwavering confidence and will keep defenders on their toes regardless of whether or not his shot is going down. Briscoe attributed his success to just playing basketball instead of worrying about proving himself.
"That just comes naturally to me," said Briscoe of his play. "I'm not trying to prove anything anymore, I'm just trying to play basketball. If people are open I'm finding them. It's not about trying to do this or that."
On the school front, Briscoe said that
Louisville
has recently turned up the heat and that usual suspects such as
Connecticut
, St. John's,
Arizona
and
Florida
have remained in the mix. But Briscoe made it clear that he's not focusing on his recruitment and that he is "just chilling" when it comes to thinking about schools.
Finally, when asked to grade his performance for the weekend, Briscoe was neither incorrect nor shy.
"I'd say A or A-plus," said Briscoe when asked to rate his weekend performance. "We are undefeated and I feel like the Kyle Lowry of our team, and everybody else has been stepping up too."
Greek big man adjusting to summer ball
For 7-foot-1 big man
Georgios Papagiannis
the Dallas session of the EYBL was a totally new experience. The No. 44 player in 2015 arrived in the States less than a year ago and enjoyed a very good junior season at the Westtown (Pa.) School. Now, he's adjusting to an entirely different style of play and level of competition while hitting the floor with Team Takeover.
"It's different than high school," Papagiannis told Rivals.com. "All the best players are here and you have to compete and be ready every game."
So far, the 7-footer's numbers haven't been overwhelming. But it isn't always about numbers, and there are some clear identifiers that suggest that as highly as he is already ranked, Papagiannis is a bit under-ranked at this point.
First of all, his size just can't be dismissed. We are talking about a legitimate 7-foot plus kid, and he's got a man's body to go along with his height. Papagiannis is simply massive and takes up a ton of space in the lane. On top of that, he moves very well, has good hands, soft touch and plays with a real mean streak. While he's still adjusting to grassroots ball, his Team Takeover squad is adjusting to playing with him, so it will take a little time for him to flourish.
"It's just my first session of EYBL," said Papagiannis. "I'm trying to get used to it and my team. I'll get better the next session."
Alston has big day
Team Final out of Philadelphia had a big day and a big weekend. Much of it had to do with the play of Rivals150 combo guard
Levan Alston
, aka Shizz. A 6-foot-3 combo guard from Haverford (Pa.), Alston currently sits at No. 118 in the national rankings but made a case to be moved up.
A two-way player, Alston uses his quickness and length to pester opponents as a defender. On the offensive end, he is very good at setting up his offense off the dribble and is a very good jump shooter whether it be on pull-ups or coming off a screen and firing from deep. He's also quick to deflect credit to his talented teammates on the perimeter such a
Syracuse
-bound
Malachi Richardson
and
Villanova
-bound
Donte Divincenzo
who rank No. 21 and No. 81, respectively, in 2015.
"We just have so many guards that can play," said Alston when asked about the success he is enjoying in the EYBL. "It's hard for teams to match up with us, and it gets us open looks.
"It's easy playing with good guards like all of these guys."
Alston said that his recruitment has started to take off of late and that he has offers from VCU, Wichita State,
Seton Hall
,
Cincinnati
,
Notre Dame
Temple and Penn State.
Stanford
, Harvard and
Boston College
have shown more interest of late, and he's seen the campuses of Penn State, Harvard, Boston College, Seton Hall and Temple.
He counts his ability to play on or off the ball as a big reason for the interest from college programs.
"They like my ability to play the point and the two," said Alston of college coaches. "I can shoot the three and hit the mid range off the dribble."

For the second day in a row, 6-foot-7 small forward
D.J. HoggClick Sunday quick hitters from DallasHere
to view this Link. backed up his No. 35 ranking in the class of 2015. His game would benefit from more driving and using his size, but Hogg is an elite jump shooter with legitimate NBA range on his shot.
He still has a long way to go from a skill standpoint and has to improve his hands, but 2015 big man D'Jerry Baptiste, who is a teammate of Hogg's on the Texas Titans, has made gigantic strides with his game. Baptiste looks like a fully grown man with his muscular/top heavy build, and he can run up and down the floor. He's learned to use his strength and 6-foot-11 size to intimidate and has gotten much more active on the glass.





Finally, it was a very good day for
Malachi RichardsonClick A new teammate of Burns on the Albany City Rocks, 2016 shooter
Maverick Rowan solidified his status as a top 50 player in his class. He hasn't gotten a lot of pub, but the
Pittsburgh commit has good size, can shoot and plays with tremendous confidence. Playing with a new team, he blended in quickly and was pretty productive.Here
to view this Link.. We mentioned the 2015 commitment to Syracuse briefly while talking Levan Alston but he deserves more here. Richardson is starting to fill out and was aggressive in attacking the lane to supplement his jump shooting on Sunday. Also showing flashes was currently unranked -- but certainly in the discussion when we update our lists -- wing
Trey LoweClick A new teammate of Burns on the Albany City Rocks, 2016 shooter
Maverick Rowan solidified his status as a top 50 player in his class. He hasn't gotten a lot of pub, but the
Pittsburgh commit has good size, can shoot and plays with tremendous confidence. Playing with a new team, he blended in quickly and was pretty productive.Here
to view this Link.. Low is quite thin but has a great first step, is sneaky bouncy and has a good looking stroke out to the 3point line.

Click
Here
to view this Link.
[rl]