Breakout Challenge: Day One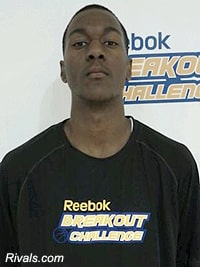 PHILADELPHIA - On the opening day of the 2011 July evaluation period, Reebok officially entered back into the fray of summer basketball. With their highest profile athlete, John Wall on hand and jumping into drills, the concept of the Breakout Challenge became a reality.
A product of the Reebok system who worked his way through the ranks, Wall is lending his support to the camp in hopes that there are more stories like his. While Rysheed Jordan isn't Wall, it was clear after day one that the rising junior from Philly is a high-level prospect whose recruitment will soon explode.
Wednesday standouts at the Breakout Challenge
Rysheed Jordan
, PG- When we previewed the Breakout Challenge, one of the questions we had was just how good is the rising junior point guard from Philadelphia? Standing near 6-foot-4, Jordan is easily a high major prospect and perhaps the best long-term prospect in attendance. Blessed with size, speed and athleticism, Jordan also has an outstanding feel for the game and is a creative playmaker off of the dribble. Even Wall was asking media about No. 59 and his current list of
Pittsburgh
,
Arizona
, St. Joseph's, Drexel, LaSalle,
Temple
,
Georgetown
and St. John's is likely going to get more crowded with big names.
Jonathan Milligan
, PG- A virtual unknown - even to many inside his home state of Arizona - headed into the Breakout Challenge, the 6-foot-1 Milligan made the most of his opportunity. There wasn't anybody in the gym capable of staying in front of him off of the dribble and he proved to be more than adequate as both a playmaker for others and scorer. A transition player who is also good in pick and roll, Milligan looks to be at least an upper level mid major prospect and could be recruited at an even higher level if he replicates Wednesday's performance as the summer goes along. Milligan listed
Clemson
,
Oregon State
,
Central Michigan
and San Francisco as schools that planned to watch him during July.
Jevon Thomas
, PG- From beginning to end, Wednesday was as good as we've ever seen the future St. John's point guard. Super quick with the ball in his hands, Thomas was a blur from end to end as he made plays for himself and others at the rim. He's not a jump shooter, but his creativity off the dribble can make up for it. With his quick feet and fast hands, Thomas has good potential on the defensive end as well if he'll add strength.
BillyDee Williams
, SF- Known primarily as a high level run and jump athlete, the Floridian certainly showed off his ability to finish on slashing drives to the rim. However, what will help the rising senior's recruitment the most will be making jumpers like he did on Wednesday. Williams was dialed in from three and looks to have also added some strength to his frame.
Kamari Murphy
, PF- One of the day's most productive players, the New Yorker was good on both ends Wednesday. A finisher around the rim who can run the floor, he's a slender four who uses his quickness to his advantage. In addition to being quick around the rim, Murphy has a good set of hands and looks to be a pretty capable mid-range jump shooter and somebody who will do a good job of converting at the free throw line when he gets there.
More Breakout Challenge notables
Daniel Dingle
, combo forward- The 6-foot-7 rising senior mentioned that coaches are recruiting him to play at anywhere between the two and the four on the college level. That versatility showed on Wednesday as Dingle was active on both ends of the floor. He makes plays in the paint with a quick spin move, dishes to teammates in transition and is just dangerous enough with his jumper that opponents can't back off of him. He's not a high flyer, but he knows how to play and rattled off a list of
Auburn
, Temple,
Xavier
,
Florida
,
Miami
and
Texas
while mentioning that he's wide open.
Ikenna Iroegbu
, PG- A four-star prospect from the class of 2013, the Californian is extremely quick with the ball and puts pressure on defenders to stop his dribble penetration. While he gets into the lane when he wants and will make plays, Iroegbu is also out of control at times and needs to be sure that he has a plan in mind when he gets into the lane. As he settles down and improves his jumper, he's got the talent to move up in the rising junior class.
Chris Bolden
, SG- When
Frank Haith
moved onto
Missouri
from Miami, the class of 2012 off-guard opened up his recruitment. Steady as they come, the 6-foot-2 Bolden simply can't be left alone behind the three-point line or he's going to make defenses pay. He's improved off the dribble, has good strength and is a solid defender to boot. Bolden still lists Miami but also mentioned
Virginia Tech
, Clemson, George Mason,
Marquette
,
Tennessee
, Texas and
Georgia Tech
among the many schools showing interest.
Isaiah Lewis
, SG- The 2013 four-star looked to be one of the better prospect in attendance on Wednesday. A fluid scorer, Lewis loves to go to the floater off the dribble and is a pull-up jump shooter from the mid range. Lewis will share the ball with teammates and plays the game at a steady pace.
Nik Stauskas
, SG/SF- Talk about a perfect fit for
Michigan
, the future Wolverine would appear to be a natural for the Wolverines style of ball. A versatile perimeter performer, he can drain long distance J's or burn right by defenders who don't respect his ability to attack the rim. He's tough, rebounds and appears committed to at least trying on the defensive end.
Final Wednesday notes
He's not the thickest guy around, but combo forward
Tevin Glass
is cementing his status as a high major prospect. Long, thin and explosively athletic, the rising senior is a greyhound in the open floor who skies for slams on one end and chases down blocks on the other. His jumper is come and go, but he's starting to take defenders to the cup with two- and three-dribble drives with regularity. Glass will transfer to Alpharetta (Ga.) Milton for his senior season. … One college coach went so far as to text Rivals saying that he felt rising sophomore
Johnnie Vassar
was the second-best prospect in attendance. While we don't know about that just yet, the jet quick point guard is definitely a playmaker on both ends of the floor with high major potential. … An intriguing combo guard from the class of 2013 to keep tabs on for both mid- and high-major programs is 6-foot-2
Josh Brown
. A high-level athlete with wide shoulders, long arms and some physicality, Brown is a transition finisher and performer who is already capable of playing through contact. …
Monte Morris
enjoys a big reputation in his home state of Michigan and the rising junior showed some flashes on Wednesday. Quick with the ball and capable of finding others, he also seemed frustrated with the sometimes frenetic play and questionable decision making exhibited by his teammates. Regardless, we can see why he's on high major radars. Morris listed offers from
Central Michigan
,
Western Michigan
,
Iowa State
and Michigan while
Syracuse
, Xavier and
Michigan State
are evaluating him. … Pound for pound, one of the best prospects in camp appears to be rising sophomore point guard
Zachary Johnson
. A strong and explosive 6-foot-1 point guard from Florida, Johnson is already capable of throwing down slams off the dribble in traffic. A bit of a wild man, he plays fast and will be interesting to watch develop. …
Speaking of athletes, nobody at Reebok is a more explosive leaper than rising junior
Soma Edo
from Texas. A long-armed 6-foot-5 power forward, Edo is looking to dunk the ball as violently and as often as possible. He's got a nose for rebounds and is a tough kid. … A native of Flint, Mich.,
Anton Wilson
is going to reclass to 2013 (from 2012) and will move to Red Springs (N.C.) Flora McDonald for the remainder of his prep career. The 6-foot-5 wing is a long-limb scorer who knocks down open threes and shows plenty of athleticism when attacking along the baseline. … The plan is to take a longer look at him on Thursday, but our first look at
Arizona State
pledge
Eric Jacobsen
was a pretty good one. A shot blocker who can run the floor, Jacobsen looks to be a big guy who is committed to being just that, a big guy.