Breaking down R150: Depth over stars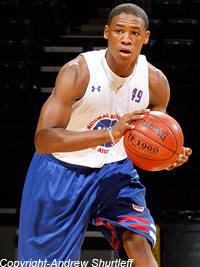 Ever since the members of the class of 2013 burst onto the scene as freshmen, we've been expecting big things out of them.
So far, the class has delivered on that promise. Looking over recent classes, it is perhaps the strongest top-to-bottom class since 2007.
Of course, a lot of that depends on how one defines a strong class.
If the definition is a mega-class such as those in 2004 and 2007 that each produced in the neighborhood of 40 NBA players, then it's a bit premature to expect success like that.
There will be lots of pros, but the strength in the 2007 class -- at least at this juncture - is not an overwhelming amount of future NBA talent.
Let's talk five-stars
For now, we've made the decision to go ahead and cap the five-stars at 20. While it's a good class, we're not quite ready to go beyond that number.
This time around, there are two players who enter five-star territory for the first time. California big man
Marcus Lee
jumps up 18 places from No. 33 to No. 15. The other new five-star is a big man as Memphis native
Austin Nichols
climbs up 26 spots from No. 43 to No. 17.
More for four
While Rivals.com was a little more reserved in handing out five stars, the four-star range extends all the way out to Floridian big man
Demetrius Henry
(a newcomer to the rankings) at No. 110.
At No. 25 nationally, Canadian import
Xavier Rathan-Mayes
is among the bigger movers, climbing 23 spots from No. 48.
Committed to
Connecticut
, shot-blocking big man
Kentan Facey
makes the highest entrance into the rankings going from unranked to No. 62 nationally.
The biggest mover within the rankings is versatile Georgia guard
Tim Quarterman
, a former three-star prospect who moves up a whopping 67 spots from No. 130 to No. 63.
Climbers and newcomers
In total, there are 15 new members of the Rivals150.
As mentioned earlier, Kentan Facey makes the highest debut at No. 62. Others who debut in the top 100 include point guard
Wesley Clark
at No. 68,
BYU
commit
Eric Mika
at No. 69, 7-foot-plus big man
Mamadou Ndiaye
at No. 81 and point guard Ikenna Iroegbu at No. 100.
As mentioned earlier, Tim Quarterman is the biggest mover inside the rankings with his 67-spot climb.
The others making sizeable climbs are
Demetrius Jackson
(70 to 27),
Tyler Roberson
(53 to 29), (
Zakarie Irvin
(68 to 31),
Jordan Mickey
(51 to 38),
Roddy Peters
(100 to 39),
Derrick Walton
(57 to 44),
Stanford Robinson
(61 to 48),
Markel Crawford
(86 to 50),
Matt Thomas
(104 to 55),
Moses Kingsley
(78 to 59),
Jordan Bell
(77 to 67),
Brandon Austin
(123 to 71),
John Egbunu
(121 to 75),
Damien Jones
(100 to 79),
Jordan Mathews
(97 to 85),
Vincent Hunter
(114 to 95),
Kyle Washington
(120 to 96),
Rashawn Powell
(112 to 98),
Demarcus Croaker
(139 to 99),
Johnathan Motley
(144 to 102),
Luke Fischer
(124 to 113),
Torren Jones
(131 to 114),
Dayshon Smith
(150 to 121) and
Josh Brown
(142 to 127).

Click
Here
to view this Link.
[rl]