Bossi's Takeaways: Friday in Dallas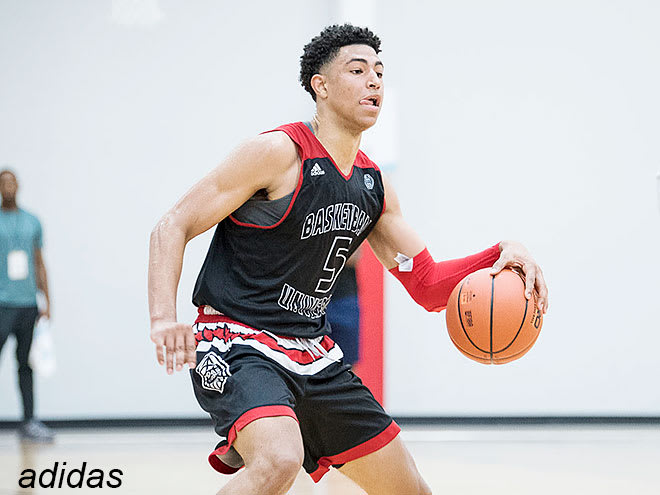 DUNCANVILLE -- I wrapped up my two day stint in the Dallas area on Friday, but left with some takeaways and five-star Quentin Grimes is at the top of my list.

FIVE-STAR GRIMES SLUGS IT OUT AND EYES VISITS
I've had the opportunity to see Quentin Grimes play plenty of times now. He's a skilled guy, versatile, can fill it up and has tremendous size. But, to me, one of the true measures of a great prospect is what's inside of him when things aren't going well and he has to dig in and fight through some adversity.
Grimes faced plenty of adversity on Friday. In a pretty heated -- and five overtime -- rivalry game between his Basketball University team and YGC36, he struggled to find his shot. YGC36 tried to rough him up at every opportunity and at one point during the overtimes the usually outstanding free throw shooter missed five straight free throws.
He didn't rattle, he didn't wilt, instead Grimes hit a deep three and scored on a tough drive plus one in the final 35 seconds of the fourth overtime to get to No. 5 and get a win. Sure he could have sent us all home a little earlier, but I felt like learned more about the way he's wired and I loved what I saw from him as a competitor when things got tough.
Afterwards, Grimes told me that Arizona, Kansas (Sean Miller watched Friday) and Texas are the three programs that he's sure he'll visit officially and that he'll also visit the Jayhawks unofficially for Late Night in the Phog in October. Kentucky's John Calipari was on hand with an assistant while Texas A&M and Marquette each had their entire staff out to see him.

WE NEED MORE LIKE ISAAC LIKEKELE
I didn't know a ton about Isaac Likekele before I got to Dallas this week. I'd seen him before and thought he was a tough kid who had some versatility to his game. What I didn't realize is just how tough he really is and how hot his competitive fire burns. In fact, the standout for YGC36 is as competitive a kid as I've seen in the class of 2018 and we need more who play the game like he does.
A strong bodied kid who doesn't have the typical long and wiry basketball frame, Likekele is one of those guys who just seems to make those around him better. Saint Louis had a guy like him a few years ago named Jordair Jett and they have offered. Arkansas is likely going to take a look and others like Northern Iowa, Central Michigan, Stephen F. Austin, UT-Arlington and Oral Roberts have been very smart to offer.

JULY IS THE RIGHT TIME FOR BIGS TO FIGURE IT OUT
There's not much better time for a raw big man prospect to start figuring things out than during the heat of July when the sidelines are packed with coaches. On Friday, I felt like three bigs stood out as guys turning the corner, 2018's Ousmane Ndim and Souleywane Doumbia and 2020 Darius Miles.
A physically impressive kid, Ndim is a physical and tough seven-footer who plays alongside 2019's No. 2 player Charles Bassey. He's gotten more fluid, is learning positioning and well guys his size with a motor are tough to come by. Word is that Western Kentucky is pretty heavily in the mix and Incarnate Word dropped an early offer but I'll be surprised if he doesn't have a bunch more within the next week or two.
Also attending high school in the San Antonio area, Souleymane Doumbia had a breakout performance with Basketball University. A long and athletic insider, he seemed to be all over the floor blocking shots, getting key rebounds and impacting the game with his activity. He has offers from Baylor, Texas A&M, Memphis and VCU and was watched by the head coaches from all four programs on Friday.
Back in the Fall, I got an early look at Miles and was intrigued by his size and soft hands. Now, I would have liked to have seen him and the Texas Titans 15U squad -- who also feature potential 2020 five-star wing Cade Cunningham -- play a bit tougher competition during the game I was able to watch, but Miles looked to me like he has come a long way. His hands are still good, he has nice touch around the rim and watching him I couldn't help think back to when I first watched Duke big man Marques Bolden at the same age. I can't say I think he's going to be a McDonald's All-American just yet, but I couldn't say that about Bolden at 15 years old either. I know this, he looks like somebody that high majors need to get to know for the future.

I ALWAYS FIND SLEEPERS IN TEXAS
The next time I take a trip down to Texas and don't find some "sleeper" prospects will be the first. On Friday, 2018 combo guard Elijah Parquet and 2019 wing Kevin McCullar stood out to me.
Parquet immediately passed the eye test with an athletic frame and good size. Once he played with Team Stage he showed good range on his jumper, the ability to create off the dribble and the tools to one day be a good defender. If anything, I'd love to see him be a little more aggressive going to the rim but in my opinion the schools that he told me had offered -- Stephen F. Austin (head coach Kyle Keller watched), Houston, Lamar, Louisiana Tech, Incarnate Word, Oral Roberts (head coach Paul Mills watched), Texas State and Rice (Scott Pera watched) -- are ahead of the curve.
San Antonio always seems to produce some sleepers. I'm not saying that McCuller is on the Andre Roberson and Jordan Clarkson level yet, but he's somebody that more should get familiar with in what looks to be an incredibly deep class of Texas prospects in 2019. He doesn't yet look to be a great jump shooter from deep, but he has lots of game off the dribble and makes things happen by choosing the smart, simple and correct play more often than not. UT San Antonio head coach Steve Henson is all over him and rightfully so but he's going to have company. Frank Haith of Tulsa -- who knows something about San Antonio sleepers since he coached Clarkson at Missouri -- offered immediately and Stanford was among those lurking.