Bossi's Best: Stock up, 10 high school seniors who've impressed this season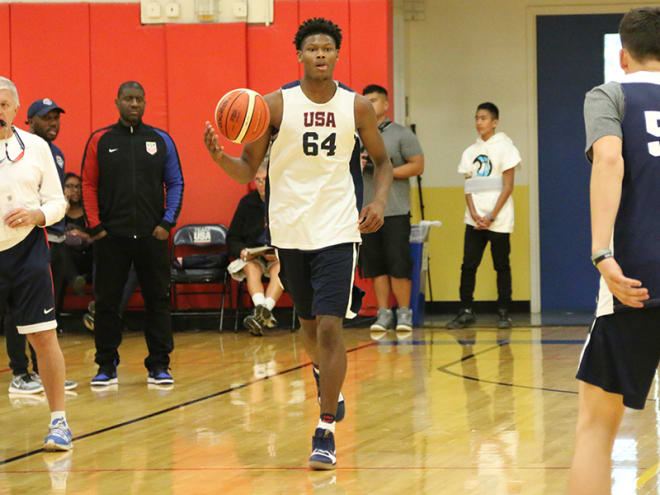 For the past few months, myself and coworkers Corey Evans, Dan McDonald and Krysten Peek have been attending showcases and tournaments throughout the country. Today, I take a look at 10 seniors who have stood out as on the rise during their final year of high school ball.

MORE: Twitter Tuesday | Starting Five
Recruitment: Committed to Washington

Why he's trending up: As a senior, Bey has put things together on both ends of the floor and taken a big step forward with his game. He has turned into one of the best mid range scorers in the class of 2018, plays with tremendous energy and has the tools to be a defensive stopper in the Pac 12.

Recruitment: Committed to West Virginia

Why he's trending up: A few things are in play here, one of them is that Doomes is a perfect fit for the pressing style used by Bob Huggins and the Mountaineers. Second, Doomes ability to be productive while playing next to high school stars like 2019's No. 1 player Vernon Carey and top 10 2020 Scottie Barnes is impressive. He makes the most of a little (in terms of touches/shots) is a beast in transition and has been overlooked as a playmaker.

Recruitment: Committed to Florida

Why he's trending up: Johnson has always been physical, tough and an excellent complimentary player. As a senior at Oak Hill, he's really turned into an Alpha dog on the floor and has commanded the respect of opposing defenses. He's still best in transition but the evolution of his half court game is going to get him big minutes earlier than expected in Gainesville.

Recruitment: Lists offers from Grand Canyon, Illinois, Nevada, San Diego State, UNLV, USC and UC Santa Barbara.

Why he's trending up: The athletic side of the game has never been a problem for Jones, he's an elite athlete at the highest level. However, his focus, effort and production have been hit and miss. Like Johnson above, he's learned to be the man and not a complimentary player and that's a big step forward.

Recruitment: Clemson, Georgia Tech, Florida State, N.C. State, North Carolina and Wake Forest among others involved.

Why he's trending up: One of four five-star big men left in the class of 2018, Montgomery was once committed to Auburn before backing off in the wake of the federal investigation into college corruption. As a senior he's added some strength and most of all he's left the motor running at a high level all game long. He can face and shoot, he runs the floor, he's the ideal new age big man.

Recruitment: Committed to Vanderbilt

Why he's trending up: With so much focus on five-stars Darius Garland and Simisola Shittu picking Vanderbilt, Nesmith has gotten lost in the shuffle. Nesmith is a physically tough and explosive dude who will be both physically and mentally ready for the SEC. Look for him to score a lot of points in Nashville.

Recruitment: Committed to USC

Why he's trending up: Ever since Porter hit the scene as a freshman, we've been sitting back waiting to see what would happen once he got truly engaged. It looks like it's happening as a senior. Happy to shoot jumpers most of his high school career, Porter has started using his strength and athleticism to overwhelm opponents at the rim and off the dribble. If Porter is committed to playing with that edge, he can push for five-stars.

Recruitment: Committed to Duke

Why he's trending up: Ever since USA Basketball in October, Reddish has been playing like a man on a mission. He's capable of playing all five positions on the high school level and he's not taking any games or plays off. One of the most dominant scorers in high school ball, Reddish appears like he has the best chance to make a legitimate run at R.J. Barrett for the top spot in 2018.

Recruitment: Committed to LSU

Why he's trending up: Smart has been putting up insane numbers all winter long and his two day run at the Thanksgiving Hoopfest was as good as any we've seen. After the summer, we felt that Smart had underperformed a bit and we wanted to give him his senior year to validate his high ranking before dropping any further than we already had. We don't think Smart cares at all about where we ranked him or why, but we do think his senior year response has been impressive.

Recruitment: Committed to Kansas State

Why he's trending up: When Williams committed to the Wildcats, nobody really knew much about him. He'd looked athletic and tough for Brad Beal Elite in the Nike EYBL, but playing alongside and often backing up five-star Darius Garland he didn't really get to show what he could do. As a senior, Williams has looked like one of the top perimeter defenders in the country to go along with his athletic and creative drives to the rim.