Bossi's Best: Class of 2019 providing plenty of twists and turns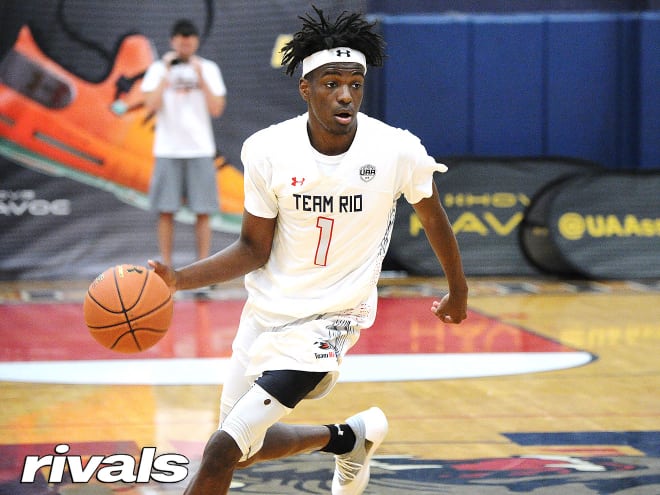 If we have learned anything over the years, it's always to expect the unexpected when it comes to recruiting. That being said, we still get surprised every year, and the 2019 class is proving to be no exception. In this week's Bossi's Best, I take a look at five decisions that didn't go as expected and five still-open recruitments that are starting to head down unexpected paths.
MORE: Twitter Tuesday takes on Louisville, Illinois, Pitt and more
What was expected? A Duke commitment.
What happened? What happened is that Antoine never took any of the official visits that he had scheduled to Kentucky, Florida or the assumed long-time leader, Duke. Villanova -- which wasn't scheduled for an official visit until November -- got Antoine to take an unofficial visit during late August and Jay Wright and his staff were able to sell their red-hot program so well that Antoine announced in their favor shortly thereafter without taking any of his scheduled official visits to other programs.
What was expected? First a Duke commitment, and then a Clemson commitment.
What happened? Things seemed to be going as expected as James essentially got down to a final three of Clemson, Duke and Tennessee. He saw Duke unofficially and took official visits to Tennessee and then Clemson. Shortly after the Clemson visit he canceled his Duke visit -- and up until then the Blue Devils had been favored. Upon canceling his Duke visit and scheduling an announcement coming out of his Clemson visit, the entire recruiting world expected him to stay home in South Carolina. Then, when he announced his actual decision last week, he caught the recruiting world by surprise when he picked the Volunteers.
What was expected? A North Carolina commitment.
What happened? Maybe at the end of the day, this one ended up as expected. But Mann did anything but take the most direct path in committing to Florida. To make a long story short, we had a story ready for him committing to Florida after also visiting Tennessee in late spring. Instead, Mann decided to wait because he wanted to see Kansas. Then, after July he "opened" his recruitment and added North Carolina. When I write that I had strong reason to believe UNC should have felt great about its chances, I'm not just throwing stuff at the wall. But, out of nowhere he canceled his UNC visit and committed to Florida after being told the Gators might move on to other prospects in late August.
What was expected? A Kansas commitment.
What happened? During the recruiting process, Williamson never hid from his family ties to Kansas or from saying it was his dream school growing up. Early on, other programs tried to kill the Jayhawks by saying that they weren't making him enough of a priority. Then in the summer, the Jayhawks did prioritize him and got him on campus for an official. Instead of committing, though, he decided to take a few more visits. Rather than wait and possibly miss on other targets, Kansas took a commitment from four-star Christian Braun as Williamson was finishing his official visit to Louisville. A day after Braun committed to Kansas, Williamson committed to Louisville.
What was expected? A commitment to Florida State.
What happened? I'm still not entirely sure how this one turned in Michigan State's favor, but give Tom Izzo and his staff credit for pulling off the surprise -- at least to the recruiting industry. We had pretty strong intel that Watts was leaning heavily towards playing for Florida State and that he simply wanted to at least officially visit Louisville before making his decision. Instead, the scoring machine announced almost completely out of the blue that he would play for the Spartans.
What was expected? A top-five big man, Stewart cut his list to six finalists: Duke, Indiana, Michigan State, Syracuse, Villanova and Washington.
What's happening? This week, Stewart added Kentucky to his list, and he'll visit the Wildcats officially this weekend. It's not insignificant news when a player the caliber of Stewart leaves a program like UK off of his final list, and then adds them and immediately sets up a visit. That's not normal, and it certainly has to be a bit of an eye-raiser for the other programs recruiting him.
What was expected? A relatively early commitment to either Texas or UCLA.
What's happening? Baker sure seemed to be on his way to deciding between either UCLA or Texas pretty early in the process. He took his official visit to UCLA in June and saw hometown Texas in late August. Here we are in late September, though, and Baker still hasn't decided. It's looking more and more like he'll actually take visits to his other two finalists, Stanford and Georgetown, neither of which anyone has given much of a chance.
What was expected? Most expected that the sharp-shooting combo guard would be a lock to remain close to home and play on the West Coast.
What's happening? Ellis may still end up on the West Coast at a program such as Arizona, San Diego State, Oregon or Gonzaga. But it's also looking more and more like he could end up playing out East. He's already visited Georgia Tech officially, and he's going to visit Memphis unofficially and is headed to North Carolina for an official visit in October. Oh yeah, Duke just offered as well, so his recruitment seems to be totally up in the air.
What was expected? A quick commitment to either Memphis or Mississippi State after decommitting from Kentucky.
What's happening? The top-50 senior first raised eyebrows with a commitment to Kentucky last winter. Then after the summer he backed off. Given his ties to Memphis coach Penny Hardaway (who coached Jeffries in the summer of 2017) and Mississippi State's success keeping top in-state talent home, many figured he would join up quickly with the Tigers or Bulldogs. Instead, he's added Ole Miss and Alabama to the mix and is taking official visits to all four schools.
What was expected? A commitment to either Virginia Tech or Wake Forest after visits to those schools.
What's happening? Harris never really cut his list to a final two, and up until a few days ago he was scheduled to visit Miami officially this weekend. At the same time, we've been expecting him to commit to either Wake or Tech, and I was personally betting on Buzz Williams' group. Now, things appear to be totally up in the air, as Duke has entered the picture. Even though the Blue Devils haven't offered yet, they've secured a visit for this weekend.