Bossi's Best: High-stakes recruitments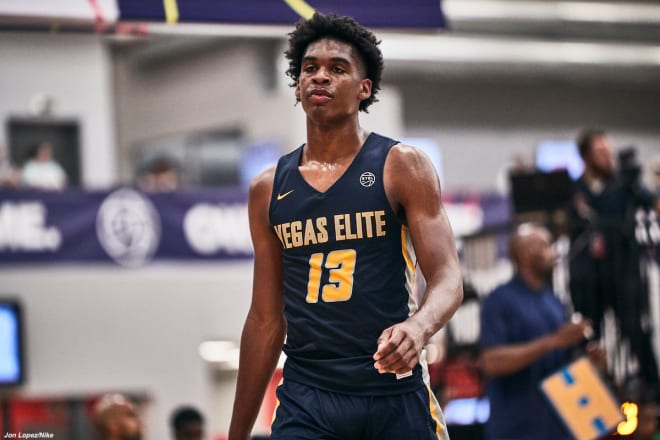 *****
Who is involved: Florida, Kentucky, North Carolina, Oklahoma State and Washington

Why the stakes are high: I don't think there's much to explain here. Mike Boynton and Oklahoma State are looking to make a big move, and Cunningham's brother, Cannen, was hired. There's been a lot of buzz that Cunningham isn't a lock to play for the Cowboys and losing out on him to another finalist would be a serious blow. I don't see that happening, but until he says he is committed to Oklahoma State, his recruitment is as high stakes as it gets.

*****
Who is involved: Arizona, Duke, North Carolina, Oregon, Stanford, UCLA and USC

Why the stakes are high: For a program such as Stanford, where pressure could be mounting on a coaching staff, Williams is a total game-changer. At UNC, Roy Williams and his staff have put a lot of energy into Ziaire Williams and could really use an elite wing. Should he stay home for a program such as USC, he could make it a serious contender with what it already has in place. At UCLA, he would jump start the Mick Cronin era if he could get paired with five-star point guard Daishen Nix.

*****
Who is involved: Auburn, Kentucky, Memphis, North Carolina and Texas
Why the stakes are high: Mapquest says the high-flying Brown's high school campus is approximately 13 miles and change from the home of Shaka Smart and the Longhorns. Because of that, there has been a lot of relationship-building and comfort between the parties. Still, he's an absolute must-get, and the Longhorns face stiff competition. A guy like him after a No. 1 class in 2019 is a statement for Memphis. For Kentucky, it's proof that the Wildcats can still get anybody at any time, and for Auburn or UNC it's a major feather in their cap, considering where Brown is from.
*****
Who is involved: Arizona State, Kentucky, Michigan, Missouri and UCLA
Why the stakes are high: Talk about a recruitment where there are some ties. Christopher's older brother, Caleb, is at Arizona State as a freshman. Christopher has a relative who is the strength coach at Mizzou and one of his best friends, Shareef O'Neal, is at UCLA. Kentucky is Kentucky, and for Juwan Howard at Michigan, landing a guy like Christopher would mean immediate street cred with high-end recruits. Oh yeah, he figures to be a major producer the moment he lands on campus no matter where he goes.
*****
Who is involved: Arkansas, Kansas, Michigan State, North Carolina, Oklahoma, Oklahoma State and Texas
Why the stakes are high: Thompson is another player who has deep ties to many of the programs recruiting him. His father, Rod, played for Kansas head coach Bill Self and UNC assistant Steve Robinson at Tulsa and he's got a longtime friendship with Oklahoma assistant Pooh Williamson. For Arkansas, he would be a major score in Eric Musselman's first year, while his other suitors would love to have him. This one is coming down to the in-state schools and Kansas, so his decision could have serious ramifications on the Big 12 in 2020-21.
*****
Who is involved: Kansas, Louisville, Missouri and North Carolina
Why the stakes are high: If Cuonzo Martin is able to land him at Mizzou, he would be the biggest recruiting win for the Tigers since Martin arrived in Columbia. I know the Porter brothers were ranked highly and Michael was No. 1, but their father was an assistant. UNC is going to need to replace Cole Anthony, Louisville can't miss on PG's in 2020 and Kansas is likely going to need to replace Devon Dotson. The three programs who miss could be in serious scramble mode during the winter.
*****
Who is involved: Arizona, Arizona State, Chicago State, Illinois, Kansas, Louisville, Missouri, NC State, Northwestern and Wake Forest

Why the stakes are high: Illinois is likely to lose Ayo Dosunmo to the NBA Draft after this season, and Miller comes from the same high school and summer program (Mac Irvin Fire) that produced Dosunmu. Missing out on a guy like Miller would be a very tough pill to swallow. He visits Illinois this weekend and has also seen Arizona and Arizona State. For now, the Sun Devils look to be the biggest competition, and it would be a major win for them if they could somehow pair Miller with Josh Christopher.

*****
Who is involved: Arizona, Indiana, Kansas, Marquette, Memphis, Minnesota and North Carolina
Why the stakes are high: Dawson is one of five players from Minnesota ranked as a four-star or better in the class of 2020. Minnesota's Richard Pitino can't really afford to miss out on all of them, and considering he just cut his list on Tuesday, Garcia may be the most open. Of course, the Gophers are going to have to beat major competition to keep him home and pretty much everybody on his list - besides perhaps Marquette ,which recently landed a similar player in Osasere Ighodaro - has need for a change-of-pace, skilled four-man like Garcia.
*****
Who is involved: Florida State, Louisville, Michigan, North Carolina, Notre Dame, Providence and Purdue
Why the stakes are high: A few things stand out about Dickinson. For one, he's a really unique big man and a true back-to-the-basket throwback. He's also got as interesting a final list as you are going to see. Purdue has put an awful lot of time and energy into recruiting him and has been there a long time with a system that has showcased guys like him. Florida State has been gaining steam and Leonard Hamilton would love to have a big space eater like Dickinson. For Providence, he would be a game-changer and nobody on his list would be able to find a similar player if they swing and miss.
*****
Who is involved: Georgetown, Marquette, North Carolina and Pittsburgh
Why the stakes are high: For at least 75 percent of his final four, the sharp-shooting Davis would potentially be the key to their recruiting efforts. Marquette has to figure out how to replace Marcus Howard, Pitt needs a shooter to go with its athletes in the backcourt and has looked to be in a good spot for a while. For Georgetown, Davis would be a change of pace from athletic drivers like James Akinjo and Mac McClung. Should UNC miss out on Caleb Love, Davis becomes even more important.