Boo Williams: Day Two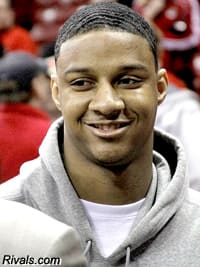 His high school season didn't go as planned. But for Marquis Teague, that will soon be forgotten if he keeps on playing as well as he has for the first two days of the Nike Elite Basketball League. Against the Albany City Rocks, Teague was nothing short of spectacular.
Though his team was younger and smaller than the City Rocks squad, Teague was able to take over at times for Spiece Indy Heat. At 6 feet 2, with long arms and a first step that might be borderline illegal in some countries, Teague is simply impossible to contain going to the rim, and that was on full display Saturday evening.
City Rocks elected to try and guard Teague man-to-man, and quite simply that was an epic failure. Teague continuously beat his man off the bounce, and once in the lane he knows how to finish. He scored on floaters, was creative using his athleticism to maneuver around big guys who tried to block his shot, and also threw down a thunderous dunk or two, giving the photographers opportunities to make a memorable poster.
While getting to the rim off the dribble and finishing is what Teague does best, don't take that to mean he is a liability in other areas. Teague hit jump shot after jump shot extending beyond the three point line, and also was able to set up his teammates with passes for buckets. In the game Teague had seven assists to go along with his game high 32 points.
Overall it was the second day in a row that Teague was the best player in the gym. He stated loud and clear with his play that he should be considered in the discussion for the best player in the class of 2011.
After having an average first half by his standards, Gilchrist got it going in a big way in the second half. He has a way of just making it seem so easy going to the rim, and with his size and strength it almost looks like he isn't doing work, but one look at the scorebook at the end of the game, and it is obvious that he does plenty of work.
Gilchrist got to the rim at will with his handle, and simply took over the game for Team Final giving them the separation to pull away from Seattle Rotary. In the process Gilchrist showed the form that makes him such a talented and well thought of prospect. Wroten is an excellent defender, and even he had no answer for Gilchrist with his size and strength. Also Gilchrist showed improved and more consistent range shooting the basketball. When he makes jump shots he is impossible to stop, and that was the case on Saturday.
Going against Gilchrist was Wroten. Wroten, who is coming off of a knee injury that kept him out for the school season, showed no ill-effects from the layoff. If there has consistently been one knock on Wroten it has been his lack of a consistent jumper, but he had the three ball working in the game against Team Final.
Wroten was knocking down jumpers with ease, and of course he showed off his tremendous court vision combined with his elite level athleticism. Overall it was a good matchup for Wroten, and going against a bigger player in Gilchrist he was able to expose his defender at times. When Wroten gets back in game shape and further removed from the injury he should only get better and better.