Boo Williams: Day One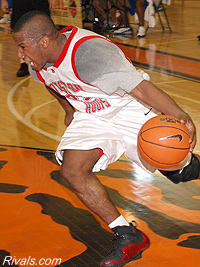 Mason, who scored 17 points against Mean Streets, is no longer headed to LSU.
"I feel like it is the right move for me to open up my recruitment," Mason told Rivals.com. "John Brady and Butch Pierre are the reasons I committed to LSU. Now neither of them are going to be there."
Although he is not limited to these schools, the short list for Mason includes Texas, Baylor, Texas A&M and Oklahoma. He said all four are actively recruiting him and have offered.
After Memphis, listed Seton Hall, Virginia, Georgetown, LSU, Miami and USC as schools of interest and also claimed offers from all of them.
Johnson played limited minutes in his first run with the Ravens but was effective when on the court, using his explosive athleticism and ball skills to make plays.
Henry was sensational in the first half of his game before spraining his ankle. In less than half the game, he pumped in 17 points on an array scoring moves. The lefty's stroke looked impeccable.
Hall listed Tennessee, Memphis, Florida and Kentucky as his top four schools while noting that it is still an open list. According to Hall, Tennessee and Memphis have both offered while Kentucky is talking about offering. Holding back Hall's recruitment are concerns about his academics, but Hall said his work has improved since transferring and he is certain he will qualify.
Buckner listed Memphis, Tennessee (offer), Ole Miss, Arizona (offer), Kentucky, Missouri (offer) and UTEP (offer).
[rl]