Bol shows promise at Jayhawk Invitational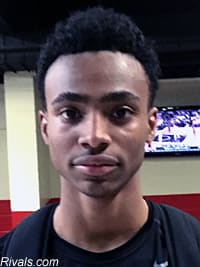 OVERLAND PARK, Kan. -- The Jayhawk Invitational kicked off Friday in suburban Kansas City. The event gave Rivals.com a first chance to get an extended look at highly touted freshman forward
Bol Bol
and he showed plenty of promise on the event's opening night.
Bol long on potential
Pushing 6-foot-10, Roeland Park (Kan.) Bishop Miege freshman
Bol Bol
appears to be all arms and legs. The son of former NBA
player Manute Bol, the class of 2018 prospect took the floor with KC Run GMC's 15 and under squad and led them with 15 points as they mercy ruled an overmatched opponent.
Because of transfer rules -- Bol began his freshman year at Overland Park (Kans.) Blue Valley Northwest -- Bol spent most of his freshman season on the junior varsity squad at Miege. However, his skill level is far beyond the JV level and Bol moves very well in the open floor.
Though he is rail thin, Bol didn't have many issues around the basket on Friday night. He elevated quickly for dunks, used soft touch to finish off the glass and ran the floor extremely well. A good jump shooter with range, Bol also passes the ball very well and has a very good overall feel for the game.
What Bol needs right now is strength and a more consistent motor. He tends to float around at times and isn't yet an all out, all the time type of player. But, he is only a freshman and it doesn't take an expert to see that he has loads of potential if he can continue to develop physically and mentally throughout his high school years. He hasn't yet
Bradford picking up steam
The hunt is on for point guards in the class of 2016 and word on the street was that
Micah Bradford
of Example Sports helped himself out during the month of April. He didn't have a huge scoring night on Friday, but Bradford showed some tools and potential.
A skinny 5-foot-11 floor general from Bradley (Ill.) Bourbonnais, Bradford looks to have a good handle, good quickness and good instincts for the position. He also wields a good looking jump shot and seems to be as comfortable looking for his own offense as he does in running the team and setting up those around him first.
He will need to hang some more weight and muscle on his skinny 150-pound frame before getting to college, but Bradford is attracting good interest. He listed scholarship offers from Illinois-Chicago, Chicago State and Bradley and mentioned that Loyola Chicago and Valparaiso have been tracking him closely.

The Weathers brothers of JC Hoops enjoyed nice outings in and opening evening win. Both juniors at Overland Park (Kan.) Shawnee Mission North,
Michael WeathersClick More Friday night notesHere
to view this Link. is a 6-foot-1 point guard who can attack off the dribble while
Marcus Weathers
is a 6-foot-4 small forward who can play above the rim.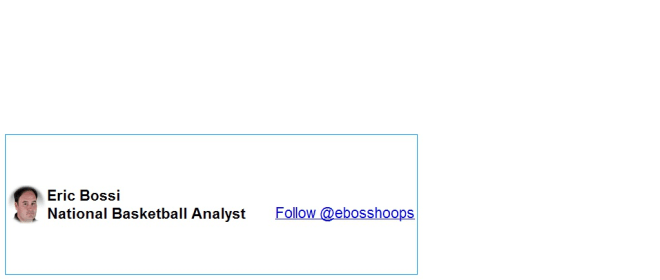 Click
Here
to view this Link.