Bluebloods battling for five-star Bryan Antoine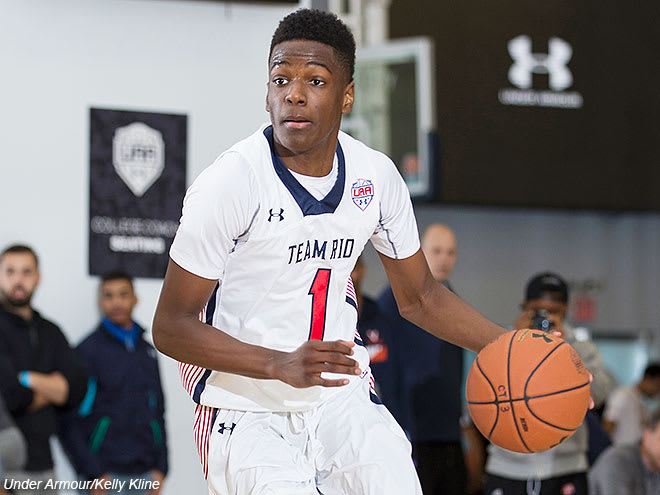 FORT MYERS, Fla. – Ranked as the top shooting guard prospect in the 2019 class, Bryan Antoine has never lacked college interest or media attention. It should come as no surprise then that his recruitment has blossomed into a battle of bluebloods.
"The process for me, has been very mellow and not overreacting. I would say a school calls every day. It is usually one or two schools calling every day," he said before noting five schools in touch the most often. "Kentucky, Duke, Villanova, Kansas and Rutgers."
IN HIS OWN WORDS
Antoine broke things down further.
Kentucky: "That offer to me, I didn't have many words for it; it meant a lot to get that offer. It just meant that I had to work even harder because now I need to show people why I got that offer."
Duke: "They are the same as all of the other schools recruiting me, nothing different, just looking at the coaching staff, the campus, the way that they play and stuff like that."
Villanova: "I am only about an hour and 45 minutes away so it is close to home and family; I have some family in Philadelphia, too. I wouldn't mind having my parents at most of my games just like it is at high school."
WHAT'S NEXT?
Antoine has not taken any visits recently and isn't expect to hit the road until after his high school season finishes up.
"I went to Villanova Madness recently back in October but really, that's it," he said. "I could take some visits but there is nothing set up for now as I know. I will probably get out and take some visits in the spring."
RIVALS' REACTION
Antoine has everything that a national contending program would love to add. He is capable of creating for both himself and for others in the half-court, but is also a multi-positional defender. Antoine checks many of the boxes.

He is not expect to make a decision until, at the earliest, the end of next summer. There is a chance that he could play next to his best friend and long-time high school and travel ball teammate Scottie Lewis at the college level. However, it does seem as if things are beginning to splinter with each of the two's recruitments as Duke has gained the most talk surrounding Antoine, though Villanova, Kansas, Kentucky and Rutgers cannot be totally discounted.