Bill Hensley Memorial Run 'N Slam: Day Two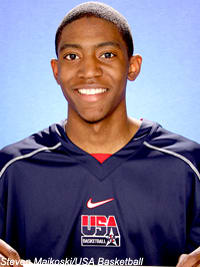 The definition of a combo guard, Randle is just as good at setting up others as he is in getting his own buckets. For the Illinois Wolves, Randle was on top of his game on Saturday against Spiece Mo-Kan.
Randle used his athleticism, quick first step, and tight handle to get to the rim at will against the Mo-Kan guards. Last year there was no way that Randle would have been able to make those moves, but the improvements have come. Now the consistent jumper is still there, and the athleticism hasn't gone anywhere, but now he has added that extra dimension that makes him very hard to guard.
On Saturday Randle just scored in a variety of ways. He hit deep threes curling off of screens, he finished in traffic after getting into the paint, he scored in transition, and he created his own shot using a wicked crossover dribble. The offensive arsenal was simply quite impressive.
Also Randle showed signs of being a pure point guard. When he was asked to run the show he got the Wolves into their sets, and initiated the offense while at the same time not being a passive player. The improvements he has made in running a team are quite noticeable.
Beyond that Randle is a willing defender and someone who obviously knows how to play the game the right way. Overall it was just an excellent performance for Randle, and showed huge strides from last year at this time.
Far and away the team that traveled the furthest to get to the Run 'N Slam is Seattle Rotary. The boys from the Pacific Northwest came with a purpose, and at the 17-and under level they brought a trio of good looking wings.