Big-name prospects expected to sign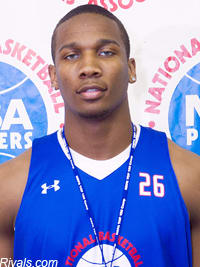 The early signing period will be roughly halfway complete by Friday night. The day should be a busy one as four of the nation's top 54 seniors will be making their decisions.
On top of that, the high school travel season gets off to an annual -- albeit unofficial start -- as we'll be in attendance for the National Prep School Invitational in New Haven, Conn.
The list of undecided Rivals150 seniors will take a big hit on Friday as at least four prospects ranked in the national top 54 are expected to announce their decisions. There is intrigue with three of them, while one is all but a done deal.

More than likely, the decision will come from among the three four-letter schools beginning with U. Of that group, it's too close to call coming down the stretch.
A choice of either UCLA or UNLV would put the Bruins or Rebels into top 10 contention in the 2013 team rankings.

Over the past week or so, sources close to the recruitment have called it to each of those three programs, but headed into the decision day the needle seems to be moving ever so slightly in the direction of Syracuse. If he picked the Orange, they would move into at least the national top 15 of the team rankings. A pick of Villanova would move the Tigers from just outside the national top 30 into the top 20 range, while a choice of Kansas would only cement the Jayhawks hold of the No. 2 spot.


The National Prep Showcase has served as the unofficial opening to the high school basketball season for several years now. Featuring most of the top prep schools from New England and the East Coast, here's a few of the story lines and players we'll be focused on this weekend.












[rl]