Beach Ball Classic: quarterfinals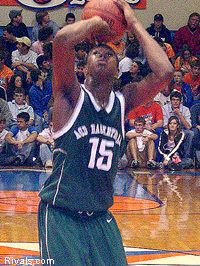 After getting into foul trouble in the first half, Stewart made a difference in the second half by asserting himself on the offensive boards and blocking Scott Co. shot attempts in the paint. After failing to attempt a shot in seven first half minutes, the Kentucky signee scored all 15 of his points in the second half, helping ACD break a tight game wide open.
There is no doubting Stewart's athleticism, but at times, he simply looks lost on the court. He will need to improve his court savvy and learn to maintain his intensity level for the next level. These weaknesses in his game have a lot to do with his tendency to get into foul trouble.
Even though a lot of Lamb's production wouldn't translate to the high-major level, a whole lot of it will translate at a lower level.
Mackey had his stroke going on Thursday night. His offensive game is built around his pull up jumper from three going to his left and drives where he hesitates as if he is going to shoot the three.
His ball handling, however, against the pressure trapping of ACD was less than desirable. He needs to get stronger with the ball and gain an understanding of his limitations, but there is no denying the high-major combo guard skills that he possesses.
Wright wasn't quite dialed in from deep like usual, but he did show a quick burst to the basket off hesitation and hesitation crossover moves from around the three-point line. He also did a nice job setting Moldoveanu up on the pick and pop. His aggressiveness against the methodical Galena squad paid off for 6 steals.
George Mason has a good on in Moldoveanu. He can stroke it out to NBA range, comes up with rebounds and has a feel for how to play the game. He can also score to his left shoulder in the post. Moldoveanu did not look to put the ball on the floor from the perimeter.
With Ohio State tracking his every move, Babbitt has become a lethal shooting threat from well beyond the three-point line and is also able to maneuver and power his way to buckets around the basket. When he puts it on the floor, Babbitt strongly prefers to go with his dominant left hand.
The freshman point guard gave St. Edward some solid minutes.
Gregory didn't look like the dominant player he looked like on Wednesday night, but the Maryland signee has the make up to contribute at Maryland.
Certainly a work in progress, but Sims is progressing. Hopefully he learned some lessons from the physical and heady play of Pritchard.
The 2010 point guard was a little over his head in this game as were all his backcourt teammates, but Atkins has the makings of a quality point guard. Key stat is that he only had one of his team's 20 turnovers in 20 minutes of play.
A strong and smooth athlete, although not explosive athlete, Pepper handles the ball well and rebounds well for a wing prospect. The 2009 prospect has a feel for moving without the ball and can score both off the catch and the dribble. Besides scoring, he passes the ball well off the dribble. He does need to quicken up his release on his jumper. Definite high-major prospect, but does need to improve his quickness.
The Temple bound post player is moving better than when we saw him in the summer. His steals and blocks attest to his mobility. Allen also showed strength and touch around the basket.
A rangy athlete, Clark is a multipurpose guard. A 2008 Georgetown commitment, Clark has a feel for penetrating and finding scorers, but at least at this stage, he doesn't have the strength with the ball or tight enough handle to run the point in the Big East. Although he can shoot it a little bit, he is best as a slasher.
A good competitor with a sense for positioning, Clark does a nice job defensively both on and off the ball.
Unrefined skill wise, but Ben-Eze has the athleticism and motor that make him a 2008 high-major prospect. He is very quick off the floor to grab a rebound and block a shot. He needs a lot of work on his hands.
A 2010 high-major point guard prospect, Marshall is always ready to shoot the long ball and has a good feel for the game. Every aspect of his game will improve as the lefty adds strength.
Jennings was able to put the ball on the floor and use his height advantage to get a shot pretty much at will. The only problem is that he came up short on a lot of those attempts. The good news is that as the 2009 prospect gets stronger and finds more consistency in his shooting form a lot of those shots will find their way into the net.
Most impressive for Jennings was his work on the glass. He was quick to the ball and was strong with the ball after capturing his game high 18 rebounds. Georgetown was in the house Thursday morning to watch Jennings operate.
Dominating the ball out of need for his squad, Rios got to the basket for lay ups and hit two of his three three-pointers during desperation time at the end of the game. What was impressive about Rios' scoring were his floating bank shots in the mid-range.
Always a player looking for his shot first and taking a high volume of shots, it will be interesting to see how Rios modifies his game when he gets to Miami. Will he be a point guard who facilitates the offense and distributes the ball, or will he be a score first guard who plays off the ball more? The latter would be the more natural fit. Shooting the ball, not distributing the ball, is what makes Rios special.
With little to no support around him, Page had to struggle against a diamond and one defense the entire game. Unable to breakdown the added defensive pressure, Page resorted to contested jumpers.