Bass Pro Tournament of Champions: Bossi's Takeaways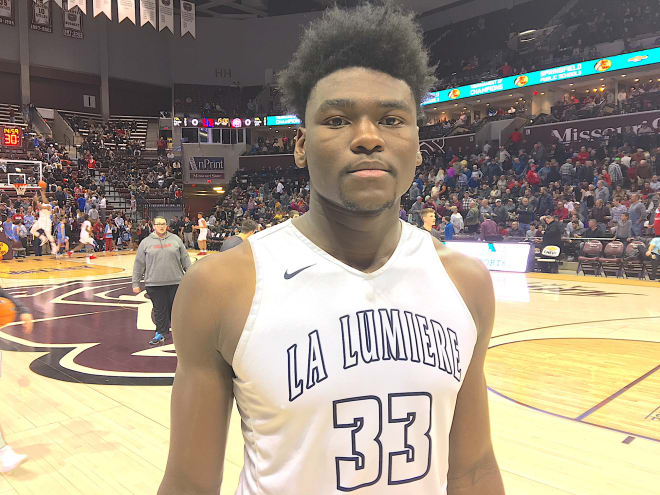 SPRINGFIELD, Mo. – Top 35 junior big man Isaiah Stewart and Rivals150 teammate Emanuel Miller of La Lumiere were the most dynamic duo on the opening night of the Bass Pro Tournament of Champions. National Basketball Analyst Eric Bossi discusses them and more in his takeaways from opening night action on the campus of Missouri State.
More: Five-star Garland thrives in "Homecoming" game | Isaiah Stewart cutting list soon

STEWART AND MILLER HAVE TAKEN THEIR GAMES TO A NEW LEVEL
If the La Porte (Ind.) La Lumiere junior duo of top 35 Isaiah Stewart and Rivals150 forward Emanuel Miller is playing like they did on Thursday night, good luck to anybody trying to stop them. Stewart and Miller dominated both ends of the court while combining for 41 points and 29 rebounds in La Lu's 91-65 win over Springfield (Mo.) Glendale.
A 6-foot-7 combo forward who is a big time athlete and slasher along the baseline, Miller set the table early with his energy and above the rim play. Then Stewart came through and feasted while throwing around his chiseled 230 pound frame.
Miller made a big jump in this week's rankings update to the 2019 Rivals150 and has a chance to move up into the national top 100 if he strings together more efforts like he did on Thursday. He competes on the glass, has to be accounted for in transition and is improving as a handler. Oklahoma, TCU and Ohio State have been coming strong for Miller who also has Creighton, Virginia Tech, Vanderbilt, Pittsburgh, Purdue and SMU among those making him a priority.
Just a few days ago, Stewart told Rivals.com that Xavier, Notre Dame, Duke and Texas were standing out in his recruitment and it's easy to see why. I remember watching Elton Brand as a high school player 20 years ago and I couldn't help but be struck by how much Stewart reminds me of a young Brand. Strong, skilled and long armed, he's an ideal interior player for today's game who dishes out equal doses of punishment and buckets around the rim while showing touch to 15 feet. As his junior season goes on, Stewart is building a strong case for a move to five-star status in the spring.

FLORIDA CAME UP BIG LANDING KEYONTAE JOHNSON
One of the biggest movers in this week's update to the 2018 Rivals150 was Florida bound wing Keyontae Johnson. Each time he hits the floor, the four-star makes Mike White and the Gators look like big winners and he electrified the crowd to the tune of 29 points (10-12 FG), four rebounds and two assists in Mouth of Wilson (Va.) Oak Hill's 84-65 over Ozark (Mo.) on Thursday night.
Johnson has always been a big time athlete, open court finisher and a player I thought could eventually be an All-League type defender. Now, he's added a much more polished jump shot and he's getting better and better off the dribble. He's a fit for how the Gators play and looks like an immediate impact guy in Gainesville.

CAL IS GETTING AN IMPACT SCORER IN MATT BRADLEY
California fans and head coach Wyking Jones are going to love four-star shooting guard Matt Bradley. His Wasatch Academy squad suffered 57-46 loss to Brentwood (Tenn.) Academy but the built gunner went for 20 points and three rebounds.
Looking at Bradley, you would think he's a big time safety recruit on the gridiron thanks to his well developed frame and physical nature. But, he's armed with a jump shot that is every bit as impressive as his physique and he's a skilled creator off the bounce who always finds ways to create space. Look for him to be an instant contributor in Berkeley and potential double digit scorer the moment he steps on campus.

TOP 50 RAMEY LOOKING GOOD IN RETURN FROM BROKEN WRIST
This year, Webster Groves (Mo.) High put together and aggressive schedule that has them traveling across the country to play top competition. What they didn't plan on was star point guard Courtney Ramey breaking his wrist and missing the first half of the season. Just a week or so into his return to the floor the rangy floor general made a difference scoring 20 points, grabbing six rebounds and dishing out four assists in 64-45 win over Middle Village (N.Y.) Christ the King.
Essentially, Ramey is just beginning to play himself into shape but it's easy to see why he's a major spring target of Texas, Oklahoma State, UCLA, Villanova, Missouri and others. The former Louisville commit is a true pass first point guard who is slippery off the dribble and creates for others. He's already seen Texas and Oklahoma State and has visits to Villanova and Texas coming up on back to back weekends in February.

MORE THURSDAY NOTES FROM THE BASS PRO
.... Kentucky bound five-star wing Keldon Johnson of Mouth of Wilson (Va.) Oak Hill has long been one of the top pure scorers in the class of 2018. What really stands out to me is how much more efficient he's gotten. In the past he's never been shy to let shots fly while racking up numbers but on Thursday he continued a trend of taking smarter shots and working smarter to get his offense. He finished 19 points (seven shots) and two rebounds in the Warriors win over Ozark (Mo.) High.

.... I've seen some impressive freshmen this winter, but I've not seen many more impressive than 6-foot-9 power forward Moussa Cisse of Middle Village (N.Y.) Christ the King. The 2021 standout flirted with a triple double while putting together a stat-stuffing line of 12 points, 11 rebounds and nine blocks in loss to Webster Groves (Mo.) High. Cisse is a high octane athlete with long arms, a motor and big time potential. UConn was the first to offer the high level big man prospect and many more high majors will be throwing their hats into the ring before it's all said and done.

.... While Emanuel Miller and Isaiah Stewart crushed it for La Porte (Ind.) La Lumiere on Thursday night, they weren't the only standouts for the Lakers. Unsigned four-star senior point guard Tyger Campbell and three-star junior shooting guard Paxson Wojcik also put in outstanding performances. A former DePaul commitment who visited Maryland over the weekend, Campbell was good for 17 points and six assists while Wojcik chipped in with 14, 10 rebounds and five assists. Campbell still has DePaul on his list, picked up a recent offer from UCLA and also has Purdue and many others heavily involved. Wojcik is an easy call at the upper mid major level but his ability to shoot the ball, toughness and high level floor game is going to make him a sleeper high major prospect.

.... Among the schools I spotted in attendance on Thursday were Pitt, Oklahoma State, Texas, Creighton and Central Arkansas.