Barnes and Selby shine for USA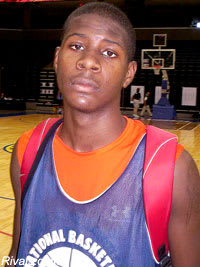 Barnes was a man possessed in the second half. Coming off a 10-point first half, Barnes began his charge midway through the third quarter with his team down eight points. When the dust settled after an overtime period, Barnes had a total of 46 points on 14-29 shooting, 6-13 from behind the arc and 12-13 from the line.
Simply put, Barnes willed his team to victory not only with his scoring but with his rebounding as well. He pulled down 14 rebounds with many of those being pivotal boards in traffic.
The most telling stat for the game was Brazil's poor three-point shooting percentage of 24.1 percent for the game. The USA's defensive effort deserves credit. Another noteworthy stat, the USA shot 27-30 from the free throw line while Brazil shot 11-17.
Marshall dished out 10 assists to only two turnovers while also scoring eight points.
Jones was the game's high scorer with 22 points on 10-19 shooting and also blocked four shots. Leslie was once again an energizing force for his team. Along with his strong overall play, Leslie scored 17 points on 7-15 shooting.
"North Carolina stands out because they just won a national championship," said Leslie. "Kentucky stands out because it is a great program and my former point guard (John Wall) is there."
Virginia is on the docket for an official visit in September. Oklahoma, Oklahoma State and Connecticut are on the list of probable visits. Maryland might get an official visit as well.
[rl]