Baker discusses where he stands with UNC, KU, UCLA and others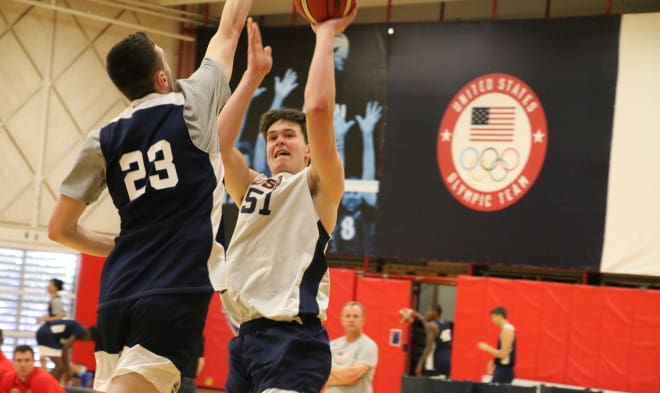 COLORADO SPRINGS, Colo. – One of the more skilled and versatile frontcourt prospects in America, Will Baker has remained a priority for the top name brand programs. Fighting for a spot on the under-18 USA Basketball team, Baker discussed his time in Colorado Springs, who all is in pursuit and when the next step will be taken within his recruitment.
"It is such an honor that I even have the chance to tryout for this team, honestly," he said about his time at the USA Basketball tryouts. "I love being around these guys, we push each other and I am going to come out of this a better player regardless of if I make the team or not."
Baker told Rivals.com that Kansas, UCLA, Stanford, Baylor, Georgetown, Georgia, Texas, Texas A&M and UNC are among those most in pursuit.
IN HIS OWN WORDS
North Carolina: "Roy Williams is a basketball legend and I think that I would learn so much from him. He says that he works with the bigs in practice, which is really cool. I just like the program a lot and they came down and talked to me for a home visit a month or so ago. It was cool to sit down and talk with them. I like them."
Kansas: "It is really cool to be coached here by Coach (Bill) Self. They are recruiting me so I can see his coaching style and I can see how he coaches before I would go there if that happens. I am just developing a deeper relationship with him and it is just great that he is here and I have learned some stuff with him."
UCLA: "I really like Coach (Steve) Alford and Coach (Duane) Broussard. I have a really good relationship with them and it is a good basketball school with a great history. I think that I would fit well in their program being an inside-out big and being able to pick-and-pop and shoot off of the 3. Academically, their film school, if I went there, I would probably major in film, too, so that is definitely something that I would be interested in."
Stanford: "Academically, if you get a degree from there, you can pretty much do whatever in life, so just the opportunities that come from that, but they have also begun to build their program. They are a school that keeps guys, they don't get a lot of one-and-done guys, but they build their team well."
Texas A&M: "I have a great relationship with Coach (Billy) Kennedy and even though Amir (Abdur-Rahim) left, I still really like them. I think that I would be a good fit within their program and Coach Kennedy, I think I could be a good cornerstone within his system. I could post up, pass some and shoot some 3s. They just have a great environment at their games and it is just a great school."
Texas: "I live 15 or 20 minutes away from campus, so location doesn't mean a ton for where I am going to go for college but I really like Coach (Shaka) Smart and Coach (Darrin) Horn and I just have a good relationship with them. I think that I could fit well within their program."
WHAT'S NEXT?
After his time at the USA Basketball under-18 trials, Baker will finish his senior travel campaign with the Basketball University 17-under team on the adidas circuit next month.
When it comes to a timetable for a cut list and a decision, Baker is in no rush.

"I honestly haven't thought about it for a while just because I have been focusing on USA Basketball and my travel season," he said. "Sometime after this event but it will probably be right after this, sometime soon I will cut it down."
RIVALS REACTION
Baker is a multi-dimensional big man that can extend the defense with the perimeter jumper, carve up an opposing defense with the high or low-post pass, rebound in traffic and also change shots at the basket as a rim protector.
A solid five-star prospect with his best basketball ahead of him, Baker is nowhere near a college decision. The top local programs will do their best to keep him near his Austin home, though UNC, Kansas and UCLA remain more than viable threats for his ultimate commitment.