Bail impresses in Indy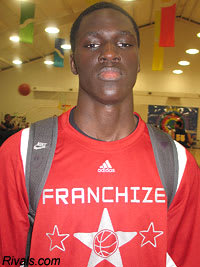 A skilled and athletic, 6-foot-8 combo forward, Bail had his complete arsenal on display against the Ohio Basketball Club. The lefty did the bulk of his scoring damage with pull up jumpers in the midrange, but he also scored at the rim and knocked down some three-pointers as well on the way to a game high 28 points for the Franchize All Stars.
Hungry for the ball, Bail is an active player as both a scorer and a rebounder. There is a little bit of a nasty edge to his game to go along with his length, athleticism and high skill level.
He is an elite prospect in the 2012 class who will make a strong push all the way to the top spot in the class.
Expect that scoring ability to seamlessly translate to the next level.
Harrison also did a nice job handling the ball in transition and delivering it to teammates with accuracy and timing.
Against the Franchize All Stars, Behanan scored 18 points and grabbed a bushel full of rebounds. He displayed surprising mobility for a player with his size and strength, hands as good as any player in the class and an ability to make a variety of plays offensively.
Along with Bail, look for Muhammad to challenge the three centers at the top of the 2012 rankings.
A good athlete, but not an overwhelming athlete, Space was also quick to the ball as a rebounder and shot blocker.