Bagley still the boss of 2018 class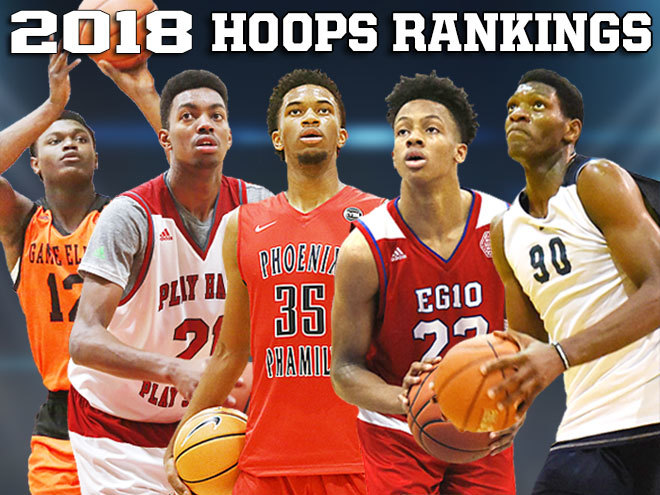 Entering July's three live evaluation periods for college coaches, five-star power forward Marvin Bagley still reigns supreme in the class of 2018. After Bagley, though, there's been some movement at the top of the rankings as the 2018 rankings expand to a top 100.
RELATED: Updated class of 2018 rankings

BAGLEY STILL RULES
If there was any rust on his game after missing most of his sophomore season due to a transfer from Phoenix (Ariz.) Hillcrest to Chatsworth (Calif.) Sierra Canyon, 6-foot-10 power forward Marvin Bagley didn't show it during the spring.
The athletic and skilled big man has been tremendous playing in Nike's Elite Youth Basketball League with the Phoenix Phamily. Bagley hasn't just held onto the No. 1 spot in 2018 with his play so far on the grassroots circuit, he's only distanced himself from the rest of the pack after averaging 20.9 points and 10.6 rebounds per game in the EYBL.
With offers from Arizona, Arizona State, Connecticut, Duke, Kansas, Kentucky, Louisville, Oregon, UCLA and many others, Bagley's recruitment is going to be a big-time affair. Even though he's opened up a bit of a gap between himself and his competition in the rising junior class, that doesn't mean his peers have stopped giving chase and there has certainly been a bit of a shakeup behind Bagley.
Making the jump from No. 13 to No. 2 is 6-foot-5 shooting guard Romeo Langford from New Albany (Ind.) High. A prototypical shooting guard prospect with size, athleticism, skill and deep range on his jumper, Langford is the most well-rounded wing player in the 2018 class. Duke, Indiana, Kansas, Kentucky, Louisville and many others are already going to battle to land the high-scoring wing after he backed up a huge sophomore season by leading the Adidas Gauntlet in scoring with 23.6 points per game while chipping in an impressive 8.9 rebounds for the Eric Gordon All-Stars.
The Adidas Gauntlet has also produced the class of 2018's No. 3 and No. 4 ranked players in 6-foot-6 wing Zion Williamson and 6-foot-10 power forward Jordan Brown.
A powerful lefty from South Carolina who previously ranked No. 33 overall, Williamson has been impressive with Atlanta-based Game Elite, scoring 19.3 points and grabbing 9.3 rebounds a game while converting on a ridiculous 72 percent of his shots. At the recent NBPA Top 100 Camp, Williamson took his game to another level and dominated the field while leading the camp in scoring. Williamson's offer list has been growing by the day as his near 30 offers include Auburn, Arizona, Baylor, Georgetown, UCLA, Tennessee, Maryland, LSU, South Carolina, Connecticut, Georgia Tech, N.C. State, Mississippi State, Virginia, Florida, Clemson and many others.
Brown averaged 18.3 points and 8.5 rebounds for Sacramento-based Play Hard Play Smart in the Gauntlet and Roseville (Calif.) Woodcreek product was also a member of USA Basketball's gold medal-winning U17 squad at the FIBA World Championships. Brown has offers from Arizona, California, Kansas, St. John's and UCLA.
Rounding out the top five is 6-foot-8 power forward Silvio De Sousa of Montverde (Fla.) Academy. One of the most physically tough and athletic players in the 2018 class, he uses his strong hands and quick leaping ability to finish with power around the rim. Florida and LSU are believed to have offered scholarships, but so far De Sousa and his coaches have declined to discuss any specifics regarding school interest.
CLASS OF 2018 MOVERS AND SHAKERS
There are now a total of 16 five-star prospects in the class of 2018. Since the last ranking after the finish of the high school season, three players have been promoted to five-star status. We already discussed the biggest mover into five-star territory, Zion Williamson, but small forward Gerald Liddell who moved from No. 15 to No. 8 overall and point guard Tre Jones who moved from No. 29 to No. 16 are the other newly minted five-star prospects.
Because of the expansion from a top 75 to a top 100, there are several newcomers to the rankings. Leading the way is 6-foot-3 point guard Ayo Dosunmu, who debuts at No. 20. The Chicago (Ill.) Morgan Park product's play on the Nike circuit with the Mac Irvin Fire earned him offers from Illinois, Iowa State, Marquette, St. John's, Northwestern, Florida State, SMU and others. Also making impressive debuts were Oregon power forward Kamaka Hepa (No. 30) Texas combo guard Quentin Grimes (No. 38), Virginia big man David McCormack (No. 53), Utah forward Emmanuel Akot (No. 54) and high-flying Florida power forward Emmitt Williams (No. 55).
Making the single biggest climb inside the rankings was California power forward Shareef O'Neal, who rose from No. 70 to No. 22. The son of Shaquille O'Neal has proven that he's got legitimate game as an athletic and skilled four man who can run the floor. O'Neal now holds offers from Arizona, Baylor, California, LSU and USC. Another California product making a huge leap is point guard Brandon Williams who rises all the way up to No. 34 from No. 69. Others making substantial leaps include Wisconsin forward Joey Hauser (No. 73 to No. 45), Washington D.C. combo guard Prentis Hubb (No. 55 to No. 32), New York wing Aundre Hyatt (No. 71 to No. 52), Washington committed power forward Jontay Porter (No. 45 to No. 31) and North Carolina wing Jairous Hamilton (No. 54 to No. 42).
Among those knocking on the door of the top 100 who we will be watching closely during July are Iowa point guard A.J. Green, Missouri shooting guard Karrington Davis, Massachusetts power forward Arashma Parks, Massachusetts shooting guard Cormac Ryan, New York wing Khalid Moore, Virginia wing Keyontae Johnson and Minnesota power forward Daniel Oturu.