Bagley maintains hold on No. 1 ranking in 2018 class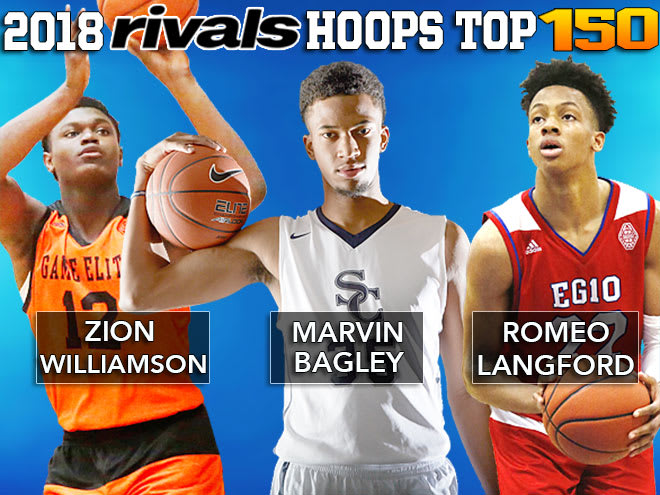 There is still much to be determined about the overall strength of the class of 2018, but one thing remains certain -- power forward Marvin Bagley is the best player in the class.
RELATED: Class of 2018 Rivals150

BAGLEY'S HOLD ON TOP SPOT IS STRONG
Of the three current No. 1 prospects in the Rivals.com rankings, nobody has a more clearly defined hold on the top spot than Marvin Bagley does in the class of 2018.
Seven-footer DeAndre Ayton is being pushed in 2017, as is power forward Charles Bassey in 2019. In the class of 2018, though, the lead that Bagley holds on his competitors at this stage in their development is a significant one.
A native of Arizona who attends Chatsworth (Calif.) Sierra Canyon, the 6-foot-10 junior is as close to a complete package as a 16-year old big man can be. Bagley has skill, touch, runs the floor, plays above the rim, cleans the glass at a high level and he's a good defender and underrated playmaker for others when he gets double-teamed. Bagley needs to get stronger and there are times where he can cruise, but it's easy to see why his top six schools –- Arizona, Arizona State, Duke, Kentucky, Oregon and UCLA -– would love to have him.
Moving up one spot to No. 2 overall is wing Zion Williamson of the Spartanburg (S.C.) Country Day School. Ranked in the 30's headed into the spring and summer, the powerful and athletic Williamson has looked like a baby Larry Johnson while ascending to near the top of the rankings. He's a beast around the rim, finishes with efficiency and continues each time he hits the floor. Arizona, Duke, Baylor, UCLA, Maryland, Georgetown, North Carolina and over 30 total schools have jumped onboard with offers.
Rounding out the top five are shooting guard Romeo Langford, power forward Jordan Brown and power forward Silvio De Sousa. Langford is a prototypical two guard from Indiana with 6-foot-5 size, easy athleticism and offers from Duke, Indiana, Kansas, Kentucky and Louisville. From the Sacramento area, Brown is a long and rangy four man who can really run the floor, plays above the rim and has skill plus offers from Arizona, California and others. De Sousa is a somewhat undersized four man at around 6-foot-8 who plays a punishing power game around the rim where he looks to dunk everything possible. He has early offers from LSU and Florida State.
NOTES FROM THE UPDATED RANKING
At this point, we have only designated 18 prospects in the class of 2018 as five-stars. Headed into the ranking expansion and update, we had expected that number to climb to at least 20 but we only ended up adding one total five-star in the rankings update. Of the 18 five-stars, point guard Immanuel Quickley (No. 12), point guard Darius Garland (No. 13), power forward Carte'Are Gordon (No. 16) and center Moses Brown (No. 17) are the players who have been elevated from four-star status.
Only nine of the players in the 2018 Rivals150 have made commitments and Arkansas-bound power forward Reggie Perry (No. 20 overall) is the highest ranked player off the board. Arkansas also holds a commitment from shooting guard Desi Sills (No. 140 ). The Razorbacks are neck and neck with North Carolina -– commitments from utility guard Rechon Black (No. 39) and combo guard Coby White (No. 69) -– for the top recruiting class at this early juncture. Ohio State also holds commitments from a pair of Rivals150 prospects in combo forward Darius Bazley (No. 70) and shooting guard Justin Ahrens (No. 116).
The highest debut in the 2018 Rivals150 is small forward Jaylen Hoard who checks in at No. 30 overall after spending his first two years of high school in France. Shooting guard Luguentz Dort isn't too far behind him at No. 47 while shooting guard Cormac Ryan (No. 62) is the next highest debut. Making the biggest jump of any previously ranked player is Perry, who we already mentioned. The 6-foot-8 power forward from Georgia rose an impressive 53 spots to make his way to No. 20. Others making significant jumps include forward Emmanuel Akot (up 26 spots to No. 28), point guard Courtney Ramey (up 31 spots to No. 29) and small forward Matthew Mayer (up 23 spots to No. 52). Reclassifying from the class of 2017, where they were both in the Rivals150, are wings Sid Wilson (No. 67) and Hameir Wright (No. 74).
Finally, a total of 38 states plus Washington D.C. are the high school homes to members of the Rivals150. California leads the way with 14 while Florida is next in line with 10. Georgia, Maryland and New Jersey are all look to have good classes in 2018 with eight players each making the rankings. Texas has seven players, while New York, Tennessee, Michigan and Indiana each placed six. The two other states with at least five players in the updated 2018 Rivals150 are North Carolina and Virginia.