Ayton still on top for 2017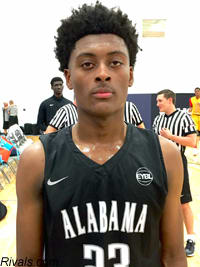 The rankings for the class of 2017 have been expanded from 75 top a top 100. The expansion and play during the early portion of the grassroots period have led to many new names appearing on the list. However, big man DeAndre Ayton remains a constant at the top of the rising junior class.
Ayton leads a shifting Top 10
A seven-footer at San Diego (Calif.) Balboa Prep,
DeAndre Ayton
has held a firm grip on the top spot of the class of 2017 since the class was first ranked by Rivals.com last summer.
For now, at least, Ayton doesn't appear to be letting go. Despite missing a large portion of his sophomore high school season and the grassroots season due to injury, Ayton made a strong return in late May. Known as a tough rebounder and a rim protector who can run the floor with agility, Ayton showed that he's capable of making elbow jumpers, hitting jump hooks and passing out of double teams upon his return.
There were times that his play was a bit inconsistent, but given his long layoff, what he showed was pretty impressive.
Remaining in the No. 2 spot is
Michael Porter
. A silky smooth jump shooter who is as skilled as they come as an offensive player, Porter has grown to around 6-foot-9. A product of Columbia (Mo.) Father Tolton, Porter needs strength, but has a feel for the game that few in high school basketball can match regardless of class.
At the No. 3 and No. 4 spots are two of the biggest movers amongst the five-star prospects. Six-foot-10 center
Wendell Carter
jumps up five spots from No. 8 while 6-foot-11
Mohamed Bamba
jumps up 11 spots from No. 15. Carter is a physically strong pivot who holds his position, blocks shots and shows good touch out to 12 feet. Much thinner, Bamba runs the floor, has quickness around the rim and uses his long arms to make things happen around the rim.
Making slight moves up themselves are No. 5
Trevon Duval
and No. 6
Billy Preston
. Duval is the best point guard in the class and at 6-foot-3 he's got great size and a physically punishing style of play. A skilled 6-foot-9 combo forward who has added strength, Preston is a California native who seems to have hit his stride offensively.
Checking in at No. 7 and No. 8 are a pair of players capable of playing multiple positions. A 6-foot-6 guard who can do a little bit of everything,
Troy Brown
can run the show for stretches, defends well around the perimeter and is very effective in transition. When it comes to defense, few are better than 6-foot-8 combo forward
Jarred Vanderbilt
. A big-time athlete with well above average lateral quickness, Vanderbilt can defend on the wing but is also a playmaker off the dribble who passes very well on the move.
Rounding out the top 10 are a pair of big movers. Six-foot-10 post man
Nicholas Richards
moves all the way up to No. 9 from No. 25 thanks to his developing skill and willingness to get physical on both ends of the floor. Meanwhile, shooting guard
Gary Trent Jr.
rockets all the way up to No. 10 from No. 45 after leading Nike's prestigious Elite Youth Basketball League in scoring. The son of former NBA power forward Gary Trent, he can shoot from distance and has a college-ready frame.
Making their debut
The very nature of a rankings expansion means that there will be many new faces populating the list. Rather than list them all, we will take a look at few of the most notable entrants.
Making the highest debut in the rankings is Florida forward
Kevin Knox
, who enters at No. 21 overall. After making noise on the Nike circuit with his grassroots team Each 1 Teach 1, Knox was a key member of USA Basketball's 16U squad that won a gold medal at the Fiba Americas tournament. He is athletic, versatile and the 6-foot-7 forward looks a little better each time out.
Right behind Knox at No. 24 is one of the best low post defenders in the class,
Ikey Obiagu
. A 6-foot-11 center from Georgia, he shut down the lane for the Georgia Stars on Nike's 16U circuit. Obiagu is one of many from the Stars 16U squad to make their presence felt in the updated rankings. Teammates
DeAundre Ballard
(No. 74),
Chuma Okeke
(No. 82) and
Davion Mitchell
(No. 99) also made debuts.
Another place strong with the debuts is the state of Louisiana. The Sportsman's Paradise produced three newly ranked players and they are all ranked closely together. At No. 61,
Josh Anderson
is a long and athletic wing who is just starting to realize how good he can be with the ball in his hands. No. 64
Galen Alexander
is a summer teammate of Anderson's and a tough-as-nails 6-foot-6 combo forward. At No. 67,
Brandon Rachal
can slash to the rim and has already proven himself to be one of the top wing defenders in the class of 2017.
Highest risers
Finally, we take a look at the class of 2017's biggest movers. We already mentioned the rises of Nicholas Richards and Gary Trent to five-star status but they weren't the only players making big moves. Here are the other players to rise 15 or more spots in the latest update.
The five-star tier of prospects includes three other prospects who rose 15 or more spots to secure a lofty ranking. 6-foot-5 wing
John Petty
rose 22 spots from No. 39 to No. 17 while athletic shooting guard
Hamidou Diallo
rose 19 spots from No. 38 to No. 19 and promising big man
Brandon McCoy
went up 16 spots from No. 36 to No. 20.
One of the more intriguing big men in the class, 6-foot-10
Malik Williams
made a huge rise. The product of Indiana has to get a little more physical and consistent, but he has great size, soft touch and moves well. He goes all the way up to No. 47 from No. 71 this time around.
Making a big move on the wing is small forward
Kimani Lawrence
who goes from No. 70 to No. 50 overall. Finally, Michigan big man
Xavier Tillman
gets rewarded for being one of the most physically tough players in the class of 2017 by moving from No. 68 all the way up to No. 53.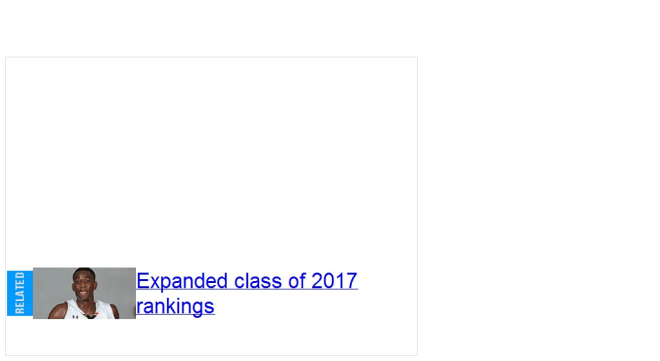 Click
Here
to view this Link.