Ayton claims No. 1 spot for 2017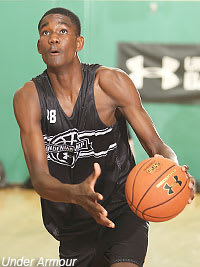 High school sophomore
DeAndre Ayton
has come a long way since leaving his home in Nassau, Bahamas. Despite having never played a single high school game, the 6-foot-11 big man is Rivals.com's
No. 1 player in the class of 2017
and he just might be the top prospect in high school basketball regardless of class.
Though he hasn't played in any high school games, the star center at Balboa City School in San Diego has drawn the attention of college coaches, recruiting services and even NBA scouts because of his play on the grassroots basketball circuit during the spring and summer.
As Ayton prepares to hit the floor for his sophomore season, he looks prepared both physically and mentally for the level of scrutiny that he will face over the next three years.
The Balboa City School provides a safe haven with a built-in support system for the 16-year-old. Head coach Ollie Goulston is an experienced coach who has guided the careers of several Division 1 prospects in the San Diego area. On top of that, his legal guardian Zack Jones is the executive director of Balboa City.
While a great support system is beneficial to a young prospect like Ayton, it is still up to him to back up the hype on the floor and Jones says that the young star has the proper makeup.
"He's very competitive," Jones said. "I've had an opportunity to work with him now for three years and the thing that has impressed me the most, and this good and bad, is that he wants to win. He wants to win, he wants to be the best and he wants to study the game. He relishes getting in the gym and working on his game.
"For me it's like a breath of fresh air. You don't get a lot of people who like to work that hard. With his competitive spirit, it boosts his ability to play at a high level."
Indeed, Ayton plays at a high level. He got his national introduction in May of 2013 when he took the Pangos All-American camp by storm, often having his way with older and stronger players even though he was just finishing eighth grade. In the summer of 2014, Ayton was one of just a handful of rising sophomores invited to the prestigious LeBron James Skills Academy and he was arguably the best player in attendance.
If that wasn't enough, during a trip home to the Bahamas in August Ayton joined the Providence Storms, a local exhibition team, and scored 17 points and grabbed 18 rebounds to lead them to a win over
Roy Williams
and the
North Carolina
Tar Heels.
"The better the competition, the better he plays," Jones said. "He went to the LeBron James camp and was one of maybe four freshman invited to the camp and by the time he left most people thought he was one of the top five or six players there. Mentally, he wants to be the best."
So, what is it about Ayton that sets him apart from the others to make him the best sophomore and maybe the best prospect in all of high school basketball?
Already 6-foot-11, Ayton is no beanpole big man. He is still lean, but already has the muscle to compete with older and stronger players. He runs the floor like a much smaller player, is athletic, has a high basketball IQ and innate instinct and touch that is hard to teach.
"I think his strength right now is his quickness and his overall ability to move from point A to Point B at a level that has really not been seen at that size and age at the same time," said Jones. "He has great touch for a guy his size and the size of his hands. That's something you can't teach. You can teach him how to shoot the ball but you can't teach touch."
There is still much Ayton needs to learn and he has the better part of three high school years to do so.
"I think for him the biggest thing is developing his ability to put the ball on the floor," said Jones. "Not just to get up and down the floor but to get by people and to make plays. Not just for himself but for others and to consistently make other players around him better."
As Ayton prepares to play the rest of his high school career under a magnifying glass it isn't lost on Jones that today's can't-miss sophomore can be tomorrow's cautionary tale about too much too soon. However, he is sure that Ayton has the character and support system to make the most of his opportunity. For now, he has no college list -- Jones would only say that the majority of the nation's top programs have been in touch -- to help keep things under control.
"I'm always concerned about that," said Jones when asked if there was too much expected of Ayton. "You are dealing with a teenager. It doesn't matter what arena you are in, teenagers are going to make mistakes because they are learning. But he has a lot of character and is in a good environment.
"We are trying to do our best to prepare him for what is going to happen and how this process is going to work. We've spoken to a lot of people who have been through this so that we can prepare him for what is going to happen."



Click
Here
to view this Link.