Ayton back in charge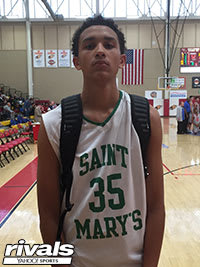 SCOTTSDALE, Ariz. -- The rebirth of DeAndre Ayton continued at the Hoophall West on Saturday. For the second time in just a few days, the seven-footer played like a guy driven to prove that he is the top player in the class of 2017.
I was impressed by ...
For the first time since I became the national analyst for Rivals.com in 2012, I'm thinking about doing a mid-winter tweak to the national rankings. The play of 2017 seven-footer
DeAndre Ayton
has a lot to do with it because his play and game have made a major turn after he lost his No. 1 ranking and fell to No. 4 due to a subpar summer.
Frankly, Ayton was bad in July. It wasn't that he didn't play great. He was uninspired and not in the best of shape while working his way back from injury. He looked like a guy who felt he had already made it and his play suffered severely because of it. After watching him play again in Las Vegas and at the Hoop Hall on Saturday, it is hard to believe I'm watching the same kid.
Ayton doesn't just have a little extra bounce in his step, he looks like he's had a rebirth as a player. That he's seven-feet tall with hands, touch and athleticism hasn't changed, but he's now enthusiastic, playing hard and is a guy who is showing that he wants to win and get better. All of that adds up to a guy who has positioned himself for a move back to the top spot in the 2017 class.
Current No. 1
Wendell Carter
certainly deserves more consideration to remain at the top spot. The 6-foot-10 big man from Atlanta is as steady as he is talented. Current No. 5
Mohamed Bamba
has also made a strong case for No. 1 with his elastic man arms and shot blocking.
But, if I had to do it all again today, Ayton has re-established himself as the top guy in the class. During Saturday's win over Dallas (Texas) API, he swished three-pointers in transition, protected the rim, dunked in traffic and did a little bit of everything as he led Phoenix (Ariz.) Hillcrest to a 69-66 win by scoring 25 points and grabbing 12 rebounds.
Ayton is far from a finished product. He still settles too easily for jumpers and he still has room to add strength and get more consistent. However, it's hard not to see him as anything other than the top prospect in his class at this point.
I was surprised by
For much of Seattle (Wash.) Rainier Beach's blowout win over Phoenix (Ariz.) St. Mary's, I was wondering if I might have been a little early in making 2018 shooting guard
Kevin Porter
a four-star prospect. Then, the 6-foot-4 scorer turned on the juice and went from seemingly uninterested to leading his team with 18 points. The lefty is much better going to the rim and in transition at this point than he is as a jump shooter, but he oozes potential and looks like one of the West's top two guard prospects for 2018.
Washington
and Montana are his first offers.
Porter plays on a team with a pair of seniors headed to the Pac-12. Four-star shooting guard
Sam Cunliffe
cooled off from the field after a hot start, but the
Arizona State
-bound wing added nine rebounds, four assists, and four blocks to go with his 10 points. Headed to
Oregon
,
Keith Smith
is a 6-foot-6 wing with good size and good athleticism. He was particularly impressive on the glass playing as Rainier Beach's big man and grabbing 15 boards to go along with four steals, five blocks and 12 points. He looks like a guy that the Ducks will be able to move around and he's similar to current Washington freshman
Matisse Thybulle
.




Actually ranked a bit higher in the class of 2017 as a four-star, Lee's teammate
Alex Barcello
had an off day. A shooter with some passing ability, Barcello finished with 15 points and four assists while shooting 5-for-15 from the field. We have listed Barcello as a point guard, but feel that he may be better off as a two guard who can be a good secondary ball-handler and passer.