Atlanta hoops: Elite 32, Best of the South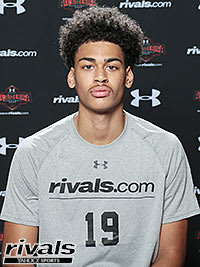 ATLANTA - Despite the adidas Uprising ending on Friday night, there was still good basketball to be seen in Atlanta this weekend as the Best of the South and the Elite 32 were just starting to heat up. Rivals.com was on hand to take in all the action.
Up to the Challenge
The Alabama Challenge, despite being down two five-star prospects in
John Petty
and
Austin Wiley
, fought their way to the championship game of the Best of the South before losing to All-Ohio Red.
Four-star guard
Jamal Johnson
played like a man this weekend even though he already picked up offers from most of the SEC before the weekend along with a few other high-majors. The 6-foot-4 combo guard shot the ball well from three-point range all weekend and did a great job as their primary ball-handler most of the weekend.
With Petty playing down with the 16U team this weekend, the Challenge needed somebody to step up and replace his scoring. Jacob Winston did just that. The 6-foot-6 wing made shots all weekend and had coaches in attendance buzzing. He's more than just a jump-shooter though. He's a terrific athlete as well that gets out and finishes well in transition. Mid-majors have already made him their guy, while high-majors left the weekend very intrigued.
Xpress outlast Dream Vision
The Atlanta Xpress generally have high-major prospects up and down their roster every year, but this year's 17U squad is an exception. But that doesn't mean they aren't just as tough to beat as previous Xpress teams. There might only be one high-major prospect on the Xpress roster this year, but you would have never known it watching them play against Dream Vision on Saturday afternoon as they convincingly beat the West Coast powerhouse program.
Tim Cameron
, a 6-foot-4 wing from Norcross High School who will do a prep year at Hargrave Military Academy, is the lone prospect on the Xpress with high-major offers, and he played like it Saturday afternoon. He possesses a motor that never seems to run out of energy and has a knack for making winning plays. The next step for him is to become a more consistent shooter, and he's certainly made progress in that area. Where he'll thrive at the next level is in transition, and he just might be an all-conference defender as well.
On the other wing for the Xpress is
Kevon Tucker
, a 6-foot-4 shooting guard from Dacula, Ga. Tucker isn't going to blow away anybody with his athleticism, although he's more than adequate there. But he's just an efficient player that knows how to score. William & Mary, Georgia State, Wofford, Furman and East Carolina have been involved with him. He's talented enough to at least garner some high-major attention.
Notes

The Taylored Athletes frontcourt of Terrion Miller and Giovanni Fraser is certainly an imposing one. Miller, a 6-foot-7 power forward, is a high-level athlete with the ability to play both inside and outside. He's a beast on the boards at both ends. Fraser, a 6-foot-8 center, is more of a traditional big man that does his work in the paint and doesn't stray too far from the basket. If he gets the ball anywhere near the basket, he's attacking the rim.




Click
Here
to view this Link.