Ask the Experts: Whats next for Michigan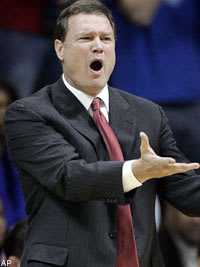 Bossi: First, I'll talk about Glenn III. He's a guy that I think has a chance to be pretty good when it's all said and done. I like his poise, he's got a nice mid-range game and is maturing into a pretty athletic wing with good size. As he adds confidence, his game could blossom. Moving on, I think the guy that Michigan seems most concerned with is Dominique Pointer. He's in North Carolina now, but the four-star wing is a native of Detroit and would give the Wolverines a much-needed wing athlete.


Bossi: Well, he's No. 1 in our rankings of the class of 2011 so I pretty much have to go with Austin Rivers. I think that's a pretty safe pick. But, it is interesting to see how many former pro players' children we are seeing at this point.


Bossi:
Well, they don't have any commitments yet but I'm pretty sure that we'll see Kansas making an entrance into the recruiting rankings at some point. They are right in the thick of things with five-star point guard
Josiah Turner
and five-star forward
Norvel Pelle
.


Bossi:
I'm going to go with Arkansas. It helps that some of those guys are local (
Hunter Mickelson
and
Aaron Ross
) and the jewel B.J. Young has some question marks. But, that's a nice group being put together by a staff that has a lot of pressure on them. It only figures to get better. Another four-star, Texas forward
Antwan Space
, seems to be leaning their way right now.
[rl]