Arizona State making Rivals150 PF KJ Hymes a priority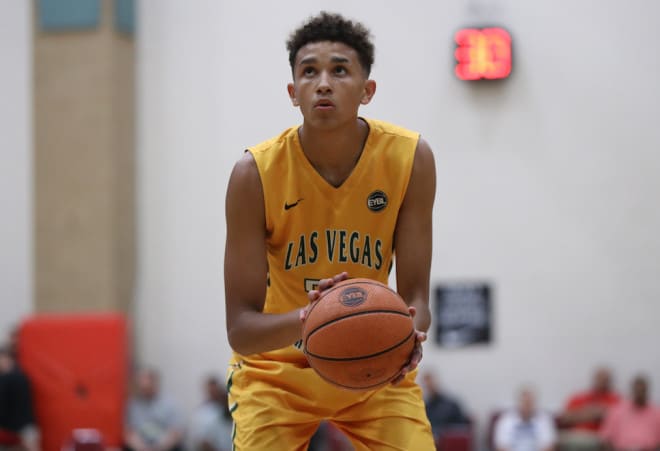 KJ Hymes, a four-star prospect in the 2018 Rivals150, fits the mold of what college basketball coaches look for from the power forward spot. At 6-foot-8, he possesses the ability to step out and stretch defenses with his shooting ability, but he's also comfortable playing closer to the basket.
For that reason, Hymes, who is averaging 18 points and 11 rebounds per game this season, already holds offers from the likes of USC, California, Arizona State, Clemson, Virginia, Georgia Tech, Oklahoma and Nevada, with other schools keeping tabs on his progress.
IN HIS OWN WORDS
Hymes shared his thoughts on Arizona State making him a priority, his unofficial visit to Clemson and more.
Arizona State: "They are talking to me a lot. He's doing a pretty good job. He's still playing with Herb Sendek's team, but once they get their players in, they are going to do a lot of damage."
California: "I think they are young, but they have a bright future. I like what they do there. I just think once they get more experience they are going to win a lot of games."
Clemson: "I thought it was really nice. It's a really nice college town. It was a really fun place to be. Their new arena is super nice."
Georgia Tech: "I talk to Coach (Josh) Pastner himself. He just hits me up every now and then to talk to me and see how I'm doing. He talks about my family and it's just a comfortable conversation."
USC: "I like them. They are doing pretty well right now. Once they get Bennie Boatwright back, I think they'll get back to where they were when they were undefeated. They are really good.
Virginia: "I like them a lot. They are straight-up guys. They have a really good program there. Virginia is just a good place."
WHAT'S NEXT?
Hymes mentioned he plans to cut his list down sometime in the next few months. Beyond that, his plans are up in the air. He said the most likely time for a decision will be towards the end of travel season or shortly after.
RIVALS' REACTION
It's quite clear that Bobby Hurley and his staff at Arizona State would love to keep a talent like Hymes home as he tries to build up the Sun Devils. USC appeals to him with their style of play and the success they are having, so it wouldn't be shocking to see him head to Los Angeles for college. The trio of ACC schools on his list certainly have his attention early on in the process as well.