Anyaorah says gamble is paying off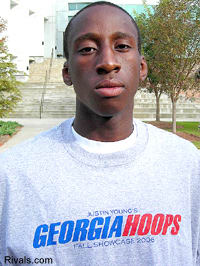 In November,
Ebuka Anyaorah
had a choice to make. Sign early or roll the dice and wait until the spring. Now more than halfway into his senior year, the 6-foot-4, 180-pound shooting guard from North Gwinnett (Ga.) High School likes the outcome of his gamble.
"I was very close (to signing early)," he said. "In my heart, I thought I could go a little higher. I don't think (the high-majors) saw the best I could do. I took a chance and right now, it's a pretty good decision.
"Recruiting is a total different look. At the beginning of the season, I had a couple of schools. Now it's totally different."
Totally different in the sense that his recruitment has welcomed a handful of high-majors into the mix. Anyaorah officially visited Fairfield and Tennessee Tech in the fall. Since the season began, Colorado, Colorado State, Georgia, Georgia Tech, Michigan and South Carolina are all showing interest.
Colorado State, Georgia Tech and Michigan will all be in town to see him play on Tuesday night, he said. The schools will be seeing a different player than they might have seen in the summer.
"I'm playing better than I've ever been playing," Anyaorah said. "This year, our team isn't as good as it has been in the past so it's forced me to play a little better. I have to find new ways to score and finding out how good I can be. I've had to take my game to another level."
Anyaorah said he has improved the most with his perimeter jumper this season and maintains his high-level athleticism.
"I knew I was going to have to come out and be the best I can and be a threat," Anyaorah said. "Actually, I needed to become so much of a threat that it opened up a lot of things for my teammates."
His success is showing up in the box scores. Anyaorah scored 33 points against region rival Norcross on Saturday and scored 43 points against Spartanburg (S.C.), a top ranked team from the Palmetto State, in December.
The focus, Anyoarah says, remains on the hardwood. Recruiting will come later.
"For the rest of the season, my focus has to be on basketball. Our team goal is having a good record and making the state tournament. Playing good basketball is my priority. When the season ends, I'm going to look at the offers I do have and take visits then," Anyaorah said.
"I want to watch how the players interact with their coach and how he helps them off the court. I want to go to a school where I can develop. I don't want to go somewhere that I have to sit until my senior year. I want to go where I can develop and play. I want to have a key role immediately. That doesn't mean I want to come in and be a starter immediately but I want to go somewhere that I can learn the game on the floor."