Another great day for Dekker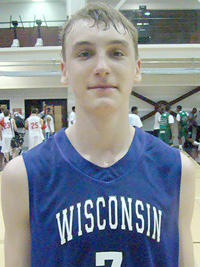 Dekker put his J.P Tokoto-less team on his shoulders and willed it to a win over the Florida Rams. As an offensive player, Dekker has the ability to control a game. He was the key to the Playground Warriors press break late in the game, and it was his slashing driving that provided the lead.
At close to 6-foot-8, he has exceptional ball-handling ability and the capacity to make the difficult pass on the move. His deep jumper is lethal, and he has great body control while knifing through the defense. In a nutshell, no matter what the defense throws at Dekker, he is rarely affected.
He plays at his own pace, gets to where he needs to get on the court and has a great feel for finding scorers. He can put up points himself and has a knack for getting to the free throw line. Harrison is also a physical force defensively and on the boards.
Aaron caught fire on the second day of the event. During both games he rained three with a beautiful looking jump shot.
Cleare is establishing himself as one of the top post players in the 2012 class. He is a load down low but also quick on his feet. Unaffected by contact, he is a sure finisher with a solid repertoire of post moves. He also has as strong a pair of hands as you will find on the circuit. His play is demanding the consideration of a fifth star.
This lightning-quick point guard is good both directions, but he is unstoppable going to his dominant left hand. One of the best interior passers in the class, Johnson produces primarily positive results with his penetration. Back off him, and he will also knock down jumpers.
Frankamp is the point man out of a group of talented point guards on a very good KC Pump N Run team. He shoots with great confidence and ties his team together with his poised and heady play.
Jorgenson is a nightmare for defenders to stay in front of. He has a ton of wiggle to his game and isn't afraid of a challenge. He has definitely caught the eye of coaches this weekend.
Koenig is a top-notch shooter, has terrific court vision, plays longer than you'd think and is faster in the open court than you'd think. Overall he has a terrific feel for the game, and it is understandable why some of the top programs in the country covet him as a recruit.
Lock in the name Robert Hubbs because he is on the verge of blowing up as a recruit. At around 6-foot-5, Hubbs has everything a coach would want in a shooting guard. He is athletic, intelligent, a good ball-handler, a great passer, a great defender and a lethal scorer.
He is a big body with mobility, and a ton of schools are after him. A battler inside, Williams produces around the basket. He also has the ability to knock down the face up jumper.
A lanky shooting guard, Johnson is a points producer. He also has promise as a defender and rebounder.
Mike Brown (2013, Ohio Basketball Club 16U)
Brown, whose father is the new coach of the Lakers, did a nice job running the point for his squad. As a scorer, the lefty is a reliable spot up shooter and can also make the difficult shot on the move.