An early look at top class of 2008 talent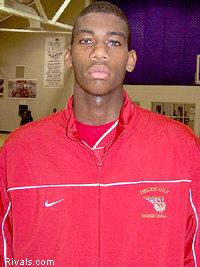 With the completion of the pre-summer Rivals150 for the class of 2007, the Rivals.com Basketball Recruiting staff now turns its attention to the class of 2008.
A host of big men along with some Midwest shooting guards and west coast guards will vie with
Tyreke Evans
for ranking status. Find out what to expect down the road with the class of 2008 rankings in this preview.
Top dog?
Evans, a 6-foot-5, 185-pound combo guard from American Christian School in Aston, Pennsylvania, has had a strong spring running the point for his Team Final AAU club.
With a game marked by his length and versatility, Evans gets to the basket and makes shots from deep. Always a threat to make the long assist pass, he is also a very good defensive rebounder.
Simply put, Evans has the makings of a future top notch point guard in the NBA.
Talented Big Men Across the Country
While the guards typically standout early on in the ranking process, there are a number of post players in the 2008 class that have already established themselves as top prospects.
Down on the Bayou,
Greg Monroe
is turning heads with his increased versatility at a rangy 6-foot-9.
Moving northward, Ohio has three outstanding post prospects.
Delvon Roe
is an active power forward with some face up skills. Cleveland Basketball Club teammates
Yancy Gates
and
B.J. Mullens
form a formidable duo. Gates is a sturdy 6-foot-8 power forward who moves very well. Mullens, at 7-feet tall, has the girth and touch to put up big numbers around the basket.
On the eastern seaboard, budding big men
Chris Braswell
and
Ed Davis
have had some strong moments. Braswell helped Triple Threat make the finals of the King James Classic, and Davis has teamed up well inside with Boo Williams 2007 power forward
Patrick Patterson
. The Boo Williams squad won both its event and the Next Level tournament in Dallas during April.
A little farther north in New Jersey, Jamaica native
Samardo Samuels
is establishing himself as one of the most physical post players in the 2008 class. A bull around the basket, Samuels can score with his back to the basket and do some damage facing the rim.
Out west, Reno, Nevada, forward
Luke Babbitt
has nearly every elite program in the country pursuing him. And in California,
Troy Gillenwater
and
Drew Gordon
are potential five-star material. Gordon established himself as a top prospect while on the circuit last summer. Guillenwater put his name on the national map this spring with a strong showing against five-star 2007 prospect
Gary Johnson
in Las Vegas.
West coast guard play
California is also very strong at the guard position.
Possible Five-star Shooting Guards
As the premier prospect for the 16-under D-One Greyhounds,
William Buford
had a strong showing at the King James Classic and is solidly in contention for a top ranking later on down the road.
Travis Releford
, out of the Kansas City area, has been out this spring with an injury, but the talents of the prototypical big time shooting guard are well documented.
And causing a stir at this year's Kingwood Classic was TMAC All Stars' combo guard
J'Covan Brown
. A flashy guard with a very high skill level, Brown makes the game look awful easy.