Amare Stoudemire Classic: Thursday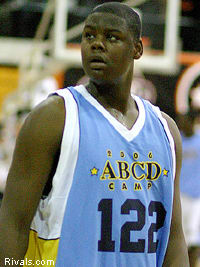 Haines City, Fla.
- There was a buzz in the gym with the anticipation of a late night showdown between the
Jeremy Tyler
, the No. 1 sophomore and
Renardo Sidney
, the No. 1 junior in the country. However, most of the crowd at the
Amare Stoudemire Invitational Classic
headed home at halftime since Tyler and his San Diego High School team had no answer for Sidney and Los Angeles Fairfax High School.
Halftime score: Fairfax 40, San Diego 18; Sidney 15 points, Tyler 0 points.
Final score: Fairfax 62, San Diego 34; Sidney 32 points, Tyler 0 points.
The numbers tell the story. The 6-foot-10 Sidney dominated the game from the outset. He made 14 of 21 shots from the field and 3 of 4 from the line. He also had nine rebounds and a pair of blocks and assists. And despite all his productivity, he only has two turnovers.
Guarded by Tyler from the outset, Sidney got going with some midrange and interior buckets after initially struggling against the athleticism of Tyler. Sidney figured out that he couldn't just go through Tyler, but would have to use his outstanding body control to outmaneuver the sophomore.
Tyler picked up his third foul shortly before halftime, and it was clear in the opening minutes of the second half that Fairfax intended to take it to the foul ridden center. Sidney immediately scored on two post up moves against the passive defense of Tyler and then stepped out to knock down a three-pointer which completely sucked whatever life was left in Tyler and his teammates.
Before the midway point of the fourth quarter, Fairfax had a 30 point plus lead and the rest of the game was played with a running clock. San Diego didn't cut it to within 30 points until the final seconds of the game.
Tyler went 0 of 10 from the field and missed both his free throw attempts. He only managed three rebounds but did block five shots.
Tyler is a more explosive athlete than Sidney, but after that, Sidney has him in every aspect of the game at this point. Sidney's superb body control and feel for the game really stood out in this contest. On several occasions, Sidney attacked the basket and slid to the side on successful finishes to avoid charges. He also had a couple outstanding dribble moves in the open court which resulted in scores.
Make no mistake about it, Tyler just had one of those forgettable games and is still an elite prospect with elite athleticism. But he has a lot of ground to make up as a basketball player in terms of refining his skill level and improving his feel for the game in order to catch up with Sidney.
Sidney, who appeared to be a healthy 6-foot-10 and a couple inches taller than Tyler, admitted he was looking forward to making a statement in this heavyweight match up.
"I was looking forward to this game," said Sidney after the contest. "A lot of people have been saying that Jeremy is better than me, and I wanted to make a statement. You have to play everyday. That's why I don't look at the rankings and care if I'm number one or number two. You have to play everyday."
When asked about his recruiting situation, Sidney rattled off an unconvincing school list of UCLA, USC, Texas, Florida, Oklahoma, Oklahoma State and Ohio State. When pressed on who is really recruiting him the hardest, however, USC was the only school mentioned. In fact USC assistant Gib Arnold, showed up an hour or so before the game after spending 13 hours flying to the Orlando area from an event in Hawaii where he was scouting.
Other five-star prospects
Jamychal Green
stuffed the stat sheet in Montgomery (Ala.) St. Jude's 74-64 win over Lake Wales (Fla.) High School. The Alabama signee brings a physical, old school approach to the game which is refreshing to watch. He scored 26 points on 9 of 14 shooting and 6 of 8 shooting from the line to go along with seven rebounds, seven blocks, three steals, two assists and two turnovers.
Jordan Hamilton
led Compton (Calif.) Dominguez to a 53-40 win over Urspring Basketball Academy from Germany. Hamilton struggled with his long ball, but slashed to the basket for 23 points. He made both his free throws, went 1 of 6 from three and hit 9 of 17 from inside the arc. Hamilton's body control in tight spaces on his drives to the basket was quite impressive. He has a scorers ability to zig zag his way through traffic around the basket. However, outside his driving to the basket he didn't have much to offer for Dominguez. He finished the game without a steal, assist, block or defensive rebound. His three rebounds were all offensive rebounds on his own misses.
Al-Farouq Aminu
had flashes of brilliance for Norcross in its frustrating 51-45 loss to Kathleen (Fla.) High School. But on too many occasions he was on the verge of making great plays and just couldn't finish them off. Two early charging fouls got him in early foul trouble, and he eventually fouled out of the game with just under two minutes left in the action on a very controversial charge call on a bucket that would have cut Kathleen's lead to three points. The Wake Forest signee finished with 13 points on 6 of 13 shooting, 1-1 from three, 10 rebounds, three blocks and five turnovers.
Other eye catchers
Kevin Foster
of Kathleen High School did a fine job of matching Aminu in the interior. An undersized, but explosive power forward, Foster led Kathleen with 17 points on 8-18 shooting from the field. He also grabbed five rebounds.
His teammate
Miguel Paul
, who is headed to Missouri, was a presence all over the court from his point guard position. He only made 3 of 14 shots from the field, but made all six of his free throw attempts to finish with 13 points. More important, however, were his five assists, five rebounds, three steals to four turnovers. Cut out the bad shots, and his speed and toughness are a great fit for the Missouri system.
Keith Clanton
, a 6-foot-7, 210-pound 2009 power forward for Orlando Christian Prep impressed with his ability to score on the interior as well as make plays in the high post. He is not an explosive athlete, but he is a rugged player with tremendous hands and a strong feel for the game. He finished with 22 points and a bunch of rebounds and several quality passes.
Although he is not a prominent name on the national radar, Clanton is receiving interest from Florida, Indiana, South Florida, Central Florida, Virginia Tech and Miami. Clanton noted that Florida, Central Florida, Virginia Tech and Miami have all been to practices this fall.
Louisville signee
Jared Swopshire
showed marked improvement over the course of the summer and is continuing the upswing in his play into the winter. At around 6-foot-7, the small forward's body is beginning to fill out and he now has the strength to finish plays that in the past he was too weak to finish. In a 60-57 IMG loss to Westlake (Fla.) Prep, Swopshire scored 24 points on 11 of 16 shooting including 1 of 1 from three and 1 of 3 from the line. He also had eight rebounds and played a composed all around game. Look for Swopshire to continue his production on the collegiate level.
2009 Dominguez prospect
Aaron Moore
continues to tantalize with his length, athleticism and upside. He helped Hamilton out with 14 points and some inspired play around the rim in their win. Moore noted that USC, UCLA, California and Florida are the schools recruiting him at the moment.
News and notes
The word from the Dominguez bench is that former player and former Illinois signee
Quinton Watkins
will enroll at San Diego State for the second semester and begin playing for the Aztecs next season.
Jackson (Miss.) Provine head coach Luther Riley said Minnesota, UConn, South Carolina and Auburn are recruiting his senior sharp shooter
Scottie Haralson
and that Minnesota and Auburn have offered. Haralson scored 25 points in an overtime loss.
Caught the second half of Philadelphia Neumann-Goretti's win over Atlanta Westlake, and sophomore
Tony Chennault
was attacking the basket as usual. After the game, he provided a school list of Villanova (offer), St. Joe's (offer), Wake Forest, Florida, Texas, Kansas, Memphis and Pittsburgh (offer). A physical, penetrating guard, Chennault fits the mold of Philly guards. He had this to say about the development of his outside shot.
"I'm working on my all around game and want to take it to another level," said Chennault. "I'm really working on my deep shot. My midrange has improved from the work I did this summer. Now I want to improve my shot from behind the arc."
Coaches from Kansas, Syracuse, UConn, Nebraska, SMU, Florida, Central Florida and USC were spotted in the crowd.
Friday's semifinal match ups are Fairfax vs. Neumann-Goretti and Kathleen vs. Dominguez.