Allen shines at Fullcourt Press Vegas Showcase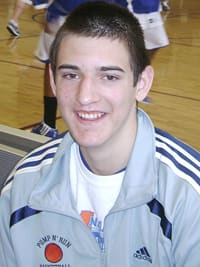 LAS VEGAS-
Dinos Trigonis has been a very busy man lately as he's run showcase events from coast to coast during October. Wednesday night, Trigonis ran the Fullcourt Press Las Vegas Fall Showcase at Bishop Gorman high school. As one would figure,
Shabazz Muhammad
was dominant but younger brother Rashad is making a move and junior forward
Rosco Allen
is a unique prospect.
Las Vegas Showcase Standouts
Rosco Allen
, SF/PF- Let the debate rage. Analysts and coaches are going to spend a lot of time discussing whether the slender 6-foot-8 junior is a small, power or combo forward. Watch him play and you can make an effective argument for him being best suited for any of those roles. He is an exceptional ball handler with a very nasty crossover for a guy his size and he wants to get to the rim. He shoots it with range, runs the floor and looks like a legitimate candidate to be a five-star prospect. He's got a very, very long list of suitors just some of whom are UCLA, Louisville, Indiana, UNLV, Arizona State, Stanford and Harvard.
Shabazz Muhammad
, SG- A top five prospect nationally in the class of 2012, there aren't many guys more explosive to the rim. He's a relentless competitor and has a polished mid-post game that compliments his transition finishing. There's not a better rebounding wing, he plays smart and the jumper continues to evolve. Muhammad is noticeably stronger and he's a violent slam dunker who attacks the rim whenever he can.
Ben Carter
, PF- It's probably time that the 6-foot-7 power forward start getting some more attention. A junior, he teams with Muhammad and Allen at Bishop Gorman to form an impressive trio. Much more aggressive than last season, he's a confident and skilled scorer with excellent quickness along the baseline. He's already got offers from New Mexico, Utah State, BYU, Nevada and Santa Clara.
Demond Billingsly
, SG- Playing up a class in the junior game, the 6-foot-2 sophomore is an intriguing prospect at the two. He's tough, very athletic and plays with plenty of confidence. He was smoking hot from deep and needs little space or time to get his jumper off. His body allows him to take some bumps and finish against bigger guys.
Rashad Muhammad
, SG/PG- Now grown to a legit 6-foot-4, the skinny sophomore is expected to start at the point this winter for Bishop Gorman. He plays a completely different game than his older brother Shabazz, but he is starting to develop a little bit of his confidence. Handles smoothly, can hit pull-up jumpers and looks to be on the cusp of taking the next step as a prospect. He mentioned offers from UNLV, SMU, Northwestern and USC. Memphis is also poking around.
Diontae Jones
, SF- An athletic 6-foot-3 freshman small forward, Jones should see pretty good action at Las Vegas Arbor View. He can elevate for slams in traffic, rebounds relentlessly and is a vocal leader. He's just feeling his way around out there now, but he's got potential.
Shaquille Carr
, PG- It's not going to take long for Carr to develop into a fan favorite at Las Vegas Canyon Springs. Only 5-foot-10, he's an electric athlete with quickness, body control and well above average leaping ability. He plays a flashy style but can score or get others involved. Had what was easily the play of the day when he threw a self/bounce alley-oop on the break and finished while getting hammered.
More notes from Las Vegas
6-foot-7 forward
Shawn Jones
from the Impact Basketball Academy looked good in the senior game. Strong and athletic, he was very aggressive around the rim and attacked a few times off of the dribble. …
Michael Louder
is a skinny 6-foot-7 power forward at Henderson Coronado on the Southeast side of Vegas. The junior can't weigh much more than 190 pounds but he runs the floor well, has explosive leaping ability and he can shoot a 12 foot jumper. Not bad tools for a guy to start with. … Another intriguing junior power forward is 6-foot-6
Evan Martin
from Las Vegas Centennial. Runs the floor pretty well, is a sneaky athlete and he's got pretty good feel around the rim. … 6-foot-5 lefty wing
Tyler Ott
made the trip to Vegas from Desert Hills in St. George, Utah. The junior can shoot the ball pretty, has good speed and will only get better as he adds strength. Sometimes he makes some silly mistakes, but they seem to come out of playing hard. …
The award for furthest distance traveled went to junior wing
Jal Rial
who came all the way in from Anchorage, Alaska for the event. The 6-foot-3 Rial is a pretty good ball handler, has a knack for getting to the rim and plays hard. He looks to have legitimate division one potential. … Freshman
Darryl Gaynor
from Las Vegas Palo Verde lacks little for confidence. A 5-foot-11 combo guard, he's wired to score whether it be via jumpers or quick drives into the lane. … Impact Academy freshman
Keondre Drew
is all arms and legs right now. But, the 6-foot-6 big man has a good motor, a knack for picking up loose balls and a fair skill level. … Last but not least, we do have to mention the performance of near 6-foot-8 lefty big man
Stephen Zimmerman
from North Las Vegas. He looks awkward until the ball gets in his hand and he becomes a remarkably polished scorer and fluid athlete given his size and age. He swished home threes, blocked shots and impressed. He's very young so who knows what happens down the road, but he would appear to have plenty of potential. …