All USA final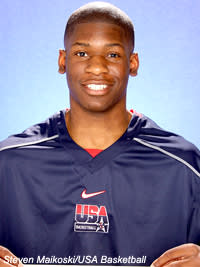 His quickness off the floor and his left hand finishes were impressive.
Carson consistently broke down the defense with his penetration and found teammates and knocked down jumpers in the gaps. On 50 percent shooting he scored 13 points to go along with six assists, five rebounds. Carson was also the point of attack for the Midwest's spirited man to man defense.
An official visit is set for Arizona the first weekend of September, a Washington visit the last weekend of September, followed by an Oregon State visit and then a visit to UCLA at a still to be determined date.
Despite the fall visits, don't expect a decision until the spring.
Outside of the Pac-10, St. John's, Alabama and Memphis are schools of interest.