Alkins shines at Adidas Nations

GARDEN GROVE, Calif. -- The 2015 Adidas Nations camp is drawing near an end and there are a lot of tired bodies in camp. Rising senior five-star shooting guardRawle Alkins looked like he could keep playing forever on Sunday.
Sunday Standouts
1.
Rawle Alkins
-- After cutting his school list to 10 on Saturday, Alkins was back to work on Sunday. The bruising 6-foot-4 five-star shooting guard had 20 points, four rebounds and two assists in the morning round and followed it up with 28 points, eight rebounds and six assists in the evening game. His Team Rose squad will play the other 2016 US team, Team Wall, for the championship Monday night on ESPNU. Alkins said he's in no hurry to make another cut to his list or set official visits and that he could wait until spring to decide.
2.
Kobi Simmons
-- A big decision that Rivals.com will have to make when 2016 rankings get updated is whether or not to leave Simmons as a point guard or switch him to shooting guard. He can handle the ball and has great quickness for a 6-foot-5 player, but he may be more valuable off the ball, where he can showcase his scoring and be a secondary ball handler and playmaker. Regardless, he's been pretty good in either role at Nations. Simmons has official visits set for
Kentucky
,
Xavier
and
Ohio State
.
Arizona
,
Georgia
and
North Carolina
round out Simmons' list, but the schools he has set visits to appear to have surged ahead.
3.
Markelle Fultz
-- Fultz spent Saturday resting a wrist injury, but the competitor in him wouldn't let him sit on Sunday and he made an instant impact upon his return. Fultz looks better and better with the ball in his hands and has been underrated as a playmaker. His forte remains scoring, though, and he did so with a nice mixture of jumpers and drives. Fultz will take an official visit to
Louisville
after Nations and then head to
Arizona
shortly after for an official visit.
4.
Alpha Diallo
-- The 2016 wing from Colorado has been outstanding all event for Team Africa. He posted 24 points and 10 rebounds in the morning session and did so thanks to strong driving and getting to the free throw line. Diallo is likely headed to a prep school this season and is yet to be recruited very aggressively by anybody. His play at Nations has been deserving of high-major attention.
5.
Mamadi Diakite
-- It might not be long before the 6-foot-10 four-star prospect makes a decision and
Washington
,
Virginia
and
USC
seem to be in the best position. Currently ranked No. 30 in the 2016
Rivals150
, Diakite hasn't played quite to that level during the grassroots season, but he appears to be closing on a high note after scoring 15 points and grabbing five rebounds on Sunday morning. Very quick off the floor and capable of sprinting from end to end, Diakite also plays with a good motor.
6.
Dennis Smith
-- There's not much left to say about Smith. As far as Rivals.com is concerned, he has locked down his status as the top point guard in the class of 2016. At 6-foot-3, he's got great size, he's a great athlete and he is a pretty good decision-maker who makes things happen late in games. Smith said he's not yet set visits, but that should be happening soon.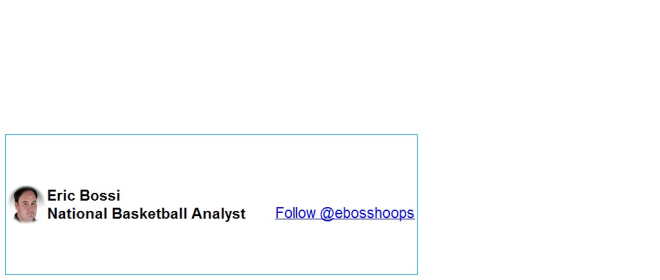 Click
Here
to view this Link.